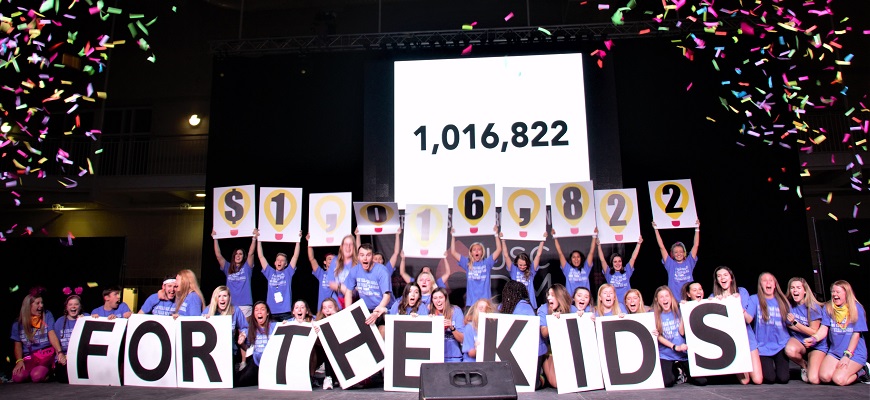 UofSC Dance Marathon tops $1 million fundraising for 2020
---
By Allen Wallace,
awallace@sc.edu
, 803-777-5667
---
"That was freaking incredible. You just raised a million dollars!"
University of South Carolina Dance Marathon President Justin Gill summed up a year of hard work and a 14-hour day of dancing and fundraising with that sentence late Saturday night (Feb. 29), and a deafening shout of joy from more than 2,000 fellow students was his answer.
Dance Marathon topped the $1 million mark for the third consecutive year, as the university's largest student philanthropy raised $1,016,822 for the kids at Prisma Health Children's Hospital.
He would be honored to know that so many students are fighting for kids just like him on his birthday. Do it for more birthdays for kids like Timmy."

Claudia Chakamian, UofSC Dance Marathon alumna
The money will fully fund the hospital's Child Life Department for the coming year. The department provides counseling and comfort for children and their families. The child life specialists work to make battling an illness and in many cases enduring long stays at the hospital, sometimes through birthdays and holidays, as pleasant as possible.
Since 1999, UofSC students have worked as volunteers year-round in a movement that has grown to become one of the top 10 Dance Marathon programs in the country. The year of fundraising, getting to know the kids and families and supporting Child Life culminated with the UofSCDM Main Event. For 14 hours, the students danced, heard from kids and families and hospital team members and leaders like UofSC President Bob Caslen, and pushed one last time to bring in as much money as they could.
Keldon Hemingway, a Miracle Kid (as the children are known) has grown up with UofSCDM while battling a brain tumor. Saturday night, the now 17-year-old was at Colonial Life Arena for a long-awaited Post Malone concert. He left the show early to be at Main Event.
"He could not be happier to be here," said Keldon's mom, Sheila Hemingway. "This is family."
The family extends around the world now thanks to more than two decades of alumni, and the donations and messages of support came from everywhere. Alumna Claudia Chakamian lives in Duluth, Minnesota, now, but inspired the crowd in Columbia with the story of her childhood best friend, Timmy. Timmy passed away in 2006 at age 10, but his legacy lives on.
"He's a leap year baby and I feel like there's a reason that Main Event is happening on his birthday, a day that's so rare," Chakamian said. "He wanted to be a police officer and make a difference for people. When he was fighting cancer, he always wanted to make sure everyone else was okay with what was going on. He cared about people so much and was the best guy I knew. I feel like he would be honored to know that so many students are fighting for kids just like him on his birthday. So, to anyone who might need an extra motivator or reason why to keep going this weekend, do it for more birthdays for kids like Timmy."
From just three miles away at Prisma Health Children's Hospital, the presence of 78 children currently in inpatient care was felt.
Another alumna, Brittney White, followed the Main Event festivities she had been a big part of from a new point of view. White was at the hospital Saturday night with her infant daughter, who has been battling a life-threatening illness. In the two days before Main Event, baby Joelle began breathing on her own, and White was able to hold her little one again. Saturday, she sent photos and messages of encouragement to those dancing for her and Joelle.
---
Share this Story! Let friends in your social network know what you are reading about
---