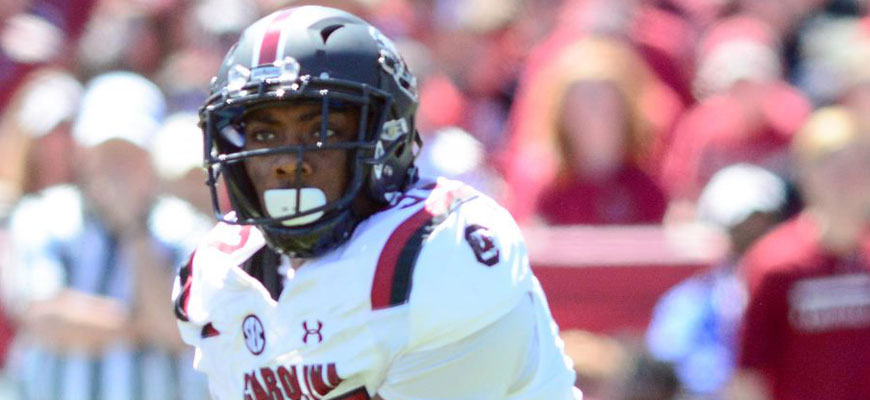 The valedictorian who tackled running backs
Class of 2020 graduate's determination earned spot on football team and engineering degree
---
By Chris Horn,
chorn@sc.edu
, 803-777-3687
---
Very few high school valedictorians can tackle a 220-pound running back. Not many Division 1 college football players can tackle the rigor of a mechanical engineering degree. But this University of South Carolina Class of 2020 graduate did both.
Jazuun Outlaw played football at Dillon High School in South Carolina when his team won the state championship in its division four consecutive years. But the most exciting part of his time in high school wasn't the guts and glory of hoisting four trophies, he says. It was being named class valedictorian.
With math and science as his favorite subjects, a career counselor pointed to engineering, and "after that suggestion, I never considered any other major," he says.
He chose South Carolina because of its acclaimed engineering college and because four cousins were Gamecocks, one of them a player on the football team who arranged for Outlaw to get a tryout as a walk-on. He made the team as a defensive back, toiling through practices and weight training during the day and calculus equations by night.
Every week I got to be on the field and give my all to the fans, knowing I had to give my all to my schoolwork as soon as the game ended.

Jazuun Outlaw
"It was tough managing mechanical engineering after I made the football team, but thinking back, being on the team was beneficial because it taught me time management. I learned not to procrastinate," he says. "My full schedule led to many late nights, early mornings and mugs of coffee."
There's a photo Outlaw likes to share: You can't see his face but you can see his number — 57 — and his last name on the back of his jersey. He's surrounded by the rest of the team on the sidelines, watching the action on the field.
"This is my favorite memory because it shows how hard work, dedication and teamwork pay off and how all of the early mornings for practice and late nights for homework showed me how resilient I am," he says. "I had no idea if I was going to be able to balance playing football with being an engineering major. Every week, I got to be on the field and give my all to the fans, knowing I had to give my all to my schoolwork as soon as the game ended."
Along the way, Outlaw learned what nearly every high school valedictorian and college football player knows — hard work pays off. He started an internship this summer with International Paper, which, if all goes well, will turn into a full-time job as a mechanical engineer.
---
Share this Story! Let friends in your social network know what you are reading about
---