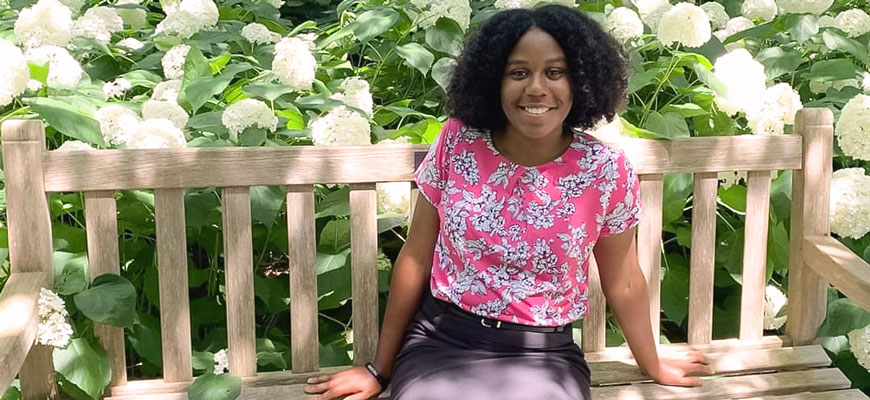 Early challenges motivate Honors College student's success
Despite COVID-19, Rodrianna Gaddy sets sights on completing study abroad — someday
---
By Carol J.G. Ward,
ward8@mailbox.sc.edu
, 803-777-7549
---
Rodrianna Gaddy took her love of learning about different cultures, combined it with her passion to help people and channeled both into her academic path at the University of South Carolina.
The South Carolina Honors College senior has a double major in international business and human resources management with a minor in Japanese.
In high school, Gaddy thought she might pursue art. "But I've also always had a strong passion for helping people and an interest in business and how things work behind the scenes," she says.
When she researched potential majors, international business seemed to be a good fit. She added human resources because she was drawn to the people-focused aspect of it.
"I want to be able to help people feel comfortable and welcome in their work environment and make that experience better for them," Gaddy says. "I want to be able to go into a community and improve it in some way."
Her interest in Japan started early with exposure to anime and manga. As she grew older, she had a Japanese friend who helped her learn more about the culture. At UofSC, Gaddy has been involved in the Japanese Culture Association where she had an opportunity to connect with Japanese exchange students and improve her language skills.
With support from National Fellowships and Scholar Programs advisers, Gaddy was chosen as one of 10 UofSC students awarded the Benjamin A. Gilman International Scholarship this past fall. The Gilman scholarship supports undergraduates who might not otherwise participate in study abroad programs due to financial constraints. She also was awarded the Bridging Scholarship and is a Freeman-ASIA recipient.
With three study abroad scholarships, Gaddy was scheduled to travel to Japan this spring. Then COVID-19 hit, and those plans were put on hold indefinitely.
"I was supposed to leave in late March, but that's around the time everything started really happening," she says. "It was hard hearing stories about my peers' experiences who had been able to go, because I have never been outside of the U.S. I'm still actively searching for options to have that experience before graduating."
Regardless of what happens, Gaddy has a spirit of determination gained through her experiences growing up in Florence, South Carolina, where she graduated from South Florence High School. When Gaddy was 8 years old, she lost her mother to ovarian cancer and grew up living with her grandmother.
"Because of the circumstances that I had growing up, I've developed a really strong internal motivation," she says. "Because my mom was the main breadwinner for the home, and my grandma was dependent on her for getting a lot of things done, I had to take on some of those responsibilities even though I was really young when my mom passed."
Because of the family's financial hardships, Gaddy says she learned how to navigate and overcome problems by finding creative ways to adapt and improvise.
For example, she did not have internet access until her freshman year in college — not only because of the family's situation but also because they lived in a rural area where it was difficult to get coverage.
"Whenever we would have projects in high school that required a typewritten paper, I would always ask if there were an option to write it neatly. In addition to writing it neatly, I didn't have access to clip art and other resources, so I would hand-draw illustrations for my projects," Gaddy says.
Instead of harming the quality of her work, Gaddy believes having challenges improved it because she had to invest more time, energy, creativity and planning into her projects.
That motivation and determination gave Gaddy options when it came time to apply to colleges, and her choice came down to an Ivy League school and South Carolina. After thinking about what she wanted out of her college experience, Gaddy says she chose the South Carolina Honors College because it gave her the same opportunities. She could be a student in the No. 1 nationally ranked undergraduate international business program while remaining closer to home to assist her grandmother.
In addition to the study abroad scholarships Gaddy received, she also is a Palmetto Fellows Scholar, UPS Scholar and a Leadership Enterprise for a Diverse America Scholar. She also received an NAACP: Highway to Higher Education Award and a National Collegiate Cancer Foundation Legacy Scholarship. She has served as a peer writing and communications tutor at the Student Success Center and is a member of the Black Business Student Association and Collegiate Curls.
Through all of her experiences, Gaddy says a huge motivating factor for her is to be a role model for her younger family members and to be someone they can turn to for support and guidance when they are determining what opportunities are available for them.
Her advice: "Never be ashamed of who you are or the background that you come from. There's always something that you can draw from to help motivate you or give you an edge in another environment or opportunity. Never sell yourself short. Find a lesson in everything — in every failure, especially, or every setback. And don't get comfortable anywhere; always push yourself."
---
Learn more
For more information about the Gilman Scholarship and other opportunities, contact National Fellowships and Scholar Programs.
---
Share this Story! Let friends in your social network know what you are reading about
---