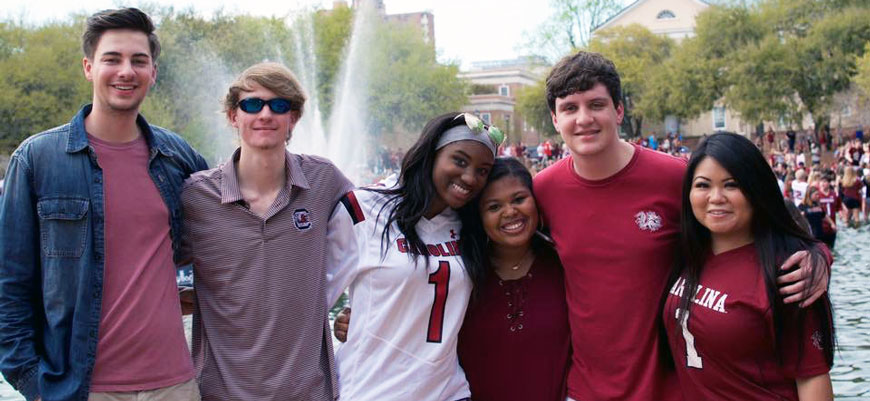 Amelia Wilks: 'All that good stuff'
2nd generation Gamecock finds her 'thing' at UofSC
---
By Craig Brandhorst,
craigb1@mailbox.sc.edu
, 803-777-3681
---
Amelia Wilks describes her high school self as a "follower," but the University of South Carolina provided the 2020 graduate with a stage, a microphone and the confidence to finish college as a leader. Her new alma mater wasn't her first choice, though, and her new career isn't what she set out to do.
Wilks's parents are graduates of the university, first-generation college students who parlayed their degrees into good careers. Her father is on the Black Alumni Council. Growing up, they took her to football games, basketball games, tailgates, "all that good stuff," she says, and for much of her childhood, she wanted to follow the same path.
When it came time to pick a college, though, the Irmo, South Carolina, native decided she wanted to go someplace else, if only to spread her wings. It might be nice to go out of state, she thought, maybe explore a bigger city. UNC Charlotte was at the top of her list.
My dad would say, 'We graduated college, but you did it better.'

Amelia Wilks, Class of 2020
And then came the twist: Her hard work in high school paid off in scholarship support from her home state. "My parents were like, 'You can't turn this money down,'" she says. "So, I came to USC, and it's probably the best decision I have made in my entire life."
A high school curiosity about health sciences blossomed into an interest in health care management and policy, a major in public health and a minor in business. She thrived in the classroom. But it was a series of extracurricular activities — on campus and off — that really put her on her path.
An internship in Rep. James Clyburn's office in the spring of her junior year sparked a passion for politics, which led to a job on the presidential campaign of Sen. Kamala Harris, which opened other doors. "The James Clyburn fish fry was one of the highlights of my summer," she says. "That's when I realized politics is my thing. I kept my business minor, but I realized that politics is what I want to be doing."
Wilks says she prefers to be "behind the scenes," but that doesn't mean she won't step forward. She sharpened her leadership skills as a student life intern at the university's Office of Multicultural Student Affairs and, through her sorority, as co-president of the National Pan-Hellenic Council.
One of her proudest moments was planning a Homecoming step show — and pulling it off despite heavy rain, complicated logistics and the competing demands of friends, family, participants and the audience.
"That was probably one of the most stressful experiences of my entire life, but we got through it, and I got so much feedback from alumni who said it was one of the best shows they have attended," she says. "And the fact that my mom was there to watch me to do it, and that she was proud of me — nothing else mattered."
Except for her ambitions. Her budding confidence carried over into other projects, into networking, into meetings with top-level campus leadership and conversations she never imagined she would be having.
"Coming in as a shy freshman, I did not think I would ever be on a council having meetings with President Caslen and other members of the administration, but I did," she says. "And through my experiences, I learned a lot about myself and a lot about leadership. The skills I learned have carried on to other projects and now to my career."
As if her parents weren't proud enough, Wilks landed a job at CityBright LLC, a political consulting firm, before she finished school. She graduated with Leadership Distinction in May, completing a journey that started before she was even born.
"Both of my parents being USC graduates, I think that speaks a lot more to me than it does to some," Wilks says. "Both of them were first gen — neither of their parents went to college — but as my dad would say, 'We graduated college, but you did it better.' "
---
Share this Story! Let friends in your social network know what you are reading about
---