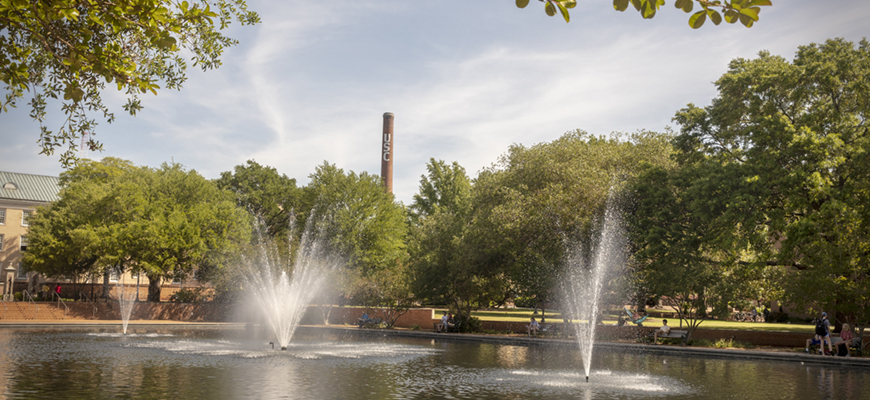 UofSC Board of Trustees, committees meet
---
By Dana Woodward,
ddhaesel@mailbox.sc.edu
, 803-777-3691
---
Several committees and the full Board of Trustees met on Friday (Feb. 19). Here's a roundup of actions they took.
UofSC system requests academic program changes
The Academic Excellence and Student Experience Committee, followed by the full board, approved the addition, termination and alteration of programs at UofSC Columbia and UofSC Aiken.
On the Columbia campus, new programs include certificates in cybersecurity management and strategic innovation, both in the Moore School, as well as in Maternal and Child Health in the Arnold School. Approval was also given for termination of the B.S. in geophysics and the Confucius Institute, both in the College of Arts and Sciences.
New programs at Aiken are a B.S. in mechanical engineering, a B.A. in Spanish and a B.A. in theater. A small clarification in the reporting of academic integrity issues in the Aiken faculty manual was also approved.
Various contracts approved
Several contracts received committee and full board approval:
UofSC Upstate renewed leases for use of space through December 2029
Amendments to affiliation agreements with the UofSC Alumni Association and the South Carolina Research Foundation to add language clarifying fundraising activities
Two consultation agreements with KGlobal, LLC, which will allow the agency to assist the university in the South Carolina cyber climate inventory
An employment contract for new football running backs coach Montario Hardesty
Policies and procedural changes passed
The Governance Committee proposed a set of five bylaw revisions, later passed by the full board. They include:
Defining a committee quorum in terms of the majority of voting board members in any committee
A method for removing board chairs and vice chairs
A method for removing committee chairs
A method by which a trustee may be sanctioned
A method for the appointment of a non-board, non-voting person a to committee or removal from a committee
The board then approved the appointment of a non-board, non-voting member to the Governance Committee, David Seaton.
Other actions passed were minor edits to the Audit, Compliance and Risk committee charter to reflect updates to the committee's name and responsibilities, as well as the approval of a voluntary retirement program for Audit and Advisory Services and approval of past meeting minutes.
Board recognizes past members
Chuck Allen, former trustees, and Luke Rankin, former student body president and student representative on the Board of Trustees, both received accolades for their service to the board and to the university. Allen served as a trustee from 2008 until 2020. Rankin, who graduated in May 2020, had his recognition delayed by the onset of the COVID-19 pandemic last year.
---
Share this Story! Let friends in your social network know what you are reading about
---