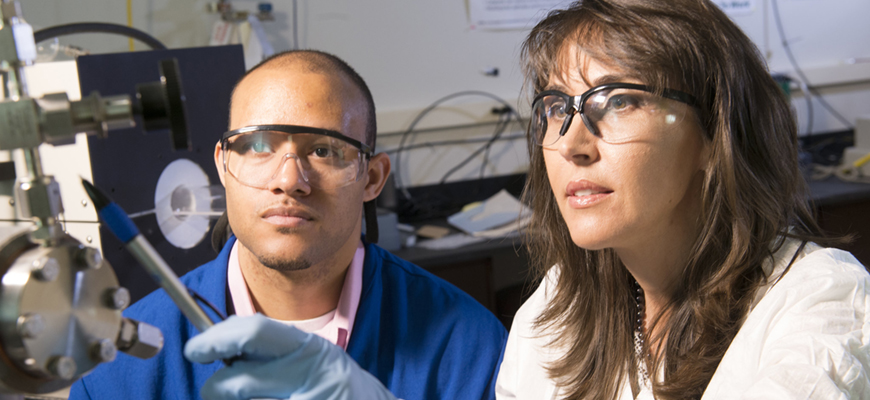 University of South Carolina to help lead Savannah River National Laboratory research innovation and workforce development
---
---
COLUMBIA, SC – February 10, 2021 – The University of South Carolina and the Battelle Savannah River Alliance (BSRA) are partnering to conduct critical research at one of the country's premier national laboratories – the Savannah River National Laboratory (SRNL).
South Carolina is a key member of the BSRA team that includes four other universities from the region: Clemson University, Georgia Institute of Technology, University of Georgia and South Carolina State University. South Carolina also brings the University of South Carolina Aiken as part of UofSC's teaming arrangement with BSRA.
UofSC will impact scientific developments locally, nationally and internationally by providing cutting-edge advancements in national security, energy and environmental research. The university's efforts will boost the lab's workforce development and strengthen its ability to serve more national laboratory needs.
The South Carolina system will recruit faculty members at the Columbia and Aiken campuses as part of its role to support the SRNL management and operations contract, which was announced by the Department of Energy in December. These faculty will collaborate with SRNL to train the next generation of national laboratory personnel and expand the economic base of South Carolina by developing technology solutions for the state and the nation's industries.
Additionally, UofSC will recruit other personnel who will be engaged in research and workforce development over the five-year period of the initial contract.
The contract includes a five-year base agreement with five one-year options. The estimated value of the contract is $3.8 billion over the course of 10 years if all options are exercised.
"The reach of this lab will be global. UofSC's impact in the future will be greatly amplified as a result of this partnership," College of Engineering and Computing Dean Hossein Haj-Hariri says. "This is also a significant injection into the economy of the state by developing the workforce, recruiting faculty and graduate students, and bringing talent that helps bridge UofSC and the lab, and creates joint positions."
Employing approximately 1,000 staff, SRNL conducts research and development for diverse federal agencies, providing practical, cost-effective solutions for the nation's environmental, nuclear security, energy and manufacturing challenges. As the Department of Energy's Environmental Management Laboratory, SRNL provides strategic scientific and technological support for the nation's $6 billion per year waste clean-up program.
UofSC will establish an undergraduate scholarship program to encourage a diverse workforce at the lab. UofSC Aiken, which will focus on advanced manufacturing, cyber security and virtual reality workforce development and research, will establish an education summer camp for high school students.
"It means workforce development at all levels, specifically outreach to students at all levels, all the way to middle school or even younger," Haj-Hariri says. "Part of managing the lab is expanding its workforce, expertise base, and unique facilities to serve more national needs."
South Carolina attributes the success of the BSRA bid, in large part, to the strong support provided by state leadership.
"The University of South Carolina is honored to be a part of this unique collaborative," UofSC President Bob Caslen says. "Through the support of Governor McMaster and state leadership, researchers and students on our Columbia and Aiken campuses, as well as those at South Carolina State and Clemson, will engage in great scientific discovery and industrial innovation for many years to come."
"This is a transformative opportunity for our research community and will poise UofSC to reach new heights of research excellence," says Prakash Nagarkatti, vice president for research. "Our role in managing the Savannah River National Laboratory will help us attract innovative new faculty and outstanding students to join our ranks."
About University of South Carolina
The University of South Carolina is a globally recognized, high-impact research university committed to a superior student experience and dedicated to innovation in learning, research and community engagement. Founded in 1801, the university offers more than 300 degree programs and is a top-tier Carnegie Foundation research institution. More than 50,000 students are enrolled at one of 20 locations throughout the state, including the research campus in Columbia. With 56 nationally ranked academic programs including top-ranked programs in international business, the nation's best honors college and distinguished programs in engineering, law, medicine, public health and the arts, the university is helping to build healthier, more educated communities in South Carolina and around the world.
---
Share this Story! Let friends in your social network know what you are reading about
---