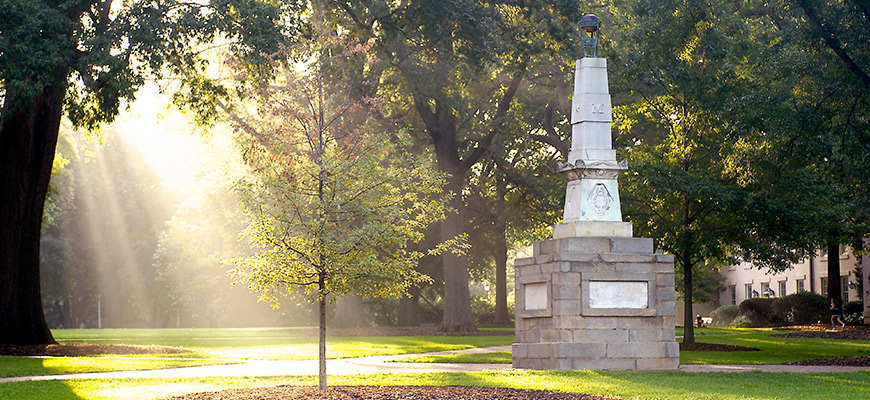 UofSC announces May commencement speakers
---
By Jeff Stensland,
stenslan@mailbox.sc.edu
, 803-777-3686
---
Executive Vice President of the American Board of Family Medicine Dr. Elizabeth G. Baxley, U.S. District Judge J. Michelle Childs, South Carolina Gov. Henry McMaster and S.C. Rep. G. Murrell Smith Jr. will receive honorary degrees and address University of South Carolina graduates during May commencement ceremonies on the Columbia campus.
To adhere to COVID-19 safety standards during the in-person events, UofSC for the first time will host bachelor's, master's and professional commencement ceremonies at Williams-Brice Stadium. Face coverings and physical distancing will be required for graduates and their guests, to minimize the risk of COVID-19. Each graduate will receive five guest tickets, and the ceremonies will take place rain or shine except in the case of severe weather.
McMaster will address graduates during the 6 p.m. ceremony on Friday, May 7. Colleges participating in this ceremony are the Darla Moore School of Business, the Arnold School of Public Health and the School of Music.
McMaster has served as the Palmetto State's governor since 2017. His previous public service includes lieutenant governor, state attorney general and U.S. attorney for the district of South Carolina. McMaster earned both his bachelor's and law degrees from UofSC.
Childs, who serves the District Court of South Carolina, will speak at at 9:30 a.m. and 6 p.m. on Saturday, May 8. Colleges included in the morning ceremony are the College of Arts and Sciences, the College of Information and Communications and the South Carolina Honors College. Colleges participating in the evening ceremony include Education, Nursing, Pharmacy, Engineering and Computing, Social Work, Palmetto College, and Hospitality, Retail and Sport Management.
Childs joined the district court in 2010 after a nomination from President Barack Obama. A native of Detroit, Childs earned her bachelor's degree from the University of South Florida, her master's degree from the UofSC Darla Moore School of Business and her law degree from the UofSC School of Law. Following several years in private practice at the Nexsen Pruet law firm in Columbia, Childs served as deputy director of the S.C. Department of Labor, Licensing and Regulation and as a commissioner with the S.C. Workers' Compensation Commission. Childs also was a judge on the 5th Judicial Circuit Court prior to her nomination to U.S. District Court.
I'm thrilled to have such an incredible slate of speakers and to safely host these ceremonies for our graduates and their families and friends.

Bob Caslen, UofSC President
Smith, who currently serves as the chair of the S.C. House Ways and Means Committee, will address School of Law graduates at the ceremony on the historic Horseshoe at 9 a.m. on Friday, May 7. Smith has served in the General Assembly since 2001 and is a partner in the Smith Robinson Law Firm in Sumter, South Carolina. He earned his bachelor's degree from Wofford College and his J.D. from the UofSC School of Law.
Dr. Baxley will speak at the ceremony for both Schools of Medicine, which will be conducted virtually at noon on Thursday, May 6. Dr. Baxley has taught and provided full scope family medicine throughout the greater part of her 31-year career, with distinctions including the American Academy of Family Physicians Exemplary Teaching Award and the James Halford Award for Leadership in Humane Education.
Dr. Baxley earned her bachelor's degree from Clemson University and her M.D. from the UofSC School of Medicine. She completed a family medicine residency at Anderson Family Practice Residency in South Carolina followed by the Faculty Development Fellowship at the University of North Carolina at Chapel Hill.
In addition, the conferring of doctoral degrees will occur on Saturday, May 8, at 2:30 pm at the Koger Center, with Provost Bill Tate addressing graduates.
"I'm thrilled to have such an incredible slate of speakers and to safely host these ceremonies for our graduates and their families and friends," said UofSC President Bob Caslen. "Commencement is the culmination of years of hard work and perseverance, and our graduates deserve an opportunity to celebrate with family and friends and reflect on their outstanding accomplishments while here."
Overall, more than 5,700 students are expected to participate in next month's ceremonies. UofSC also is hosting an in-person recognition ceremony for 2020 graduates at 9:30 a.m. Saturday, May 15 at Williams-Brice Stadium.
For additional information, visit sc.edu/commencement.
---
Share this Story! Let friends in your social network know what you are reading about
---