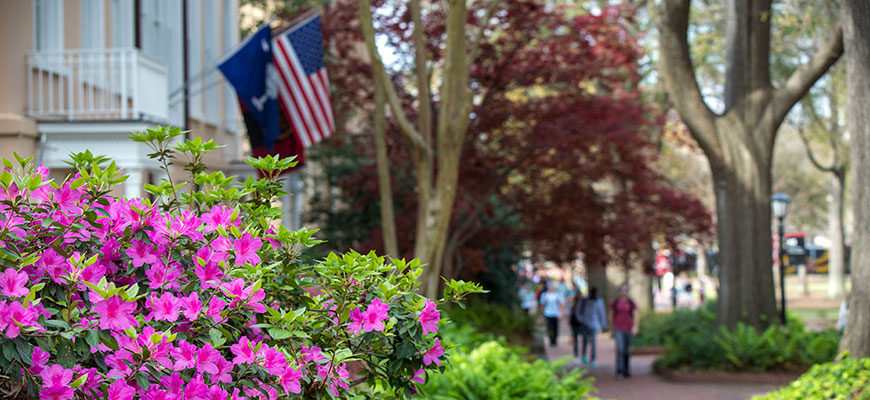 UofSC Board of Trustees meets, announces new university administrators
---
By Dana Woodward,
ddhaesel@mailbox.sc.edu
, 803-777-3691
---
The university's Board of Trustees, as well as several board committees, met Friday (April 9). Here's a rundown of actions the board took.
Cole to lead UofSC's systemwide efforts
The Board of Trustees approved the appointment of J. Derham Cole Jr. as the University of South Carolina's Vice President for System Affairs. The newly created position will be responsible for coordinating a host of activities and major initiatives among the entire UofSC system.
Cole most recently served as interim chancellor for USC Upstate, a position he held since February 2020. He joined USC Upstate in 2018 as associate vice chancellor for finance and administration, bringing more than 15 years of business and law experience to his position. A former state representative for District 32 in Spartanburg County, Cole earned a bachelor's degree in Business Economics from the UofSC Honors College and a joint Juris Doctor/Master of International Business Studies from the UofSC School of Law and the Moore School of Business.
New UofSC Aiken chancellor selected; UofSC Columbia senior administrators confirmed
Following a national search, the Board of Trustees approved the selection of Daniel Heimmermann as the new chancellor of the University of South Carolina Aiken. Heimmermann currently serves as provost and vice president for academic affairs at the University of Texas Permian Basin, a position he's held since 2014. Prior to that, he served at the same capacity at Mississippi University for Women. Heimmermann will assume leadership of UofSC Aiken effective July 1, 2021.
The board also approved the promotion of two senior administrators at the UofSC Columbia campus. Scott Verzyl, currently associate vice president for enrollment management and dean of undergraduate admissions, will become Vice President for Enrollment Management. Deborah Beck, currently Associate Vice President Health and Well-Being will become Vice President for Health and Well-being and Chief Health Officer.
Various contracts approved
The board also approved a variety of contracts at the meeting:
The leasing of warehouse space at 350 Wayne St.
The renewing of the Columbia campus agreement with Barnes & Noble to remain the exclusive bookstore for campus. The agreement also entails a 16.5 percent commission on sales to return to the university, funds from the vendor to renovate and maintain the bookstore space and a signing bonus and annual donation to the university.
Two amendments to the campus dining agreement with Aramark to reduce payments per square foot of space to the university from July 20, 2020 through July 28, 2021 as part of the reduction of services during the coronavirus pandemic.
The annual renewal of the agreement between EBSCO Information Services and UofSC Libraries to acquire electronic access to journals and databases.
An agreement with Springer Nature License as part of the EBSCO service in which UofSC Libraries acquire access to specified electronic journals and databases through 2023.
The renewal of a direct enroll agreement between Universidad San Francisco de Quito with the College of Hospitality, Retail and Sport Management.
A maintenance agreement with the SC Department of Transportation and the City of Columbia, which provides that the university will be responsible for certain maintenance of trees, landscaping, irrigation and drainage associated with the South Main Street project.
An agreement with IBM for a Cloud Application Assessment, in which IBM will assess and develop a plan to migrate to the cloud applications and workloads currently operating through the data center in order to provide efficiency and data protection.
A service agreement between the university and the UofSC Research Foundation, in which the foundation assists the university in securing additional sponsored awards.
A graduate student work experience agreement between Prisma Health Midlands and the Arnold School agreement where Prisma will accept and provide clinical work opportunities for athletic training graduate students.
Amendments and extensions to employment agreements with head softball coach Beverly Smith, head men's golf coach Bill McDonald, assistant men's basketball coach Chuck Martin and head men's basketball Coach Frank Martin.
---
Share this Story! Let friends in your social network know what you are reading about
---