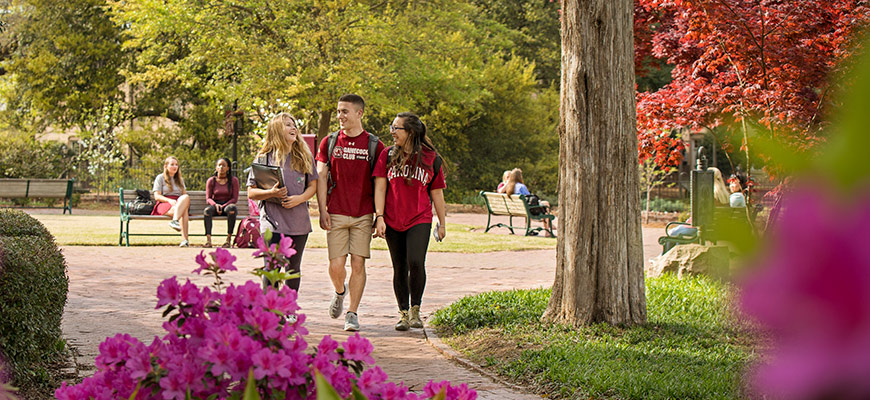 UofSC holds tuition steady as Board of Trustees approve 2021-22 budget
---
By Koby Padgett,
kpadgett@sc.edu
, 8035766701
---
The University of South Carolina is emerging from the COVID-19 pandemic on solid financial footing and will hold tuition flat for a third-consecutive year in the 2021-22 budget approved by the Board of Trustees on Friday (June 25).
Buoyed by strong enrollment and continued support of higher education by state lawmakers, the university system's $1.76 billion budget will allow for investment in core academic areas and infrastructure without increasing tuition for students and families. Throughout the pandemic, the university's focus on health and safety allowed it to deliver on its educational promise to students while streamlining operations through a series of cost-saving initiatives.
On the Columbia campus, undergraduate tuition will remain $6,344 for in-state resident students and $16,964 for non-resident students. On-campus students will see a modest fee increase totaling less than $140 annually for meals and housing. Applications for the upcoming fall 2021 semester increased by more than one-third and the incoming freshman class for the Columbia campus is projected to be among the largest in its history.
"While the pandemic is not yet over and we must remain vigilant, our university is poised to return to full in-person operations strong and resilient," said interim President Harris Pastides. "I appreciate the tremendous work of our entire university community and the continued confidence of state leaders in our system institutions."
The newly approved budget, which includes more than $22 million in recurring state funds to the system compared with last year, allows for the following:
Targeted investment in areas outlined in the university's strategic plan, such as increasing diversity efforts.
Development of the new Health Sciences campus. Located in the BullStreet district across from Prisma Health, the campus will replace the existing School of Medicine and house cutting-edge health sciences research. The state budget approved earlier this month allocates $35 million to the project, bringing the total state investment to $55 million.
About $30 million in additional funding for academic units across the Columbia campus.
Restarting capital construction and renovation projects, including the Campus Village residential project.
---
Share this Story! Let friends in your social network know what you are reading about
---