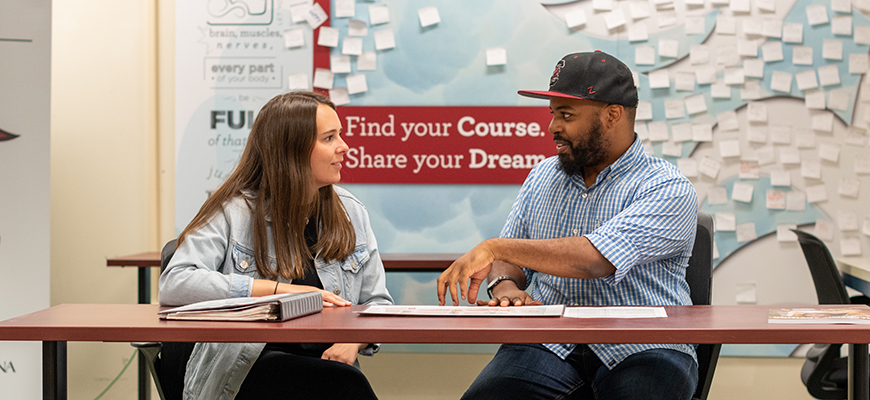 UofSC academic advising recognized nationally for its excellence
---
By Abe Danaher,
adanaher@mailbox.sc.edu
, 803-576-7780
---
In the 1980s and '90s, student advising meant two things: making schedules and choosing classes. For many at the University of South Carolina, advising was less than a productive, efficient process. But, following a 2014 provost task force and a revitalized training program for academic advisors that began in 2015, advising at the University of South Carolina has undergone a complete makeover. And the university's students are feeling the benefits of its overhauled advising system, which was recognized recently with a national award from the National Academic Advising Association.
"In recent years, academic advising has shifted from being a transactional conversation to a holistic developmental conversation," says Claire Robinson, director of the University Advising Center and assistant dean of undergraduate advising. "Now, in addition to reviewing degree requirements, we are connecting students' academic pursuits and their major pursuits with their interests, skills and career aspirations. And we see students finding great benefit in these meaningful conversations."
Currently at South Carolina, there are 95 professional staff academic advisors. Thirty-four are university academic advisors, 27 are full-time college advisors and 34 are partial-time college advisors. There are also 366 faculty advisors. As a result of the changes implemented throughout the past six years, all advisors are required to go through standardized training in which they learn key advising research, FERPA guidelines, Carolina Core and program overviews, the undergraduate academic bulletin and other advising competencies.
I think just knowing how advising can permeate the entire collegiate experience if it's done correctly, strategically and intentionally — that's really our goal. We want students to have a better experience here because of their interactions with our advisors.

Claire Robinson, assistant dean of undergraduate advising
Then, advisors are incentivized to pursue further professional development through a training program where they can learn advanced advising processes such as curriculum approval or working with specialized student cases, such as ROTC and transfer students.
"In addition to the training provided in the college or department, the UAC wanted to make sure advisors know accurate information — whether it be policy, procedure, or how to best build relationships with students," says Jane Bouknight, senior program manager of advisor training and development. "How do you work with specific groups of students? What are their unique needs? How can you help meet those needs in the small appointment that you have? How do you build rapport with the student?"
It's a world of difference from where advising at the university was in 2014.
In 2014, only 65 percent of South Carolina students believed they received accurate information through academic advising. By 2019, 85 percent of first-time college students believed they had. In 2015, only 30 percent of undergraduate students were assigned a designated advisor. In 2019, 99 percent were. By adding systematic training for advisors and incorporating cutting-edge industry technology, the University of South Carolina is ensuring that its students are given accurate and consistent advising.
"Jane and I always remember the first year we contacted the colleges and asked, 'How do you train your advisors?'" Robinson says. "And the answer we got was, 'Here's a check sheet, and here's a link to the bulletin.' So, to go from a check sheet and a link to the bulletin to this robust program in a four- or five-year period is really why we find this to be so successful."
That improvement has been recognized by the National Academic Advising Association, which named the University of South Carolina's Advisor Training Program as one of three recipients of its 2021 Outstanding Advising Program national award. This is the fifth national award that the University Advising Center or its UAC advisors have received in the last four years.
"This shows that our program is high quality and best practice," Bouknight says. "It shows that other people across the nation that work in our field see that we are doing something good for our students and that we are showing it through our data."
Schools like the University of Pittsburgh, Boston University and Notre Dame have sent representatives to learn more about the university's training program. Following on-site visits, they have returned to their respective campuses and implemented programs very similar to South Carolina's.
Despite these accolades, Robinson says that there are still improvements to be made. In the coming years, she hopes to expand multi-year holistic advising so that more students work with the same advisor for all four of their years at the university. She also plans to continue increasing faculty-student mentorship and academic peer mentorship opportunities for students, and to help close graduation gaps in the undergraduate population by conducting specific training with advisors centered on that issue.
Through it all, her goal remains to continue providing students with the high-quality academic advising that she knows is integral to their success.
"Academic advising is broader in scope than a lot of people realize," Robinson says. "They often think of it as one thing, and it could be a transactional view. And I think just knowing how advising can permeate the entire collegiate experience if it's done correctly, strategically and intentionally — that's really our goal. We want students to have a better experience here because of their interactions with our advisors."
---
Share this Story! Let friends in your social network know what you are reading about
---