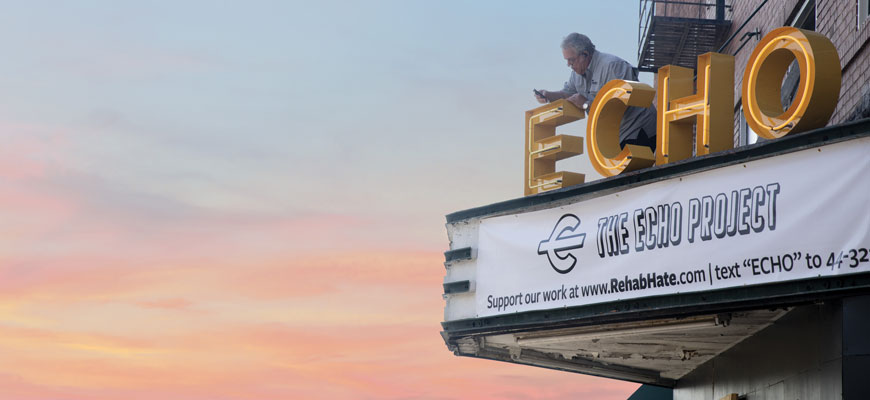 Hallelujah up there!
The Echo Project aims to bring racial reconciliation to Laurens County
---
By Craig Brandhorst,
craigb1@mailbox.sc.edu
, 803-777-3681
---
Regan Freeman can't stand still. As executive director of the Echo Project, a Laurens, South Carolina-based nonprofit dedicated to racial reconciliation, he bounces from media requests to fundraising to event planning, sometimes in a matter of minutes — and tonight there's so much spring in his step, his feet barely touch the ground.
In just a couple of hours, the Echo Project will light the marquee above the old Echo Theater, a once-segregated movie house and former Ku Klux Klan headquarters the nonprofit aims to reinvent as a civil rights museum and education center.
The marquee lighting isn't about Freeman — the face of the nonprofit is the Rev. David Kennedy,
a longtime civil rights activist and the Echo Project's founder and president — but the 24-year-old University of South Carolina grad plays a critical role, and he has plenty to take care of before they flip the switch.
There's a riser to assemble. There's a pair of tents going up across the street. There's the PA to set up and the livestream to coordinate and interview requests from local and national media. There's also bottled water to ice down because, this being the last week of May, this being South Carolina, it's hot.
Freeman is hot, too. He dabs his brow with the sleeve of his black Echo Project T-shirt and glances up West Laurens Street toward the news van pulling up on the courthouse square. Asked what kind of crowd he expects, he can't say. "We had 150 RSVP, but I have no idea," he says. "No idea."
And then his phone goes off and he's sorry, but he's got to take it. It might be another reporter. A lot of people want a minute with Reverend Kennedy these days, and over the last several months Freeman, who majored in political science but minored in public relations, has become the guy to make it happen.
Cold call for social justice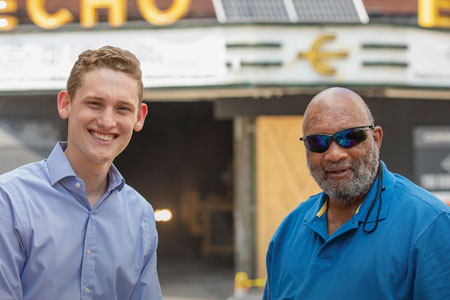 In the spring of 2018, Regan Freeman was studying when he stumbled upon an Oprah Winfrey 60 Minutes special about the National Memorial for Peace and Justice. The memorial, which is dedicated to the thousands of African Americans killed by lynching since the Civil War, is located in Montgomery, Alabama, but a single on-screen moment brought the ugly history home.
Winfrey and attorney Bryan Stevenson, the executive director of the Equal Justice Initiative, were standing beside one of 800 weathered steel monuments representing counties in the United States where racial terror lynching took place. Victims' names are engraved on each column. "Eliza Cowen was lynched in Laurens County, South Carolina," read Stevenson. Freeman, who grew up in Clinton, South Carolina, was by his own account "dumbfounded."
"I'm a white guy," he says. "I spent 12 years in public school in Laurens County. Not a sliver of that was taught. There were dozens of people lynched in Laurens County, and it bothered me that nobody talked about it back home. That darker part of history was never mentioned."
Freeman skipped his classes that day to read about his home county's history of racial violence, which is how he came upon the notorious Redneck Shop once housed in the old Echo Theater.
Freeman knew about the Redneck Shop but says he never understood the gravity, believing it was just "a bunch of local kooks." But the more he investigated, the more he learned about the shop, which opened in 1996, the same year Freeman was born. Billed as the "world's only Klan museum," it served as a meeting place for white supremacists and sold white-nationalist and neo-Nazi paraphernalia until it closed in 2012.
But Freeman also learned about Kennedy, pastor of the New Beginning Missionary Baptist Church, who had spent his life fighting for civil rights and battling the beliefs of the Redneck Shop's owners. If he wanted to learn more, Kennedy was his man. "I just called his church and he picked up," Freeman explains. "I told him, 'I just learned about this, and I'd love to talk to you.'"
Kennedy suggested they meet for lunch, and the next day Freeman skipped another class to drive 60 miles up Interstate 26 to Clinton, where they were joined by Harry Agnew, a former member of the University of South Carolina Board of Visitors. Agnew has been friends with Kennedy for decades and would later become the Echo Project's vice president.
As Freeman learned that afternoon, one of the original Redneck Shop owners, former Klansman Michael Burden Jr., at one point became homeless and was befriended by Rev. Kennedy, who offered him a home, food and a place to worship. Later, Burden sold Kennedy and the New Beginning Baptist Church partial ownership of the Redneck Shop, igniting a long legal battle and challenges to Kennedy's claim.
It's a story worthy of a Holly­wood treatment, which it in fact received that same year, 2018, when Burden, starring Forest Whitaker as Kennedy, premiered at the Sundance Film Festival.
The film helped propel donations to Kennedy's cause, but it was the stories shared by Kennedy that afternoon over lunch that lit a fire under Freeman. "I told him we've got to do something to memorialize these people [who had been lynched]," he says. "He didn't know me from Adam. We were talking and he looked me in the face — and I'll never forget this — he said, 'Do you want to help lead this?'"
Healing over hatred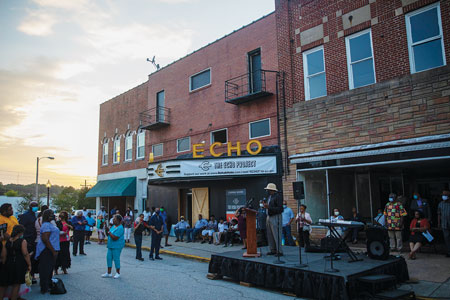 The Echo Project started slowly. For a while it was just a bunch of to-do lists on Freeman's phone. But in the two years since he joined forces with Kennedy, Agnew and the rest of the board, it has grown into a movement, as evidenced by the media on hand for the marquee lighting — and by the national attention the project has attracted over the past year and a half.
In 2020, the story got covered by the Charleston Post and Courier, People magazine and the BBC, while an Associated Press piece got picked up nationwide. In the first few months of 2021, The Washington Post came calling, followed by CBS This Morning, Good Morning America and The Bitter Southerner. All the while, donations have ticked higher. A $75,000 check from Walmart, presented at the marquee lighting, pushed them over $580,000.
But the goal is $3 million. There's a lot of work left to do. The nonprofit is in the process of reviewing bids from some of the country's top exhibit designers. In the meantime, an architect is drawing up plans for rehabilitating the building itself. And then, of course, there's that neon marquee, newly refurbished after 25 years of darkness.
It's just one word, two syllables, four letters — E-C-H-O — but its potential symbolism as a beacon of light and hope is exponential.
Freeman darts through the crowd, checking in with the soundman, the corporate rep from Walmart, the mayors of Clinton and Laurens, the press. His energy is palpable. No one is more aware of that than Kennedy, who concludes his own remarks prior to the lighting with a shout-out to his friend and right-hand man.
"I got this call from the little white brother right here, and it's been on," Kennedy tells the crowd, which far exceeds Freeman's earlier guestimate. "I told him, you're our baby now. You're a New Beginning baby now. He works hard day and night to put all this together."
A few "Amens" ripple through the crowd. Kennedy's congregation, New Beginning Baptist Church, is well represented, and his remarks are as much a sermon as a speech. He peppers his words with praise: "Hallelujah up there! Hallelujah up there! Can I get a hallelujah up there?"
"God asked him to call me, and he has been working off the chain," he shouts as he wraps an arm around Freeman and points to the sky. "Let's give Super Regan a 'Hallelujah up there!'"
We're taking this building from a Klan museum to a center for diversity and reconciliation. I get chills saying that. But we're not just going after the building in Laurens. We're talking about the universal message of standing against hatred, of choosing healing over hatred.

Regan Freeman
Freeman smiles, but he also tucks his head. He is com­mitted to the project — "He is sincere," Kennedy tells the crowd — but tonight is about the Echo Project, not him. The people who have fought for civil rights in Laurens County for a quarter century, those are the heroes, he will tell you, "I'm just thankful they let me be involved."
That doesn't mean it's always easy. For all the encouragement and kudos, Freeman has also heard pushback from some in his hometown. The now-dilapidated theater where Kennedy once watched movies from the segregated balcony still holds remnants of its days as the Redneck Shop, including KKK recruitment cards and a 25-foot swastika mural from the days the building was used by the American Nazi Party — ugly reminders of the building's dark past that some would rather not revisit. "But Rev. Kennedy's argument — and I agree with him — is you have to tell the truth to reconcile," says Freeman. "Racial reconciliation starts by telling the truth."
And the old Redneck Shop is a powerful reminder of that truth, not just in Laurens County but in America.
"You have this visceral space where you can understand the centuries-long struggle for justice and how this theater fits into that," says Freeman. "We're taking this building from a Klan museum to a center for diversity and reconciliation. I get chills saying that. But we're not just going after the building in Laurens. We're talking about the universal message of standing against hatred, of choosing healing over hatred."
---
Share this Story! Let friends in your social network know what you are reading about
---