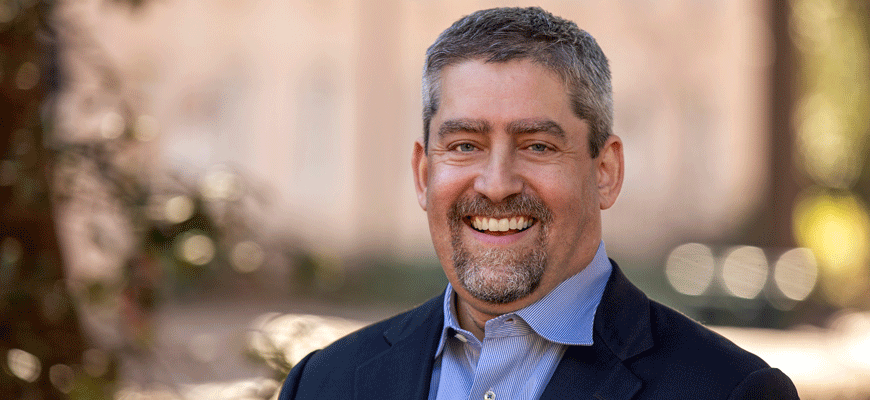 Samuels named dean of the College of Arts and Sciences
---
By Bryan Gentry,
brgentry@sc.edu
, 803-576-7650
---
The University of South Carolina has named Joel H. Samuels as dean of the College of Arts and Sciences, effective Feb. 16.
Samuels, a longtime law professor at the university, has served as interim dean of the college since January 2021. Over the past year, he has worked on numerous initiatives to advance the college.
"I have fallen in love with this college and its mission," Samuels says. "In just a few months, I met students, faculty, staff and alumni, and I quickly saw how they make an impact on our campus, in our community, across South Carolina, and beyond. Over the past year, we have worked together to expand our impact and to serve our students and our state better. I'm thrilled by the opportunity to continue that work."
Samuels' collaborative style and passion are essential qualities for an academic leader.
"Joel has demonstrated outstanding leadership in multiple roles at the university, particularly as interim dean of the College of Arts and Sciences over the past year," says Interim President Harris Pastides. "As a scholar, teacher, and administrator, he has earned the respect of his colleagues and will continue to provide thoughtful and strategic guidance to this college."
The College of Arts and Sciences is the university's largest college, with more than 9,000 undergraduate students, nearly 1,000 graduate students, 450 tenure-track faculty, and 1,200 combined faculty and staff.
"Since Dean Samuels arrived in 2004, he has had a positive impact on the University of South Carolina," says Interim Provost Stephen Cutler. "And, in the past year, his leadership as interim dean has been exceptional. I look forward to working with him as he advances the vision and mission of the College of Arts and Sciences."
The college's disciplines and mission are close to Samuels' academic roots. He earned his undergraduate degree in politics from Princeton University with certificates in Russian Studies and European Cultural Studies. While earning his law degree at the University of Michigan, he completed coursework for his master's degree in Russian and East European Studies.
"I know firsthand how the disciplines in the College of Arts and Sciences prepare students to be creative thinkers, outstanding writers, and adaptable human beings as they move to the next stage of their lives and become leaders in their professions and in their communities," Samuels says.
Samuels joined the faculty at the School of Law in 2004. For the past seven years, he has led the Rule of Law Collaborative, an internationally recognized, interdisciplinary center. He has served as principal investigator for more than $15 million in external grants, and his research often has involved work with faculty across the university. Last year, Samuels was recognized as one of the university's Breakthrough Leadership in Research Award recipients. Before becoming interim dean, he served as the interim vice provost for interdisciplinary studies.
Samuels' vision for the future of the College of Arts and Sciences is simple.
"I want to nurture a vibrant learning community that leads the university in teaching and research and impacts in our communities through research, creative achievement, teaching, and service," Samuels says. "We are the heart of the University of South Carolina, and our work is at the core of the university's impact in every facet of what we seek to do on our campus, in our community, and beyond."
Samuels has been actively engaged in the Columbia community through board service with several nonprofits. He is the father of one daughter.
---
Share this Story! Let friends in your social network know what you are reading about
---