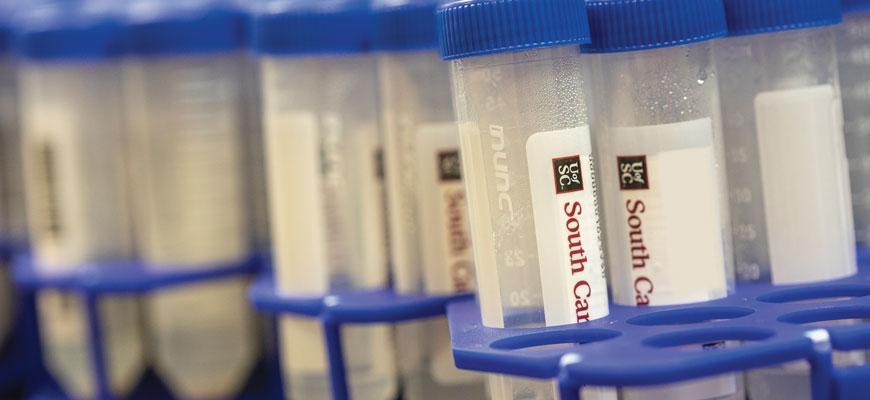 Salivation army
At university's COVID-19 testing centers, teamwork is the name of the game
---
By Craig Brandhorst,
craigb1@mailbox.sc.edu
, 803-777-3681
---
When the University of South Carolina began administering its in-house COVID-19 saliva test in 2020, the testing site staff consisted of three senior employees and a small team of graduate students, mostly from the College of Pharmacy and the Arnold School of Public Health. Protocols were a work-in-progress and sites were in flux. Two years later, the program runs like a well-oiled machine thanks to 14 senior staff members (plus a roster of approximately 30 student workers) whose can-do attitude has helped keep us healthy, productive and, yes, even happy for going on two years. TIMES asked a few of these dedicated employees to reflect on the experience.
---
Kaye McCoy is not a pharmacist. She's not a nurse. But when the pandemic hit and the university needed someone to run its new saliva testing sites, she was just what the doctor ordered.
McCoy has managed the campus sites since fall 2020, but her USC affiliation dates back to 2013, when the College of Pharmacy hired her to plan an alumni golf tournament. Contracts followed for banquets, award programs, luncheons — until the pandemic scuttled everything. "March of 2020, I lost my job," she says with a shrug. "There was not a lot of work for an event planner during the pandemic."
But that August, McCoy got a call from College of Pharmacy dean (now interim provost) Stephen Cutler: A group of university faculty led by biomedical sciences professors Phillip Buckhaults and Carolyn Banister was rolling out a new COVID-19 saliva test — could McCoy help with logistics?
"I said, 'I'm not a scientist, I'm an event planner,'" McCoy recalls. "But we just decided to look at it as an event every day, and that's how we set it up."
Initially, testing was conducted outdoors at Davis Field, at the weather's mercy, and at 650 Lincoln, where lines snaked around the block. The process needed tweaking. In mid-September, Cutler called again: Would McCoy consider managing the sites?
"I felt so helpless at that time, and that's not me," she says. "My best friends call me Crisis Kaye. If there is something wrong, call Crisis Kaye. And this was a crisis. My greatest desire was to be part of the solution. And honestly, I've worked all my life with wonderful people and for wonderful companies, but I have never enjoyed a job like I have this one."
---
For Jill Cutler, getting involved with USC's saliva testing program was a natu­ral fit. As a licensed pharmacist, she had the right skillset. As the wife of then-College of Pharmacy Dean Stephen Cutler, she had the early scoop on the university's testing plans.
But that doesn't mean it was easy. "It was totally new territory, so it was kind of stressful," says Cutler. "First it was, 'Can we trust this test? Is this a good test?' I saw all those phases. And, of course, people were worried for their lives and the lives of their loved ones. But then I remember Steve came home — this was one of the first days we were back on campus — and he said, 'You know, we could maybe use your help.'"
And the job has been rewarding, providing campus connections at a time when people were desperate to come together.
"We used to have this one department that would show up and they'd all go out in the parking lot and get in a circle," she says. "Someone would say, 'On your mark, get set, go!' and they'd have a race to see who could finish first. They were just trying to have fun."
---
Because she works primarily at the Coliseum testing site, Aliyah Abrams' face may be more familiar to students than to faculty or staff — unless, of course, they happen to follow women's track.
Abrams, who racked up a slew of top honors running the 400 meter and 4x400 meter relay as a member of the Gamecocks track and field team, also represented her native Guyana in the 2016 and 2020 Olympics.
But the track star also has other ambitions. She began working for the university's COVID testing program as a graduate assistant while pursuing a master's in public health — and then transitioned to senior staff after she completed the degree in May 2021.
"I was excited to help because we needed it," she says. "And even now, when they're canceling a lot of other sites around town, we're still running tests for students and staff. That accessibility has been so important for our school."
And she's still there, too — in part, because the flexible hours fit well with the professional athlete's rigorous training schedule but also because she enjoys being part of the university's pandemic response and gaining valuable experience.
"There was just a lot of great problem solving over the last two years with COVID testing," she says. "Just seeing how everything was managed overall, how it developed and what it turned into — that will definitely help me in my career."
---
If you're faculty or staff, you've likely chatted with Dawn Cone. And if you're a saliva test regular — someone who spits more than the university's once-a-month requirement — there's a good chance she remembers your name.
Cone is naturally social, and it shines through at work, where she has become a familiar presence. She is unfailingly professional but smiles almost constantly behind her mask and enjoys sharing anecdotes with the people she has come to know over the course of the pandemic. She calls the faculty/staff testing site in the former Synovus bank "the boutique," because it's the smallest of the three campus sites, or sometimes just refers to it as Cheers.
"We do everything we can to make this process fun," she says with a laugh — and that became particularly important last fall, when the university opened testing to employees' families and people started bringing in their kids.
For Cone, who came to USC from Columbia Children's Theater, where she works as a scenic artist, it was a bright spot. It was also an opportunity to make a difference during a difficult time.
"A lot of those children experienced a different type of testing before, with nasal swabs, and they're scared," she says. "We've had little, little littles in here, like 2 years old, so to be able to teach them to spit in a tube and to make it fun — yeah, there's no tears."
---
When Karen Thao graduated from the College of Pharmacy in 2020, she was still unsure about her career path. She had an eye on clinical research, but she also liked the idea of having an immediate community impact, which led her to volunteer at two different COVID vaccination clinics in her hometown of Rock Hill, South Carolina.
"And then, since I loved that so much, when I heard about this job down in Columbia I was like, 'Huh, OK. Let me go help them out and see how that goes,'" she says.
That was August 2021, and she's still here — doubling as a laboratory specialist and COVID-19 test site coordinator. She drives down from Rock Hill four days a week (before case numbers fell, it was five) and helps open the faculty/staff site at 7 a.m. She's still weighing her next move, but for now her plan is to "stick it out" at the testing site.
Asked for the biggest takeaway from the experience, she points to her coworkers and the impact they make together. "Teamwork," she says. "We're all different with different personalities, different backgrounds, but we all came together to meet one goal."
---
Share this Story! Let friends in your social network know what you are reading about
---