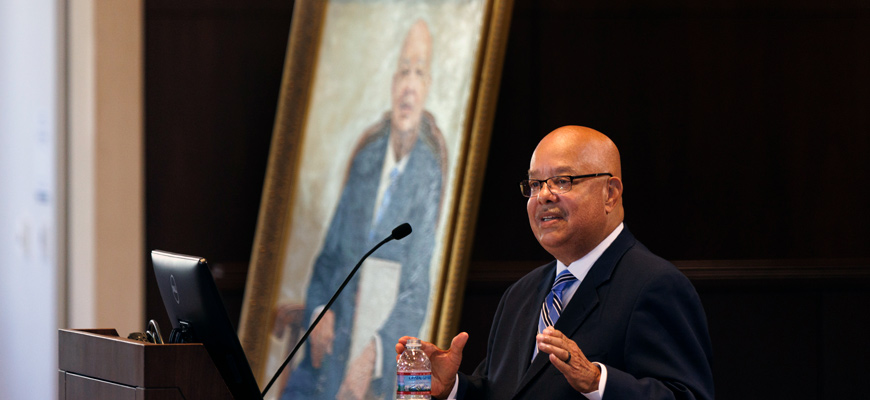 Law alumnus honored for lifetime of achievements
I.S. Leevy Johnson's portrait will be displayed in law school
---
By Rebekah Friedman,
rebekahb@mailbox.sc.edu
---
A portrait of I.S. Leevy Johnson, '68 law, was unveiled Monday at the School of Law in recognition of the trailblazing alumnus' legal, business and political achievements.
A Gamecock great: Johnson, a founding partner with the Johnson, Toal & Battiste law firm, is the first African American to complete the entire law curriculum at the University of South Carolina. He was one of the first Black men elected to the South Carolina General Assembly since Reconstruction, serving from 1970 to 1980, and became the first Black president of the South Carolina Bar Association in 1985. His numerous accolades include the Order of the Palmetto, the state's highest civilian award. He also serves as owner and director of Leevy's Funeral Home in Columbia.
Honoring his impact: "We could not be prouder to count I.S. Leevy Johnson as one of our own," says law school Dean William Hubbard. "He is a true leader and role model for the countless young lawyers who have followed in his footsteps. His contributions to the legal profession and this school have left an indelible mark on our state and nation. His legal acumen is matched only by his quick wit. Anyone who has had the pleasure to know him or work with him has been enriched by the experience."
Where to see it: Johnson's portrait is displayed in the law library's reading room.
---
Share this Story! Let friends in your social network know what you are reading about
---