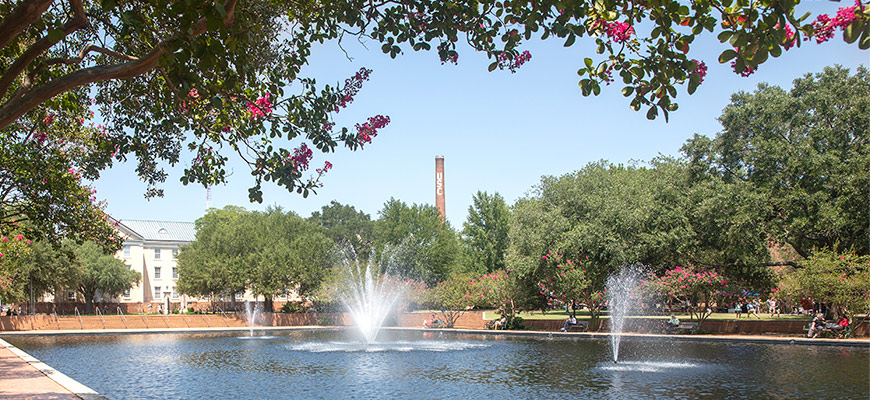 Board of Trustees meets, approves 2022-23 budget
---
By Dana Woodward,
ddhaesel@mailbox.sc.edu
, 803-777-3691
---
The university's Board of Trustees met on Friday (June 24). Here's a look at the actions they took:


Tuition holds steady in 2022-23 budget
The board approved a budget for the 2022-23 fiscal years that invests in strategic priorities while holding tuition flat for the fourth year in a row for the eight-campus university system.
Thanks to a continuation of strong student enrollment and financial support from state lawmakers, the university system's $1.8 billion budget will allow for investment in core academic areas and infrastructure without increasing tuition for students and families.


Board honors outgoing trustees
Two former trustees were recognized with resolutions for their service to the university. William Hubbard, who represented the Fifth Judicial Circuit for 35 years, served for four years as vice chairman and four years as chairman. Hubbard now serves as the dean for the School of Law. Eugene Warr Jr. represented the Fourth Judicial Circuit for 20 years and served as chairman for four years. Warr is now a family court judge in South Carolina's Fourth Judicial Circuit.
The board also recognized Alex Harrell, outgoing student body president, and Robin Roberts, outgoing USC Alumni Association president.


Contracts, leases and other approvals
A variety of other items received approval during the meeting, including:
Indefinite quantity contracts for Brownstone Construction Group, LLC, Cumming Management Group, Atlantic South, LLC, LLE Constructions Group, LLC and Bear Steele Global, Ltd. Co.;
USC Development Foundation lease renewals at 1530 Wheat St. and 1300 Pickens St.;
University Libraries license agreements with Wiley Subscriptions Services, Inc. and EBSCO Information;
a USC Beaufort license agreement with Encoura, LLC;
a master service agreement between HireRight, LLC and the Division of Human Resources;
a service agreement between the university and the USC Alumni Association;
USC Columbia campus Athletics agreements with Delta Air Lines, Inc. for charter flights, SSB Consulting Group dba Affinaquest and Salesforce, Inc.;
USC Columbia Athletics one-year employment extensions for track and field head coach Curtis Frye, associate head women's basketball coach Lisa Boyer and assistant women's basketball coaches Fred Chmiel and Jolette Law;
USC Upstate Athletics employment agreements with men's basketball head coach Dave Dickerson and women's basketball head coach Jason Williams;
USC Columbia Housing agreement with Courtyard Marriott;
the initial approval of changes to the board bylaws, which will be brought for a second vote in August;
minutes and consent agendas from previous meetings;
the appointment of Robin Roberts as a non-board, non-voting expert advisor to the Advancement, Engagement and Communications Committee;
and the election of Cary Graham as Assistant Secretary to the Board for Business Operations.
---
Share this Story! Let friends in your social network know what you are reading about
---