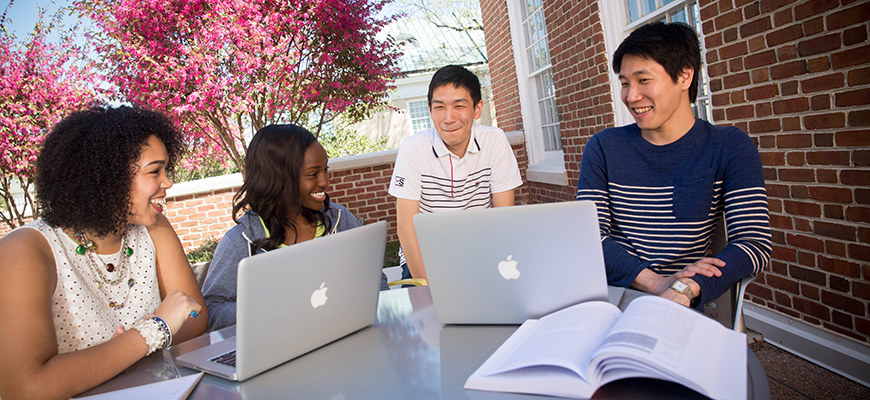 On Your Time Initiatives improves experience, decreases debt for UofSC students
OYT Initiatives' programs show university's commitment to creating flexible degree pathways.
---
By Abe Danaher,
adanaher@mailbox.sc.edu
, 803-576-7780
---
Troy Etta Knox can only smile. She could, and traditionally would, still be an undergraduate student at the University of South Carolina. But due to the university's summer and winter semesters offered through On Your Time Initiatives, Knox is doing big things sooner than she ever thought possible.
"I was able to graduate a year ahead of schedule because I was able to take advantage of summer and winter sessions through On Your Time," she says. "Now, I will be in Paris, France, in the second year of my International MBA when I probably would have been graduating with my bachelor's."
The office of On Your Time Initiatives was started at South Carolina in 2015 to improve students' paths to degree completion. For high-achieving students like Knox who want to get ahead in their studies, the office has made it possible to take classes year-around through summer and winter semesters. However, it is also working with struggling students to make sure that one bad class, or semester, does not hinder students' ability to graduate on time or greatly extend their time to graduation.
Student debt increases dramatically after the fourth year. And so, graduating on time or even a bit early saves students a huge amount of money and gets them earning earlier.

Sandra Kelly, vice provost
By developing offerings such as three-week winter semesters, summer minors, accelerated study plans and winter study abroad opportunities, On Your Time Initiatives is breaking higher education's traditional academic structure to provide South Carolina's students with increased flexibility, higher graduation rates and decreased debt.
"We're able to cater to individual student needs with our buffet of services and also cater to the needs of the schools and colleges based on what they are able to do," says Shelley Dempsey, the director of OYT Initiatives. "Our staff takes great pride in being able to work with individual areas and individual students to serve their needs, which is pretty unheard of at a large institution like this."
At South Carolina, seemingly small changes implemented by the office have had a large effect. Of the 166 students in the university's incoming Fall 2015 first year cohort who participated in a winter session, 98% have graduated. Of the 5000+ who did not, 78% have graduated. University of South Carolina students have also been able to graduate faster, with 4.4% of the 2018 undergraduate class graduating in three years, while in 2008, just 1.1% did. And, in the 2017 class, 9.1% of the students graduated in 3.3 years — which was up from 2.7% in 2008.
The impact of On Your Time's offerings is not limited to those who want to graduate early. Knox recounts a classmate's journey through the university that was very different from her own. The student had failed out of an entire semester of classes, she says, at the same time that her family was struggling financially. Through the support of On Your Time Initiatives, though, Knox says that this classmate was able to recover their GPA and still graduate from the university on time.
"This office's impact is incredible," says Knox, who is an executive board member for On Your Time's first ever student advisory board. "It has helped so many people across so many spectrums not give up. Instead of people having to say, 'You know what, if I messed up, I'm going to have to put two more years in that I don't have financially.' Or, 'I'm just not going to go back and finish.' Now, through this office, there are people who can work with you and help you and show you a path that you can still go back and you can still finish within the time frame that you are looking for. I think that is incredible."
The benefit of improving graduation rates and decreasing students' time to degree completion is simple — they decrease student debt. Amidst increased class offerings, programs and study abroad opportunities, every action On Your Time takes is aimed at helping students' financial situations.
"Student debt increases dramatically after the fourth year," says Sandra Kelly, the vice provost at South Carolina who oversees On Your Time Initiatives. "And so, graduating on time or even a bit early saves students a huge amount of money and gets them earning earlier."
On Your Time's impact goes far beyond just numbers. For Knox — a nontraditional transfer student — taking courses during every summer semester and one winter semester allowed her to maximize every minute of her undergraduate education. She was able to take every class that she wanted, volunteer in the community, participate in multiple internship opportunities — all the while graduating early with summa cum laude honors.
"I said, 'I'm going to be a student, I'm going to be a freshman, I'm just going to come in and I'm going to do everything that I want to do,'" she says. "And I did that. I let nothing stand in my way. And these opportunities that I had, I took full advantage of them because I really understand the value of education and where you can go from here."
---
Share this Story! Let friends in your social network know what you are reading about
---