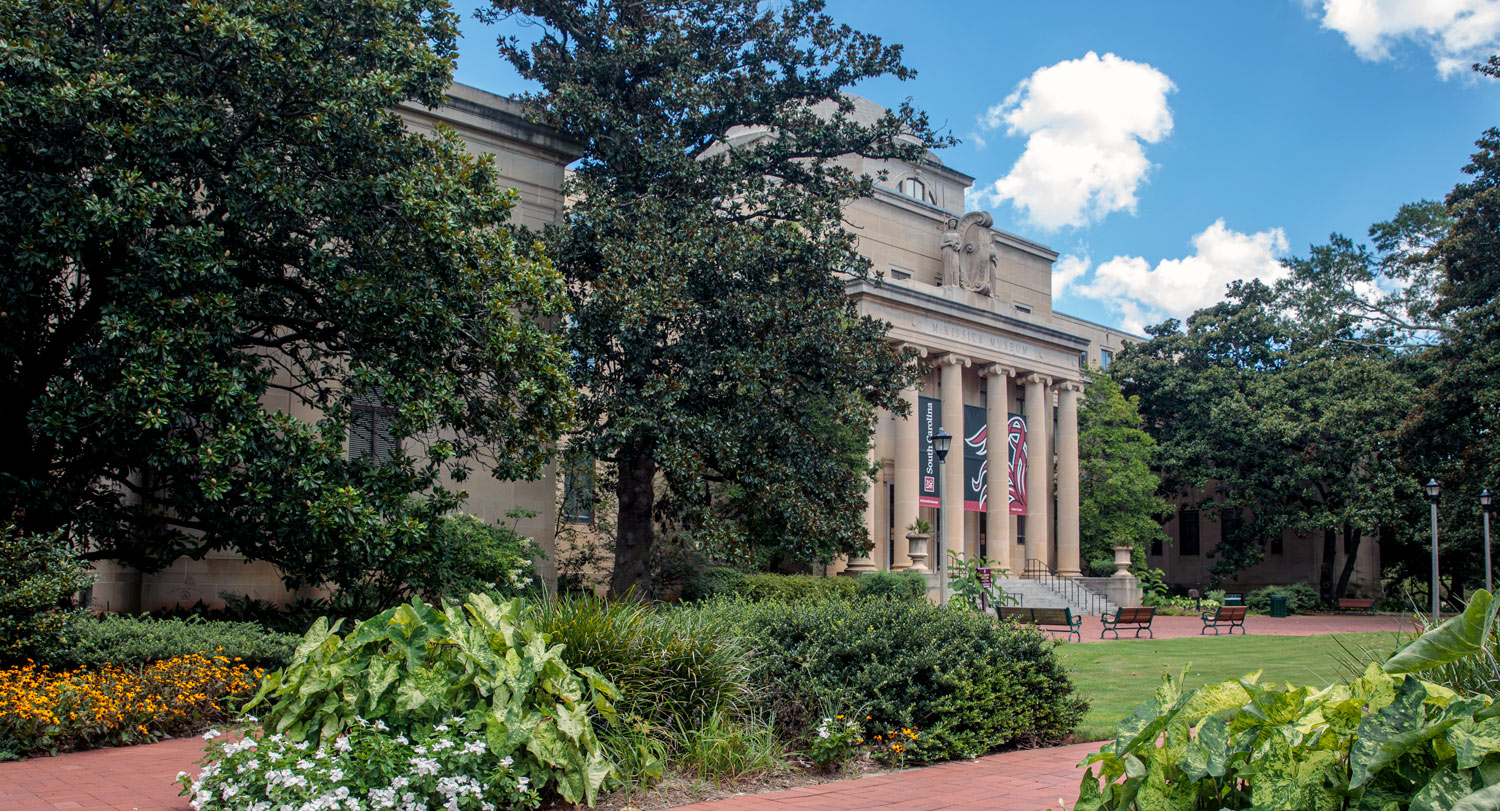 Every year, tens of thousands of prospective students and their families visit the University of South Carolina for a campus tour. Here's the story of how the university's Visitor Center came to be, as well as a peek behind the curtains at some unscripted moments in the lives of campus tour guides.
TRANSCRIPT
Two hundred years ago, taking a tour of the University of South Carolina campus would have been pretty simple. The entire campus back then consisted of the Horseshoe, and there were only a handful of buildings on it with maybe a hundred students. After a leisurely 5-minute stroll, your tour would have been done.
I'm Chris Horn, your host for Remembering the Days, and today we're looking back at the how the university's Visitor Center came to be — it's the place where, today, thousands of prospective students and their families start their tours of the university campus. We're also going to hear about a few unscripted moments that sometimes happen during campus tours — so stick around if you need a chuckle.
But first, the Vistor Center itself. When I was a freshman here at the University of South Carolina in the late 1970s, there was a tiny information kiosk stationed on Pendleton Street near the Osborne Administration Building. You might remember it. The kiosk was big enough to house one person, usually it was a student, and they would tell you how to find the admissions office or the registrar's office or what have you. That little kiosk lasted for a few years and then it went away.
It wasn't until the late 1990s that the phenomenon of high school seniors visiting college campuses started to become a trend. Before that, most students didn't shop around for a college — a lot of them just went to whatever campus was nearby or perhaps they followed their friends to a school or maybe they enrolled at the same universities their parents had gone to.
But as the cost of college education went up, students and their parents began to be more selective, and that launched the campus tour industry and the need for campus visitor centers. USC was ready when that trend began. The Class of 1941 had designated its 50th anniversary class gift in 1991 to establish a visitor center at Carolina, which opened in 1993.
The center was originally located in what had been the Carolina Plaza Hotel on Assembly Street, a busy thoroughfare in Columbia. Prospective students and their parents, led by campus tour guides, would thread their way across Assembly Street and past two more city blocks just to get to the main part of campus. Here's Denise Wellman, who was director of the Visitor Center for 25 years.
Denise Wellman "We were on the other side of Assembly Street and had really at least six lanes of traffic to get across. Tour groups were growing in numbers. And I still remember looking out the front door of the Plaza and seeing that tour group stretching along that median in the middle of Assembly Street, right at the intersection of Pendleton and Assembly, and just praying everybody would safely get across."
Everyone made it safely across Assembly Street all those years ago, but, clearly, the university was not putting its best foot forward starting campus tours from such a busy location. In 2006, the Visitor Center moved to the McKissick Museum on the Horseshoe — which is, without a doubt, the ideal starting point for a college campus tour. Walk down the steps of McKissick and look out at those beautiful century-old oak trees and 19th-century buildings — it's a picture-worthy moment that impresses a lot of visitors.
Now, to have a campus tour, you've got to have campus tour guides. And during her many years as director of the Visitor Center, Denise developed an elite corps of guides called University Ambassadors. All of the ambassadors — and there are usually 100 or more of them — are current students. Rebecca Johnson, who's now the director of the Visitor Center, explains why.
Rebecca Johnson: "Something that we say in the industry is that once you graduate you've lost all street cred. They don't want to hear from you anymore. They want to hear from a current student."
Being a current student doesn't by itself make you a credible tour guide. Students who serve as University Ambassadors have to keep it real as they tell stories about their own experiences at Carolina.
Rebecca Johnson: "I feel that students and parents can sniff out, they can tell when the students are not being their authentic self or when it's really, really scripted or too robotic. And that can be a turnoff for families."
Cody Marko is a current University Ambassador majoring in international business and marketing.
Cody Marko: "We have what's called the BSAT, which is the big scary ambassador test that you have to take and pass before you can start giving tours. During our year, that was a 100-question test. That was just facts and statistics about the university, not multiple choice. You have to have all of that information."
You know it or you don't know it.
Like bare minimum, you hit 100 things. And those are just facts, statistics that you've got to know."
University Ambassadors have got to keep a lot of facts and figures about the university in their heads while they're herding groups across campus for 90-minute tours, stopping in the shade on hot days and handing out umbrellas on rainy days. Upwards of 35,000 prospective students and their families come here for tours every year, especially around Easter break.
So there's a little pressure on the University Ambassadors to put their best foot forward, to keep it real and to share all of the brags about Carolina that give prospective students a clear understanding of what this university has to offer. When the ambassadors do their job well — and they invariably do — visitors come away with a favorable impression of the university. More often than not, high school seniors who tour the campus end up applying for admission.
The Visitor Center has become a well-oiled machine that shows off a beautiful campus to tens of thousands of visitors. But occasionally there are unscripted moments that keep things interesting.
Cody Marko tries to inject a little humor to break the ice with each group.
Cody Marko: "Jokes, making people laugh. All of that is super important. If they don't like you as a person, then they're not going to pay any attention to what you're talking about throughout the tour."
Another University Ambassador, Caroline Porter, tried to extend the humor a bit this past Halloween by dressing up in a costume. That turned out to be more trick than treat.
Caroline Porter: "This past Halloween, I gave a tour in a blow up alien costume, so that was definitely a bit memorable. I was just trying to feed into, like, the Halloween hysteria, like make everyone happy. It was definitely, actually the worst tour I've ever given in my entire life. Like, it was terrible. My group and I were not on the same level of like, comedy. I thought I was being hilarious. They definitely did not like it at all."
I felt bad for Caroline when she told me that story. And I found myself wondering what that must have looked like — a tour guide dressed in a blow-up alien costume while leading a bunch of 17-year-old prospective students and their parents across campus. As if that weren't enough, Caroline got pranked by a fellow ambassador while she was conducting a more recent tour.
Caroline Porter: "It happened today. Another one of our guides told everyone in my group that today was my birthday, and then my group started to sing to me 'Happy Birthday.' So I was like, OK, it's too late now to say it's not my birthday. So we're going along with it. They're all telling me 'Happy birthday' after the tour. Like nothing too crazy for me, but it's enough that it's kind of awkward that you have to decide, like, 'Am I about to lie to this group of people that it's my birthday? Or should I just kind of keep going on with it right now?' "
Cody had his own awkward campus tour moment that happened early in his career as a University Ambassador.
Cody Marko: "My craziest story really doesn't have anything to do with my group per se. I was training to be a tour guide. I was giving my certification tour and — which is the tour that you give right before they officially say you're good and ready to go out on your own. So I had one of our mentors there with me kind of checking on everything. And I was in front of the library with my group standing right out front, had the windows behind me talking about it, when out of nowhere. And at this point I'm already very nervous. I've got all eyes on me. I've been hitting some jokes, some haven't landed so I'm still in the middle in my eyes. And out of nowhere a bird flies into the window right beside me. Dead, just gone. And I'm like, 'Oh, no, this is not good.' And like, do I acknowledge that? Do I move the group? I'm like, literally, what do I do in this situation? And no one like reacted to it. They were just standing there."
Yikes, what do you say in a situation like that? Cody remembers slowly shuffling his group to the other side of the library and away from the crumpled pile of feathers so that he could finish his remarks.
Cody and Caroline shared more campus tour stories — one involved a squirrel falling out of a tree and landing on a prospective student. But I think we get the idea. No matter what happens, rain or shine, alien costumes, kamikaze birds, falling squirrels — the Visitor Center and its University Ambassadors do a good job of telling the story of Carolina to everyone who comes for a tour.
Next time on Remembering the Days, put on your running shoes because we're going back 20 years when the university landed its first-ever NCAA national championship. It's a fast story from start to finish.
I'm Chris Horn, thanks for listening today and forever to thee.