On the morning of Sept. 11, 1963, three students stepped through the doors of the University of South Carolina's Osborne Administration building and into USC history.
Robert Anderson, Henrie Monteith Treadwell and James Solomon Jr. — the first Black students admitted to the university since Reconstruction — will be forever remembered for their pivotal role in the desegregation of higher education in the state. Nearly 60 years later, the university is recognizing their efforts with a statue by internationally acclaimed sculptor Basil Watson.
The 12-foot bronze statue, which will stand atop a granite base, was inspired by a now-iconic photograph of the three alumni coming down the Osborne steps that day. Next fall, it will be permanently installed in a prominent spot near where the three newly enrolled students were photographed in 1963.
"The Board of Trustees commissioned this sculpture so that the University of South Carolina community and our entire state will have a visible and physical reminder, in perpetuity, of Sept. 11, 1963, when three students demonstrated remarkable, individual bravery in pursuit of opportunity for all," said Board Chair Thad Westbrook.
That bravery will be reflected in the completed monument, says Board of Trustee member Alex English, who enrolled at the university less than a decade after Anderson, Treadwell and Solomon.
"Basil Watson has a gift for capturing historical and emotional power in sculpture," English said. "His beautiful design for the desegregation sculpture at the university evokes the significance of a single moment, when three students descended the steps of the Osborne Administration building and strode into history. The design combines symbolism with personal gestures. It represents a very powerful and formidable accomplishment in African Americans' quest for equality and justice."
All three students entered the university on the same day, but it was a lawsuit filed by Treadwell that made the moment possible. The Columbia native began the application process when she was just 16 years old, and it took nearly two years and a protracted court battle led by civil rights attorney Matthew J. Perry before she was finally allowed to enroll.
Treadwell would go on to become the university's first Black graduate since Reconstruction, earning a bachelor's in biochemistry in 1965 before earning a master's in biology from Boston University and a master's and Ph.D. in biochemistry from Atlanta University.
Anderson, who died in 2009, was a transfer student from Clark College. The Greenville native worked as a social worker in New York City for many years, followed by a 12-year career with the Veterans Administration.
Solomon, a graduate student, served on the faculty of Morris College from 1960 to 1973, including three years as an administrator. He worked in a number of government positions throughout his career, ultimately retiring as commissioner of the Department of Social Services.
The statue, Treadwell says, is an opportunity to acknowledge everyone who sought to desegregate Southern universities in the years following the Supreme Court's Brown v. Board of Education ruling in 1954.
"I hope that alumni, faculty, students will continue to think of ways of permanently recognizing the value of what has been done on that campus," Treadwell says. "People must understand that my walking across that threshold was not the end of the story. My walking across that threshold was the beginning of a story."
And that story is not merely a story of racial integration, according to Treadwell. The statue soon to go up on the USC campus is likewise an opportunity to celebrate the power of confident women, then and now.
"For me, the entire effort centers around the role that a woman, a female, can play in advocating for social change and educational opportunity," explains Treadwell, who has enjoyed a long career in public health and is founding executive director of Community Voices at Morehouse School of Medicine, where she studies healthcare for underserved populations.
The statue will complement a desegregation garden on campus, which was dedicated in 2013 to commemorate the heroic acts of Anderson, Solomon, and Treadwell.
USC President Michael Amiridis said he hopes the finished work will stand as in inspiration to others.
"Anderson, Treadwell and Solomon together played a critical role in desegregation in this state, opening doors at this university and beyond," Amiridis says. "The courage of these three young people will serve as an example to our entire Carolina community, now and in the future."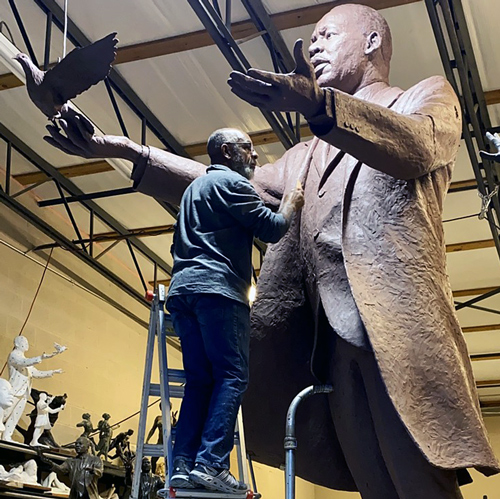 Their courage aligns with Watson's philosophy as an artist. In addition to pieces celebrating Black civil rights activists such as Martin Luther King and Septima Clark, the Jamaican-born sculptor's public commissions include Britain's National Windrush Monument, which honors a generation of Caribbean migrants, and Jamaica's To the World, a tribute to record-shattering sprinter Usain Bolt.
"I do think about being a catalyst for change — I think about it, I hope to achieve it, that is my lifelong mission," Watson says. "I hope every piece that I do can create even a little change, even in one person. To have a public audience like this is magnificent because it gives me the opportunity to go wider and bigger and deeper trying to make that change."
He wants his latest statue to move people in the same way that the photo of Anderson, Treadwell and Solomon descending the steps of Osborne moves him.
"All of my sculptures are about heroes," he says. "My hope is that this sculpture inspires others to find that hero within themselves and recognize that a hero is not somebody else out there. A hero lies within us, and we can make that kind of contribution."
Carolinian Magazine
This article was originally published in Carolinian, the alumni magazine for the University of South Carolina. Meet more dynamic Carolinians and discover once again what makes our university great.
View Carolinian