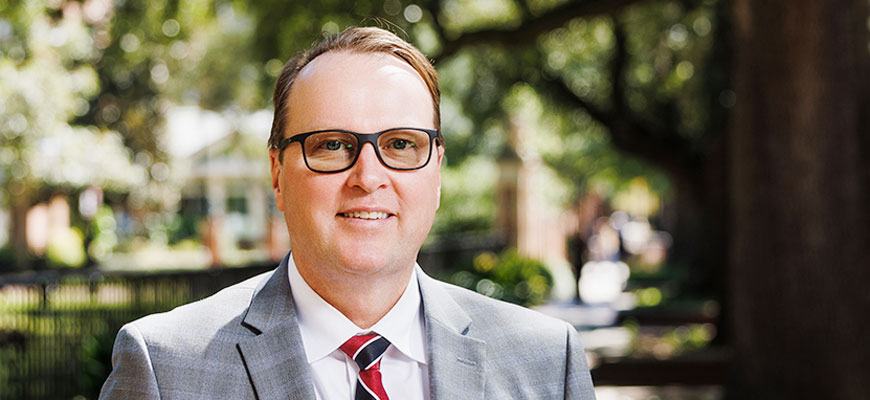 Fishing the right pond
New vice president for research aims to mentor junior faculty
---
By Craig Brandhorst,
craigb1@mailbox.sc.edu
, 803-777-3681
---
Julius Fridriksson loves a challenge.
It's why he was drawn to science as an undergraduate at the University of Central Florida, why he pursued speech-language pathology in grad school at the University of Arizona, why he built a massive research enterprise at the University of South Carolina, securing more than $45 million in external funding to study aphasia and aphasia recovery.
It's also why after climbing to the top of his field — and building out a research team of more than 40 faculty, post docs and graduate students at the Arnold School of Public Health — the first-generation college student from a small village in Iceland agreed to become the university's interim vice president for research in 2021.
"I'm very much challenge-driven," says Fridriksson, who was elevated to the permanent position in 2022. "When we renewed my program project grant, which is very difficult to do, I started thinking, 'What are the next challenges? How can I take what I did with junior faculty on a smaller scale and do that at a much larger scale at the university level?' "
Fridriksson talks a lot about junior faculty, and more specifically about mentorship. Along with helping the university beef up its overall research enterprise, it's one of his primary goals as research chief. And his motives aren't strictly professional; it's also a personal mission, how he hopes to improve the outcomes for early career faculty who may be scuffling a bit as they try to get their own research going.
"For a lot of faculty who get dismayed or feel overwhelmed, it's because there is nobody to show them the way," he says. "We need to be more proactive mentoring our junior faculty. If we can formalize that process a bit and make it more efficient, more targeted, we can benefit not only the junior faculty members, but the research enterprise for that person."
I'm very much challenge-driven. When we renewed my program project grant, which is very difficult to do, I started thinking, 'What are the next challenges?'

Julius Fridriksson
If you've followed Fridriksson's own career over the past decade, it's hard to imagine him as anything other than a rainmaker. He has been co-director of the university's prestigious McCausland Center for Brain Imaging since 2011. He launched the Center for Aphasia Recovery in 2016, starting with a whopping $11.1 million grant from the National Institutes of Health. His team continues to attract major grants — that center grant was renewed last year to the tune of $12.5 million — and he himself maintains an active research agenda, even as he refocuses some of his attention on the larger university.
But he remembers what it was like trying to get a project off the ground and falling flat, not because he wasn't putting in the work but because he didn't know how to pursue funding. Prior to joining the Department of Communication Sciences and Disorders as an assistant professor in 2001, he says he had never even seen a grant proposal.
"As a junior faculty member there were so many times when, clearly, I was just fishing in the wrong pond — I can't tell you how many studies I started or relationships I developed that I thought were going to get somewhere but just went nowhere," he explains. "As a senior faculty member looking back at all those false starts, I want to help the folks who are where I was 20 years ago."
Among other things, that means promoting the university's Propel program, which provides in-depth grant-writing workshops for junior faculty and pairs them with senior faculty who can help them achieve funding to move their research forward.
He also preaches the importance of center grants like the National Institutes of Health grants he has secured for the Center for Aphasia Recovery. Such large-scale grants offer federal agencies more bang for their buck, he explains, because they fund ambitious projects and support multiple researchers rather than individual researchers or small teams.
"These larger groups of faculty members working together offer much better return on their investment," says Fridriksson. "It doesn't mean that they're going away from individualized grants, but proportionally they're going to be putting a lot more funding into center grants."
They also build communities, allowing researchers at every stage of their career to work toward a common overarching goal. And that can only boost the careers of those junior faculty Fridriksson hopes to help.
"For them to be a part of something where they get continuous mentorship but also ad hoc advice about everything academia related, even teaching, it's extremely helpful," he says. "I look at those folks who are in my group at the Arnold School, and I think, 'Had I been involved in that kind of research as a junior faculty member, it would have been so fantastic.' "
---
Share this Story! Let friends in your social network know what you are reading about
---