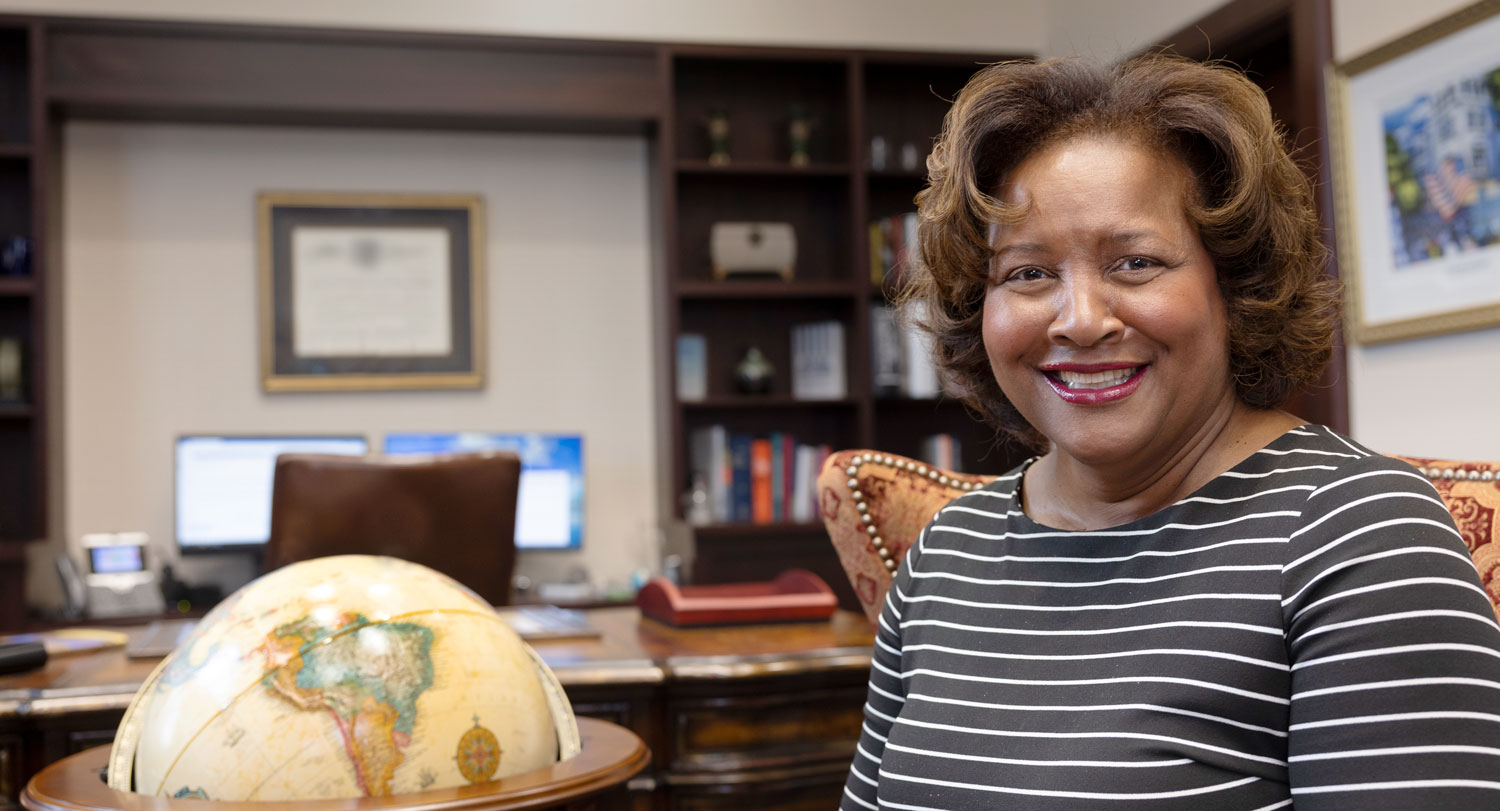 Judge of character
Circuit Court Judge J. Michelle Childs is more than a trailblazer
This summer, School of Law alumna J. Michelle Childs was appointed circuit judge on the U.S. Court of Appeals for the District of Columbia by President Joe Biden. Previously, she served on the U.S. District Court for South Carolina (2010-22) and as a state court judge on the South Carolina Circuit Court (2006-10). Childs, who was considered for U.S. Supreme Court justice this spring, began her legal career at Nexsen Pruet, where she was the first-ever Black female to make partner at a major South Carolina law firm. She earned a bachelor's in management at the University of South Florida in 1988, graduating cum laude, but chose to study law (and get a concurrent graduate degree in business) at the University of South Carolina.
---
Born in Michigan, high school in Columbia, undergrad in Florida — that's connections to three states. Why come to law school at USC?
Francis Borkowski was the graduation speaker at the University of South Florida, and I was voted Most Outstanding Senior, so I got to sit on the stage. He approached me and asked how could I leave South Carolina? I said, "Well, it's a full scholarship and, you know, money talks." So, he and I chatted further. He said, "This doesn't seem right that we wouldn't have you back in our state." I then received a full scholarship to USC law school a month before the semester began.
When you were being considered for the Supreme Court, you described yourself as "an outsider ... in a state where many people have a mindset that you had to be from South Carolina and given permission to make any great achievements." Are you motivated by adversity?
I just believe that if you work hard, you should have opportunities. I realize that it takes relationship building to get to the other side — obviously, I could not have these appointments without having built some type of relationship politically with someone who cared enough to sponsor me, if you will. But my motivation is about hard work and having the opportunity for it to pay off.
As an undergrad, you sued a beauty pageant — successfully. How far back does the interest in the law go?
In high school, I actually wanted to be a psychologist. Then I got exposed to the law through mock trial and had the opportunity to advocate for one position. That's when I became interested in law.
And you're involved with mock trial now, working with middle and high schoolers. How do you find time?
I have always articulated, particularly to my law clerks, that this is not a job, it's a profession — and in this profession we have to give back. Just as that opportunity influenced me, we may have the opportunity to influence another person or show them the way into the law as well.
Work ethic is a theme among colleagues who have spoken about you in the press: "No one works harder than Michelle Childs." What do you attribute that to?
My grandparents. My father's father worked in factories, but he had a second job at the post office. He also worked in car factories. He did whatever he needed to do to provide for his family. My mother is the second of 12. Her father was a bus driver and did pretty much a 16-hour day.
You left Nexsen Pruet to be deputy director at the South Carolina Department of Labor. Why take that leap?
Interestingly, when I got a call from Gov. Jim Hodges' office, I turned them down. And then I got a second call and turned them down again — because I had just made partner in a large law firm. I said, "Hey, I ring the bell. Why would I leave?" Later, I realized this might be something to investigate because I was saying no too quickly. Being at the Department of Labor allowed me to see the business side of the law.
When you were floated for the Supreme Court, you had bipartisan support. Sen. Lindsey Graham (R) and Rep. Jim Clyburn (D) both backed you. That's unusual.
And it was odd in the sense that I had lots of Republicans calling me, in this climate, saying, "I want to help you, but I don't want to hurt you." They said that from the standpoint of wanting to support me but realizing that if they gave me support, maybe I was going to lose some Democrats.
How important is that bipartisan support to the courts, which seem increasingly politicized?
It means that we are an independent judiciary, we are the third branch, a co-equal branch of government. I hold that very close to my heart. I like people to believe that when they come into a courtroom with me as judge, I have no preconceptions about the case. I will be very prepared. I will ask the appropriate questions. But either side has the opportunity to convince me of their particular position.
You've spoken out on social issues: gun violence, school-to-prison pipeline, income inequality. Considering the politics around judicial appointments, why haven't you been hamstrung by that?
This goes back to my earlier comment about this being a profession and not just a job. To the extent that we can have a voice on issues without being partisan, we should. In each context, my comments were meant to relay information.
Prime example: When I was at my judicial confirmation hearing for district court, Sen. Jeff Sessions asked about a statement I had made, how it's very sobering to sentence somebody for longer than they've been alive. I think he took the intent of that comment to mean I would be soft on crime. The intent of my comment — because I was speaking to high school dropouts — was to let them know, "Get your education." In South Carolina, where I was on state court, you sentence a lot of young people who are 18 to 25 for murder. And my sentence has to be 30 years to life. So, yes, it's sobering. I was saying it to make them understand the consequences of their actions. It should be sobering.
Columbia High School, University of South Florida, USC for law. Public, public, public. The Supreme Court is typically all Ivy League, right?
It is. And that was a big emphasis in the support I garnered. It played a key role in terms of how I was encapsulated. It shows that mainstream persons who may not have been afforded certain opportunities belong there. Don't discount the rest of us. I had a stellar education at public schools. Being in the University of South Florida honors program, and then coming to USC, I was tested by very competitive classmates and outstanding professors.
What's the most valuable takeaway from your time at USC?
Your reputation precedes you. Even on the bench, you want to be thought of as a judge who has a good work ethic, who can be trusted by all parties, is very impartial, takes the role seriously, doesn't wear the robe heavy. All of that factors into how you matriculate through the system. That's actually one of the first things they tell you on the first day of law school: Your reputation starts now.
Carolinian Magazine
This article was originally published in Carolinian, the alumni magazine for the University of South Carolina. Meet more dynamic Carolinians and discover once again what makes our university great.
View Carolinian