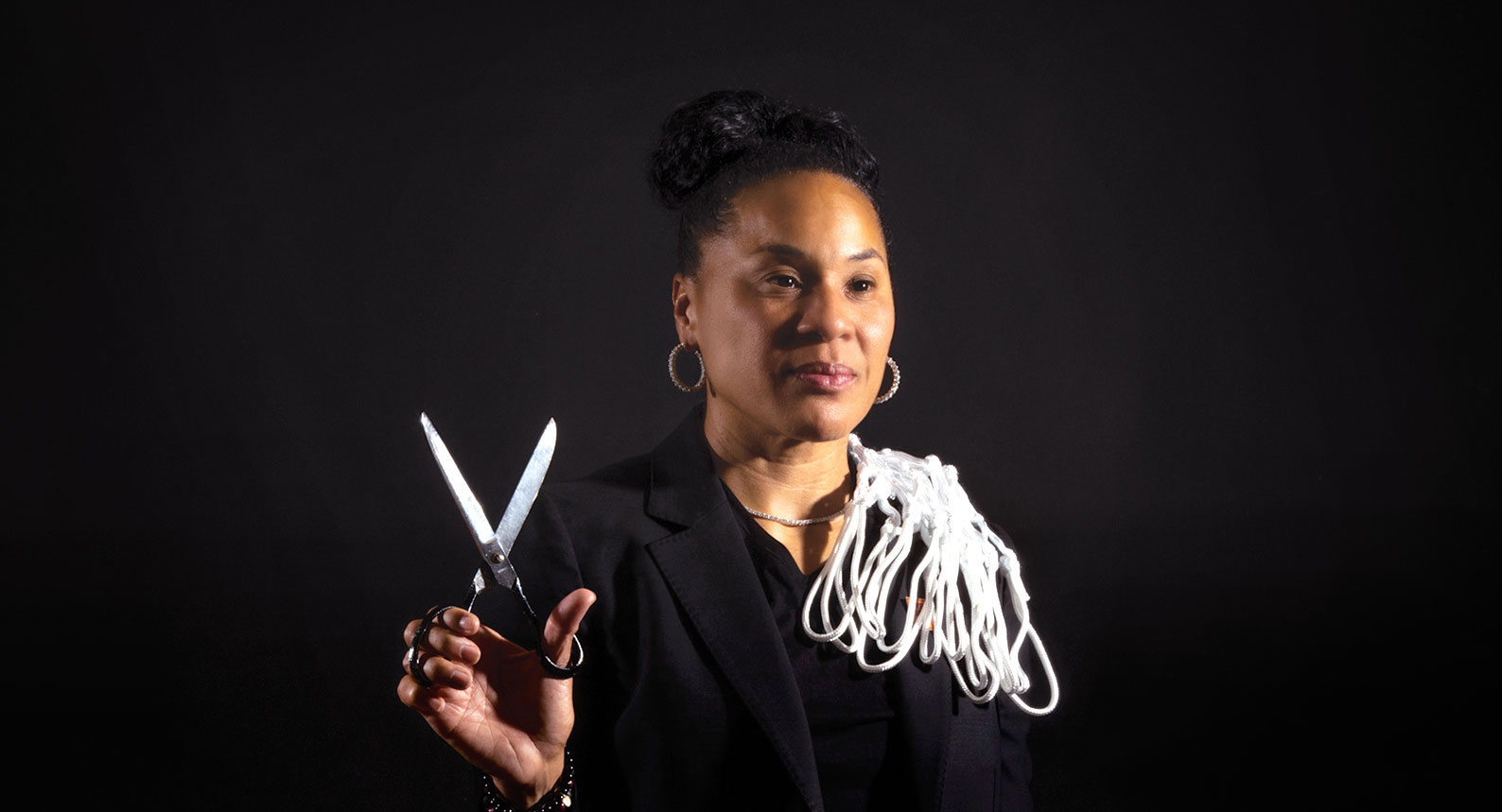 Basketball-wise, Dawn Staley has done it all. As a player, she won MVP trophies and gold medals. As a coach, she has won national titles, coach of the year honors and more gold medals. As a mentor, she has watched Gamecock power forward turned WNBA superstar A'ja Wilson win season MVP and a WNBA championship.
Along the way, the winningest head coach in USC women's basketball history has become one of the most recognizable figures in college sports, throwing out first pitches at baseball games and catching a touchdown pass at the Gamecock football team's spring game. She even drove the honorary pace car at the Labor Day NASCAR race in Darlington, South Carolina.
But Staley also transcends the sport, raising awareness for issues she cares about and money for causes she believes in. At her core, she is an advocate — for her players, first, but also for people whose voices might not be heard.
"If I think it's something that is too hard for someone to bear, I'll bear it for them, I'll speak to it," she says. "And hopefully it will open people's eyes and ears and hearts to see it a little bit differently."
---
The right direction
Dawn Staley was raised in the projects of North Philadelphia, the youngest of five children, and her hoop dreams started early. After being named USA Today's National High School Player of the Year, she took her talents to the University of Virginia. The first person in her family to go to college, she majored in rhetoric and communication studies while racking up on-court honors: ACC Rookie of the Year, NCAA Tournament Most Outstanding Player, Sports Illustrated Player of the Year and two ACC Player of the Year awards. She snagged the Naismith Trophy twice — in 1991 and 1992 — and was a three-time Kodak All-American.
But when she graduated in 1992 there was no "going pro" in women's basketball, not in the U.S. "I didn't have a WNBA. I only had an NBA," she says. "Even though that was far-fetched, it was enough of a dream, enough of a visual to keep me moving in the right direction."
To keep pace with her dreams, she played professionally overseas and for USA Basketball, winning the 1994 Goodwill Games MVP award, USA Basketball's Female Athlete of the Year and a gold medal at the 1996 Olympics in Atlanta.
Then professional women's basketball came to the States. Staley joined the Richmond Rage (later the Philadelphia Rage) of the short-lived American Basketball League and was an all-star in 1997 and 1998. In 1999, seven years after she graduated from UVA, Staley signed with the WNBA's Charlotte Sting.
"Sometimes, if you shoot for the moon and you miss, you're still amongst the stars. And that's not a bad landscape to kick in," Staley says. "I'm just thankful for dreams and goals."
Coaching up
Nowadays "Coach" might as well be Staley's first name — it's a huge part of her identity — but when she was playing, that was never part of the dream. Ask longtime Staley assistant Lisa Boyer, who coached Staley in the ABL.
"I used to tell her she'd be a good coach," says Boyer. "She used to tell me, 'I don't want to be one of you.' She wanted nothing to do with coaching, but she just had a gift. She could see the play two to three moves before it actually happened. Her vision was unmatched. She could deliver the ball. She could score the ball."
In 2000, when Staley finally accepted her destiny — and the head coach job at Temple — she asked Boyer for help. She had her hands full trying to rebuild a college program while still suiting up as a player in the WNBA.
"She didn't need me for the Xs and Os," Boyer says. "She needed somebody that had been a college coach, that could organize the office, get the recruiting going. She just needed all the other stuff."
Convincing her former coach wasn't easy, though. The first time Staley called, Boyer had just signed with the Cleveland Rockers and turned her down flat. "And you know she was mad," says Boyer, whose phone continued to light up. "She called me every day. I didn't even say hello. 'You coming to Temple? You coming to Temple?'"
Finally, in 2002, Boyer agreed: "I said, 'OK, but we've got to try to win a championship.' And she's like, 'What do you think we're doing this for?'"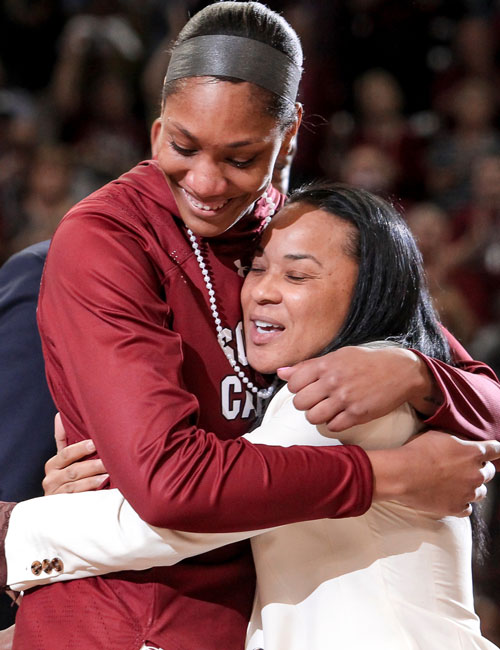 Feeling the energy
While their Temple teams had success, winning four Atlantic 10 championships and making the NCAA tournament six times, Staley and Boyer wanted a bigger stage. "We got ranked as high as 15 and we loved our time at Temple, but we needed something bigger, we needed a university that had a name," Boyer explains. "And when we got here, we had to build it."
And build it they did. After going 10-18 in the 2008-09 season and finishing 11th in the conference, Staley's Gamecocks improved year after year until they became the powerhouse they are today. Going into the 2022-23 season, her program had claimed two national titles (plus a unanimous No. 1 ranking at the end of the pandemic-shortened 2019-20 season), six SEC regular-season championships, six SEC tournament championships and five 30-win seasons.
That success is reflected in the stands. Home games at Colonial Life Arena are now packed with fans (or "fams," as they are affectionately known) and the Gamecocks have led NCAA attendance for the past eight years. Fams also packed the Pastides Alumni Center this summer to celebrate the Gamecocks' latest title — and to applaud Staley.
Kim Smith, a former USC employee and fan-turned-fam, was among the Alumni Center crowd. She attributes some of Staley's success to her recruiting, the rest to her knowledge of the game.
"I'm glad she was able to see what she has within this state to work with, recruiting some of the locals and getting that talent into the arena," Smith says. "And then it just kind of started building on itself because fans saw that she knows what she's doing. She knows basketball."
But the Alumni Center event wasn't only about basketball. It was also a chance to plug USC scholarship programs dear to Staley's heart: the Gamecock Guarantee program, which helps first-generation college students; the Richard T. Greener Scholarship Fund for minority students; and the Women's Basketball Leadership Fund, which helps student-athletes develop as leaders.
"I know some people came here to celebrate me, but at the same time, I'm feeding off the energy that's in this building and you supporting young people in their careers and their opportunities to graduate from college," Staley told the crowd. "So I'm grateful. I'm thankful. I appreciate you all coming and showing support for me. But I hope we can shine the light on the young people who are first-generation graduates in their families."
Except Staley's efforts are hard to gloss over, especially for community leaders who know her off the court. While she tried to deflect attention, Richland County Sheriff Leon Lott complimented her mentorship of young women, and state Sen. Nikki Setzler acknowledged her work with InnerSole, a charity Staley co-founded in 2013 that has provided more than 30,000 athletic shoes to homeless and underprivileged kids.
"That's Dawn Staley. That's not about basketball. That's about human beings," said Setzler, who is also Staley's West Columbia neighbor. "That's about people that she cares for in this community and across the state and across this country."
#whatmatters
Players want to play for Staley for a lot of reasons. Among the big ones is her readiness to take a stand. Take the dearth of Black women coaches in a sport dominated by Black women players. Of the 64 head coaches in the 2022 NCAA women's tournament, a dozen were Black women, two were Black men, the rest were white. With the tournament win, Staley became the first Black head coach — in both men's and women's competition — to win multiple NCAA championships.
The accomplishment made headlines this spring, but Staley has been raising the issue for years. In 2018, she even addressed it in an op-ed, "Where Are All the Black Coaches?" which appeared in The Players' Tribune.
"I think I create an option for young Black women, and I hope for more representation of all ethnicities in head coaching positions," she wrote. "I do think young Black women have to understand how to navigate through life as a Black woman. A lot of the girls playing basketball now — their paths to success are probably similar to mine."
She has also advocated for equitable funding. At the 2021 NCAA Tournament, when players and coaches pointed out disparities between what the NCAA provided teams in the men's tournament versus the women's, Staley made herself heard again — to the point where she says she was talking more about weight rooms and swag bags than her tournament opponents.
Finally, she took it to Twitter. Her blunt assessment of the NCAA began "I cannot be quiet" and was retweeted 13,000 times, helping elevate the issue to the national stage. To underscore her point, she hashtagged her tweet #WHATMATTERS.
More recently, what mattered to Staley was USA Basketball and WNBA star Brittney Griner, who was sentenced to nine years in a Russian prison for allegedly smuggling cannabis into that country during the WNBA offseason. The U.S. government questioned the charges and President Joe Biden called for Griner's release.
For Staley, it was personal. She coached Griner on two Olympic teams and knows her family. To keep the issue alive, she tweeted messages of support every day after Griner was detained in February 2022.
"I know her heart, and I consider her a friend," says Staley, who frequently wore a 'WE ARE BG' lapel pin during Griner's incarceration, which ended in a prisoner exchange between the U.S. and Russia on Dec. 8.
Captured dreams
Staley's Gamecocks began practice for the 2022-23 season in late September. Among the players returning from the 2021-22 championship team is senior point guard Zia Cooke, who offers a short list of personal goals: winning her second national championship, graduating with a degree in mass communications and getting drafted into the WNBA.
"I remember in high school, when I was a freshman, they asked, 'What do you think you'll be doing in 10 years?' I'm on the track that I laid out for myself," Cooke says. "I'm on the same track, if not better. And I'm almost at the finish line."
The Toledo, Ohio, native was rated the top high school point guard in the country in 2019. She could have gone anywhere. She came to South Carolina to play for Staley.
"I fell in love with how real she is, how competitive she is. Just knowing that she was a point guard, I wanted to come play and be coached by the best," she says. "And I've literally gotten everything I wanted out of it."
Staley hears these stories all the time — from student-athletes that remind her of herself. And she doesn't mind talking about her own life, whether pointing to her experiences as a first-generation minority athlete or just helping others get the most out of their own talents, opportunities and education.
"I love sharing my story because I hope it resonates with someone else and they can follow their dreams and become successful in their own way," Staley says. "For me, it's all about our players, just being a dream merchant for our players. It fills my heart to know that I'm a part of their journey. I'm hopefully helping them capture their lifelong dreams. Like, I mean — there isn't really anything left for me besides that."


Carolinian Magazine
This article was originally published in Carolinian, the alumni magazine for the University of South Carolina. Meet more dynamic Carolinians and discover once again what makes our university great.
View Carolinian