A lot can change in four decades. In 1982, for example, the University of South Carolina welcomed less than half as many freshmen as arrived in 2022. Shane Beamer was in kindergarten. Dawn Staley was in sixth grade. And Michael Amiridis? The university's 30th president was a college sophomore studying engineering in Greece.
Meanwhile, a guy named Dennis Pruitt was preparing to take over as USC's vice president for student affairs. Now, having served six presidents and shepherded more than 160,000 Baby Boomers, Gen Xers, Millennials and Gen Zers to graduation, the longest-serving VP for student affairs in school history is calling it a career.
---
The academic calendar is dotted with holidays and breaks. But if you're the vice president for student affairs at a big university, the window for relaxation is short: Christmas Day through New Year's.
"That's when students don't talk to their parents, and they're gone from campus," says USC's VP for student affairs, Dennis Pruitt, who retires in January. "When you think about all the things that go on at college campuses, this position can become the lightning rod for everything students do. It's why most student affairs VPs last only six or seven years."
It's not that bad things didn't happen on Pruitt's watch. He never became a lightning rod because, as much as possible, he and his team did things the right way, learned from their mistakes and fostered a culture of assessment and improvement.
The Division of Student Affairs covers the gamut of student life, from academic integrity to housing, fraternities and sororities. Each area has its own staff, but whatever goes down is ultimately the VP's responsibility. Pruitt's mantra, though, was consistent: There is always room for improvement.
"We have always studied how to make the student experience better," Pruitt says, and that's no idle talk. U.S. News & World Report has ranked USC's first-year student experience No. 1 among public colleges for years, and the commitment to first-year students extends through graduation and beyond.
What was the key to Pruitt's long tenure? The answer lies partially in his favorite pronoun — "we." Ask him about any accomplishment and he invariably talks about "what we did" and points to his team.
That includes several who have retired in recent years. Jerry Brewer championed the Wellness and Fitness Center and the Greek Village. Gene Luna demonstrated the benefits of green construction. Char Davis and Kip Howard modernized enrollment management. Don Swanson set high standards for the counseling center. The late Paul Fidler started strategic planning and assessment efforts long before those concepts were even a thing in higher education.
"We've always been ahead of the game with University 101, the Beyond the Classroom initiative and now with the next-generation transcript," Pruitt says. "We were one of the first institutions to develop a professional development program for our own staff in the Division of Student Affairs."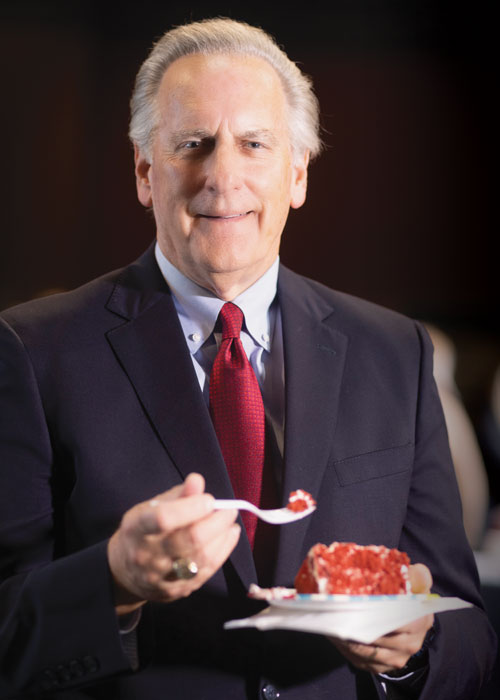 One piece of that professional development evolved out of Pruitt's penchant for staying well-read. An informal "What Dennis Is Reading" seminar kept student affairs staff up to speed on higher education trends and encouraged them to think about the next big thing. Another piece? His "secret shoppers" — four children, his wife and his father, who were all students at Carolina at various points.
"I got to watch my four kids come here, and they provided a lot of perspective, along with their friends, about their own experiences at Carolina," he says "My father attended classes here after a long military career, and my wife earned a graduate degree here. It was sort of like having quality control evaluators."
Plenty of universities tout their unique student experiences in flashy videos. But how does an institution build a genuine experience that helps students achieve academic success, acquire skills and find fulfilling careers? Pruitt likens it to baking a cake.
"We try to provide for them all the magic ingredients they need like opportunities for undergraduate research, leadership in student clubs and organizations, study abroad and so on," Pruitt says. "We make it easy, so they don't have to go out to find the ingredients — all they have to do is make the cake."
Baking a cake involves breaking a few eggs, of course, and Pruitt always reminded his staff that young people make mistakes. Hopefully, he says, they learn something in the process.
"Our job is to create a learning laboratory for both intellectual growth and personal growth and moral growth," he explains. "And trying to do that can be difficult because you've got 35,000 students with different aspirations, different expectations, different circumstances, and you're trying to help each one of them grow and develop as a person."
For Pruitt, it's about creating the optimal learning environment — and encouraging students to take advantage of it.
"I'm 72 years old and every day I have a sense of curiosity: 'Why didn't I know that?' 'How come I'm just now learning this?'" Pruitt says. "We want our students to have that sense of curiosity, that sense of wonderment, of 'What can I learn today?'
"Creating this laboratory for learning, but the real prize is when our students take advantage of opportunity. When I look back, that's what gives me satisfaction.
Carolinian Magazine
This article was originally published in Carolinian, the alumni magazine for the University of South Carolina. Meet more dynamic Carolinians and discover once again what makes our university great.
View Carolinian