Lexington Medical Center and the University of South Carolina broke ground on a new building to train nurses on the hospital campus in West Columbia during a groundbreaking ceremony on Tuesday, Feb. 21.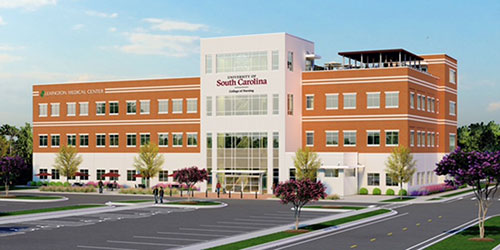 This project will grow a public-private partnership between the university's College of Nursing and Lexington Medical Center. A 52,000-square-foot state-of-the-art nursing simulation center and teaching space will be built on the hospital's campus to provide clinical training for the University of South Carolina's growing nursing student population.
"As the only locally-owned and independent hospital in the Midlands, Lexington Medical Center has a long-held commitment to excellence in nursing. Our partnership with the University of South Carolina will ensure that we can help teach skilled, compassionate nurses who want to keep working in South Carolina and take care of our families, friends and neighbors in the future," said Tod Augsburger, president & CEO of Lexington Medical Center. "As leaders in the Midlands, our organizations share a responsibility and a vision to enhance services, create opportunities and support growth in our region. This partnership will improve the health of our communities for generations."
Expected to be complete in 2024, Lexington Medical Center will build the new nursing facility and provide clinical instructors while the university will fund equipment needed for the simulation center as well as equipment and furnishings for classroom spaces.
"This partnership with Lexington Medical Center will provide advanced clinical training for our nursing students in a state-of-the-art learning environment," said University of South Carolina President Michael Amiridis. "It demonstrates the commitment of our combined leadership to work together to improve health care and patient outcomes in the Midlands and across the state."
Registered nurses are crucial to health care, but they're in short supply – especially in South Carolina. Reasons include an aging population, expansive roles for nurses and high turnover made worse by pandemic burnout.
The University of South Carolina College of Nursing graduates approximately 220 nurses from the Columbia campus each May. With this new space at Lexington Medical Center, the University of South Carolina will be able to graduate 400 nurses per year in the Midlands — an 80% increase annually.
"South Carolina is projected to have the fourth highest nursing shortage in the country by 2030," said Melissa Taylor, RN, MSN, NE-A, BC, vice president and chief nursing officer at Lexington Medical Center. "We're excited about the impact of this partnership, which will grow the pipeline of skilled nurses for our organization and the state and give qualified individuals more opportunity to enter the nursing profession."
The new building will be used primarily for clinical training of the university's third- and fourth-year nursing bachelor's students as well as master's program students. The university's health sciences interprofessional education program also will use classroom space. The facility is expected to open for the first cohort of nursing students in fall 2024.
"Our innovative partnership with Lexington Medical Center will have a lasting impact on the training for future nurses and the care residents receive," said University of South Carolina College of Nursing Dean Jeannette O. Andrews, PhD, RN, FAAN. "We are gratified to help lead this charge for nursing workforce development and thrilled that Lexington Medical Center is investing in the future of nursing education in our state."
University of South Carolina nursing students are consistently in the top 1% in the U.S. for their pass rate on the National Council Licensure Examinations for Registered Nurses (NCLEX-RN). The college's family nurse practitioners and adult gerontological acute care nurse practitioners also have 100% board pass rates. The college ranks No. 1 for the best graduate nursing online program overall and for veterans according to the latest U.S. News & World Report. Since 2015, the college has increased prelicensure nursing student enrollment by 33%.
Last summer, the university and hospital also announced a partnership for a graduate medical education program to train primary care physicians. The hospital's first GME program will be in family medicine and will accept 13 residents per year beginning this summer.