From editor-in-chief of Garnet and Black magazine to interviewing Martin Scorsese, Erika Ryan has left an impression on every newsroom in her career path. The mass communications alumna has explored almost all forms of news media from being a print journalism major and now producing National Public Radio's All Things Considered.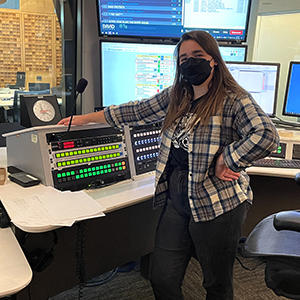 Ryan says journalism professor Laura Smith and her time in student media are the reasons she achieved her dream job.
When she arrived on campus, Ryan knew writing was a passion of hers, but she was unsure of the outlet that would best fit her interests. After attending a campus clubs and organizations fair, she found The Daily Gamecock.
"I loved it and that's how I made all my friends," Ryan says. "I just think it's a really good resource for people to dive in and learn hands-on."
She began freelance writing for Columbia's alternative weekly The Free Times and was an intern for Jasper arts magazine before becoming assistant editor for The Daily Gamecock.
"I was very, very set on doing arts and culture — that's what I thought I was going to do," Ryan says. "But I was starting to get a little disheartened because writing for Rolling Stone is a very hard job to get. So, I started widening my net a little bit."
She ventured into the possibility of audio, video and TV production when she took Smith's podcasting class.
"I remember Dr. Smith sitting down with me and asking, 'What do you want to do? Where do you want to go?' " Ryan says. "She made me think about journalism in a wider scope."
She remembers Smith being supportive and interested in helping her succeed.
"It was the first semester I had ever taught the class and she was front and center," Smith says of her star pupil. "She made my job easy."
Smith remembers Ryan as productive, prepared and opinionated. Smith says Ryan was more than willing to voice her concerns, but was careful not to step on anybody else when it was their turn.
The professor says that's part of her "secret sauce" — knowing when it's time to speak up and when it's time to sit back and observe.
"She told me, 'I like this podcasting thing,' then six months later, she was working at CNN," Smith says.
Ryan landed an internship with CNN in September 2017 on the news channel's app tech staff.
"You can imagine what that job was like," Ryan says. "It was one of those things where I said to myself, 'OK, I'm here. I'm going to make this work.' "
Ryan introduced herself to people and networked until she got a position with the video team in the newsroom. Her time in that position was spent watching CNN all day and cutting 30-second clips for the website and YouTube. It was not quite where she wanted to be, but it was closer.
"I was at CNN, so I wanted to be in the trenches," Ryan says.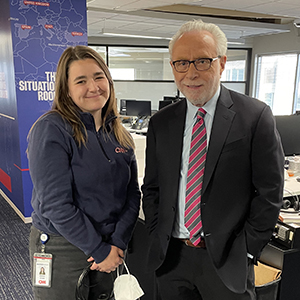 In 2021, she was approached to join the staff for CNN Plus, where she built a show from the ground up. Ryan and her team had a name, graphics, story concepts and produced packages before CNN Plus was shut down and everyone was laid off.
"That job was a whirlwind," Ryan says. "I worked with some incredible people. I was completely devastated."
She got back on her feet quickly when a former CNN co-worker told her about an open position at NPR — and she was able to cover arts and culture.
As a producer for All Things Considered, Ryan handles guest booking, brainstorms concepts, records and edits episodes.
Recently, she interviewed actor Michael Imperioli from HBO's "The Sopranos" and "White Lotus," about his band and laughed with him about his meme tweets.
"​​That's when you end up having some of the best stuff, because you have a really passionate interest in something," Ryan says.
Smith says Ryan is "a perfect representation of the next generation of storytellers."
"She's never afraid to ask a question, and because of that, people see her as somebody who's ready to dive in and learn something new," Smith says.
Banner image: Erika Ryan interviews Columbia University graduate student Myles Davis for CNN about his research on wildlife in New York City green spaces.