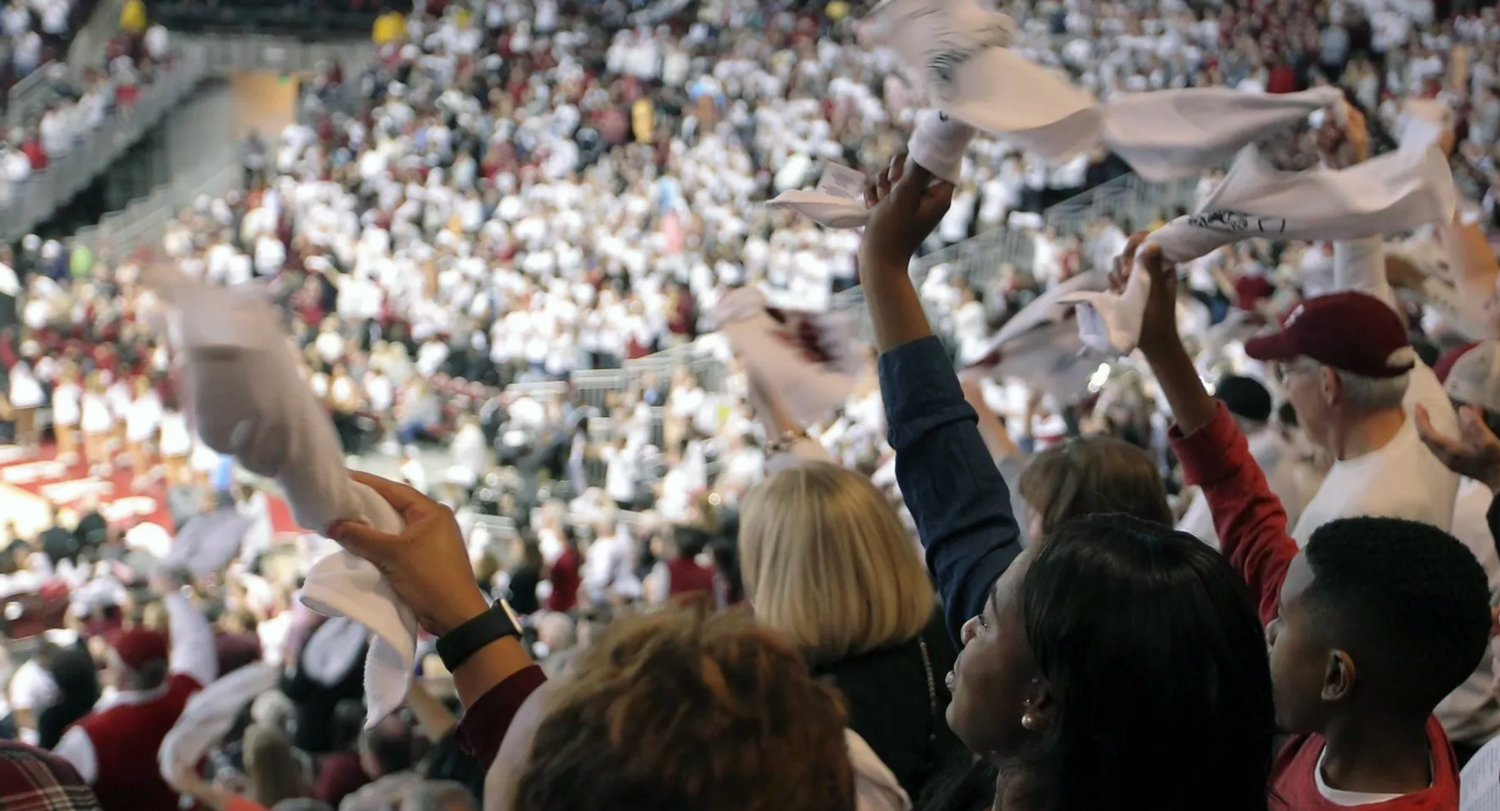 As South Carolina continued its play in the NCAA women's basketball tournament in Greenville on March 25, thousands of fans made the two-hour drive to the Upstate to watch the Gamecocks vie for their second consecutive national championship.
Many of the fans in that crowd have been with the Gamecocks since the beginning — some quite literally since that first women's team played in 1974 — sitting in mostly empty arenas, cheering on their team in good years and bad.
Now South Carolina is No. 1 not just on the court, but also in filling arenas with average attendance at women's games over 12,000 and frequent sellouts of all 18,000 seats.
We talked to some of those original "FAMs" — as head coach Dawn Staley likes to call her team's supporters — about what it has been like to watch the Gamecocks over the decades.
In the beginning
Anne Bagnal is truly an original "FAM," attending her first game in the inaugural season of 1974.
"I went to the games with my dad, like we went to every men's basketball, football, baseball game since I was 5, and I'm 65 years old," Bagnal says. "And then I started going to the women's games in '74 — I was still in high school — and there was hardly anybody there."
The 1981 marketing graduate attended games during her years at Carolina and has attended off and on ever since.
Bagnal says the crowd at games has ebbed and flowed depending on how good the team was.
"When Pam Parsons came, I went to all those games and we were in the old Coliseum, but the crowd was pretty good," she recalls. "But still you could just walk on the court after the games."
During this time, in the Coliseum and even in the Colonial Life Arena, fans could go on the floor at halftime for the "chicken dance."
"I used to take my niece to games," Bagnal says. "I've got pictures of her doing that chicken dance.
"She's 21 now and we are going up to Greenville for the tournament."
'I love basketball'
Matt Tischler remembers his first South Carolina women's basketball game very clearly.
It was 1982, he was a senior at Spring Valley High School and the Gamecocks were ranked No. 2 in the country. The opponent was top-ranked Louisiana Tech with starting point guard Kim Mulkey.
Things did not go the Gamecocks' way that day, but a fan was born.
"I love basketball. It's my favorite sport and we were No. 2 and playing No. 1," Tischler recalls of that first experience.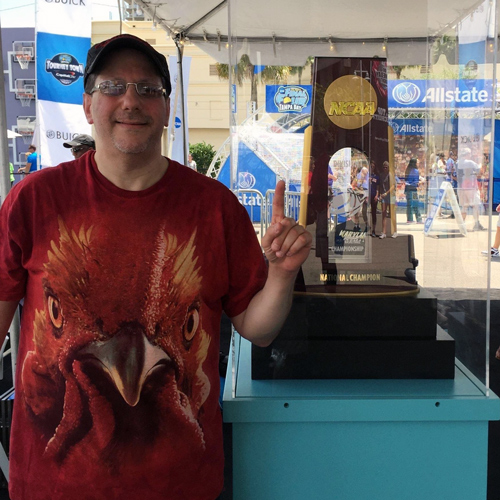 Today, Tischler is joined by more than 17,000 other basketball lovers — who also get to watch the top team in the country every time the Gamecocks take the court.
"For the women's games, I sit about four rows behind the opposing head coach," says Tischler, a banker in Columbia. "I call it my harassment perch. I have had some interactions with opposing coaches.
"Geno (Auriema) usually tells me he likes my hat," Tischler says of the longtime UConn coach. "Vic Schaefer's wife asked me not to give him such a hard time," he says of the former Mississippi State coach, who now as head coach at Texas will soon find himself back in the Southeastern Conference.
"I never use profanity and it's all in a good spirit of competition."
For the past 40 years, Tischler, '86 business, has attended at least a few games every season — including a trek to Dallas in 2017 for the women's Final Four and the USC team's first NCAA National Championship.
That year, Tischler recalls, he had to split time between the women and men. The USC men's team set its own NCAA personal best that year, reaching the semifinal game in Phoenix, where Tischler and his brother Marc, '73 master's biochemistry, watched the men play against Gonzaga before Matt Tischler flew back to Dallas to watch the women win it all against Mississippi State.
Tischler remembers the lean years when the crowd at women's games was so small in the old Coliseum that you could yell to friends from one section to the next and make plans for after the game (remember when there were no cellphones?).
"For a normal game back then, maybe a thousand or 1,500 was a typical crowd," Tischler says. "Sometimes there were only a few hundred."
"Our crowd didn't start getting bigger until like the 2013-14 season."
That's when the winning started and when more local players were on the teams.
"I do think having a lot of hometown players does make a difference in terms of the crowd, at least back then," Tischler says. "Now, obviously, it doesn't matter anymore. We're going to draw well regardless."
'The loud crowd'
Michele Doto also traveled to Greenville for the Southeastern Conference tournament — she has been to 22 straight — and will go back there for the next rounds of the NCAA Tournament. She remembers her first game vividly.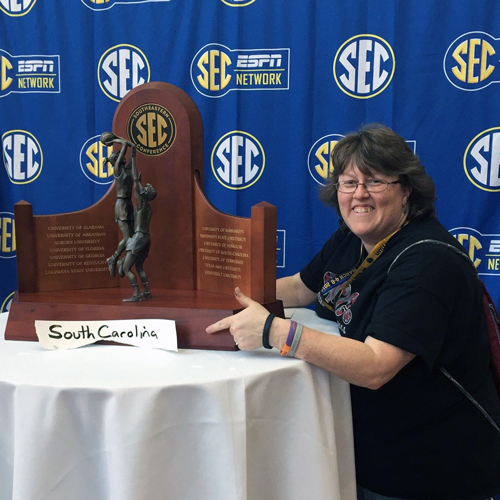 "I was at Martha Parker's last game," says Doto, '91 finance. "We got to host in the postseason and we lost to some team we probably shouldn't have lost to."
The year was 1989 and Coach Nancy Wilson and senior star Martha Parker had led the Gamecocks to a 23-7, 10-2 Metro Conference record and a No. 6 seed in the NCAA Midwest Regional. Then, as now, lower seeds hosted early rounds of the tournament, but the Gamecocks got bounced in the first round 77-73 by No. 11 seed Tennessee Tech.
"I went to all the men's games in college, but I really didn't hit the women's games unless you count that one postseason game," Doto says. "I just didn't follow the women because nobody else would go with me, I guess. And so I did have that one game and we lost."
But that all turned around in 2002, when Doto joined a group of friends who went regularly.
"My dad jokingly used to say he could hear me on the broadcast because it was so quiet in the arena and my voice would carry," Doto says. "We used to call ourselves 'the loud crowd' and we even made our own shirts because they didn't have stuff specifically for women's basketball."
'We act like we've known one another forever'
Nessie Harris has been watching Gamecocks basketball up-close since 1975 — first as a player for the College of Charleston (1975-1980), then as an assistant coach (1986-89; 1995-97) and finally as a season-ticket holder (2008-present).
Harris played for Charleston coach Nancy Wilson, who would eventually coach the Gamecocks from 1985 to 1997. That's when Harris joined the Gamecocks as an assistant. She recalls working with standout players, including Brantley Southers, Mindy Ballou, Martha Parker and Shannon Johnson, and winning the Metro Conference several times.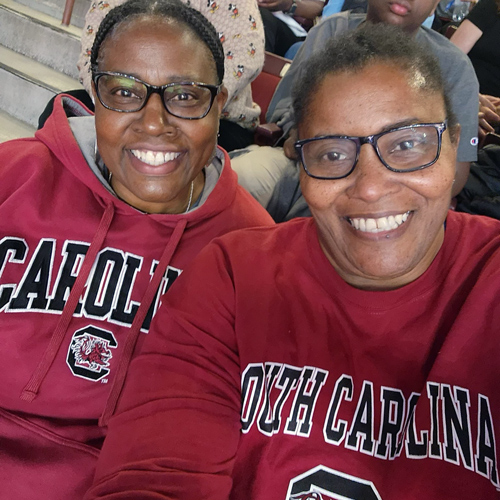 "Being in the Metro, we had decent crowds," Harris recalls. "But when I say decent, we're talking 100, 200 people. And for us, we thought that was good.
"Of course, when we got into the SEC and played Tennessee, we had a lot more."
Always on the lookout for up and coming talent, Harris recalls following the high school career of a Philadelphia player named Dawn Staley, who went on to play at the University of Virginia 1988-1992. It was when Staley first arrived as South Carolina's coach that Harris became a season-ticket holder.
"I can remember telling a friend, I said with them having Dawn Staley, this program is going to go places," Harris says. "And they have."
Staley's first couple of years were not successful — two losing seasons and attendance was averaging less than 3,000 people a game. But by Staley's fourth season, the team made the NCAA tournament for the first of 12 consecutive times.
Harris has had her same seats since that 2008 season and sees the same folks year after year in the seats around her.
"We just see one another every time at the game, and we act like we we've known one another forever, but I couldn't even tell you what their names are," she says.
However, a few rows down is someone Harris has known "forever" — Brit Wilson.
"And she played for South Carolina. As a matter of fact, I recruited her and when I recruited her, I left. So I never got to coach her, and she never lets me live that down," Harris says.
'Those games were exciting'
Wilson, '94 integrated information technology, was Brit Canty when she played from 1990 to 1994 — a span that saw the Gamecocks leave the Metro and join the Southeastern Conference.
"The SEC was a little bit more difficult than the Metro conference, but it still was a great experience. We got to see Pat Summitt and her Tennessee team, which was really winning then," says Wilson, who grew up in Myrtle Beach, S.C. "Coach Nancy Wilson was a great coach and I was a homebody, so Columbia was perfect for me."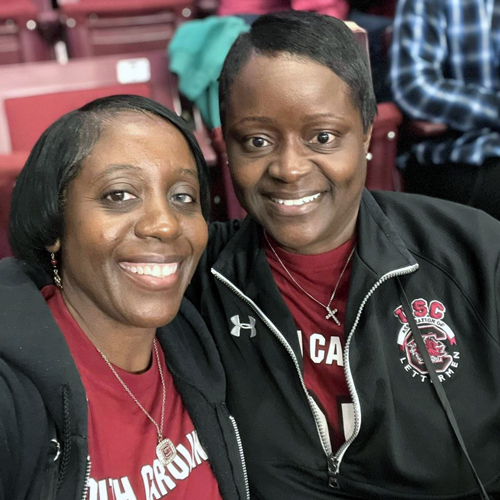 During her playing days, Wilson recalls some very quiet games with small crowds but that would change when SEC schools would come to town.
"Usually we would have only one section of fans at our games," Wilson recalls. "Then when the big teams like Georgia, which was winning then, and Tennessee came to town, people were really coming to see them.
"But those games were exciting."
Wilson, who works in information technology at the Darla Moore School of Business, says she went to games sporadically after graduating, but started getting season tickets for Staley's first season. She also travels to away games, and she and former player Lakesha Tolliver (2003-08) always go to the UConn game, wherever it is played.
Wilson even went to the Bahamas to watch the Gamecocks beat UConn in a tournament early in the 2021-22 season.
"That was my 50th birthday weekend and I had a blast. Then we won the tournament and I had even more of a blast," Wilson says.
Watching the Gamecocks beat UConn for the first time when the current team's seniors were just freshman ranks among Wilson's favorite games.
The other? Beating SEC rival Florida 66-50 on the road in 1992.
"I just remember us winning and everybody was really excited," she says. "I don't remember points or anything, but I had a pretty good game."