The University of South Carolina's Board of Trustees has selected a permanent site on the campus' Horseshoe for the planned statue of Robert Anderson, Henrie Monteith Treadwell and James Solomon Jr., who in 1963 became the first Black students admitted to the university since Reconstruction.
The 12-foot bronze statue was announced last year and was inspired by a now-iconic photograph of the three alumni coming down the steps of the Osborne Administration building on the morning of Sept. 11, 1963. The statue will be placed in the northeast section of the Horseshoe and in front of McKissick Museum, which serves as the university's visitor center. Internationally acclaimed sculptor Basil Watson was commissioned to create the sculpture, which will be unveiled on campus in the fall.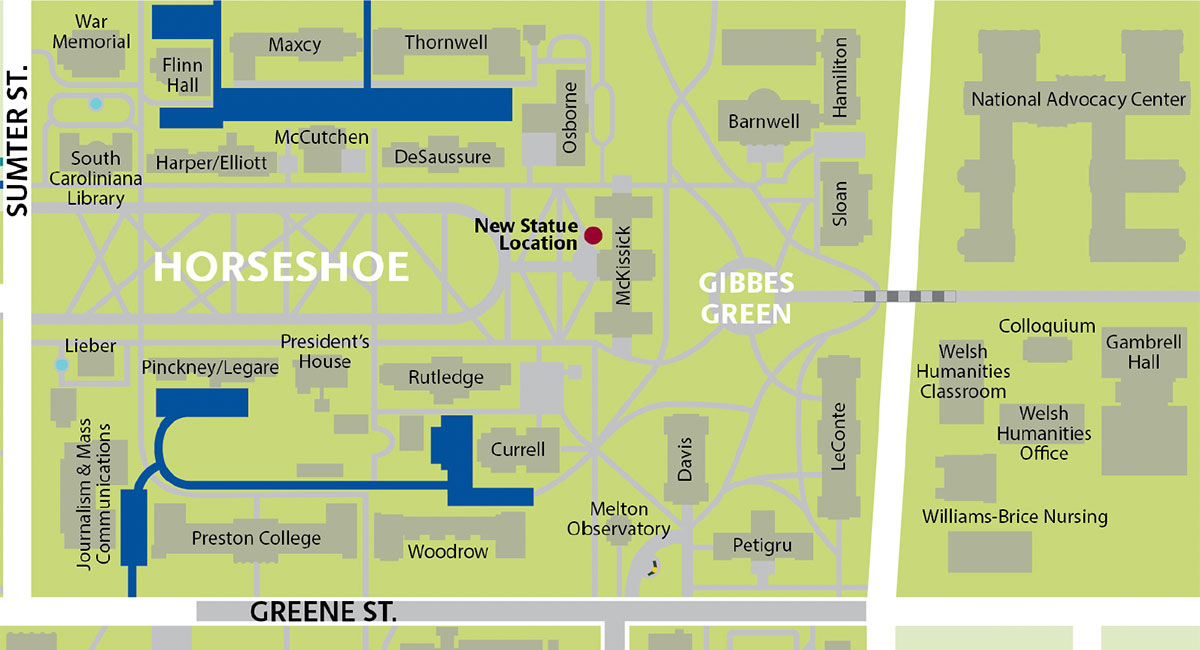 Board Chairman Thad Westbrook said the statue's eventual location on the Horseshoe is fitting. "Since the university was founded in 1801, the Horseshoe has remained our most defining location, and this monument will be just steps away from where these three pioneering students first began their journey at USC."
Other board related items discussed Friday include:
The board approved two parking garage leases, finalizing a plan to make an additional student parking available this fall. The lease agreement with Innovista Parking LLC., includes an additional 465 residential student parking spots in the Horizon garage (Assembly and Wheat streets) and 700 commuter student parking spots in the Discovery garage (Park and College streets). The Horizon garage is within walking distance of the new Campus Village residential housing development opening this fall.
The board also approved minutes and consent agendas from past meetings, revisions to board policies, and resolutions honoring trustees emeriti J. Egerton Burroughs, B. Toney J. Lister and C. Mack I. Whittle.
On Friday morning, USC celebrated the naming of a residential hall after pioneering educator and civil rights advocate Celia Dial Saxon at a public ceremony. Saxon is the first African American to be honored with a building name on the Columbia campus. The residential hall, at 700 Lincoln St. in Columbia, houses 297 students. The seven-story building, which features apartment-style suites, opened in 2016.