Norman Stewart | Assistant Director
Landscaping Waste and Recycling
As assistant director for landscaping and recycling services, Norman Stewart has an eye on the environment at all times. "To be sustainable and environmentally friendly, that should be the goal of any landscape department at any college," he says.
Among his chief concerns? The unintended consequences of runoff, which can very quickly take the green out of good intentions.
"A lot of this has to do with stormwater management and not letting fertilizers or pesticides get into the stormwater system, which then trickles down into your small creeks and streams," he says. "For example, we have Rocky Branch Creek running through here. It's important to protect those ecosystems."
One way to mitigate that impact, according to Stewart, is to cut back on the amount of fertilizer applied at one time. Typically, the university uses over 3,000 pounds of fertilizer a year on its turf, but this year Facility Services began putting out two smaller applications instead of one larger one. This mitigates the negative environmental impact while still fertilizing enough to keep everything green, not just the grass.
But it doesn't end with fertilizer and pesticide. Stewart is also helping the university reduce its carbon footprint by switching up equipment. "We started out probably four or five years ago buying battery-operated blowers and weed eaters and hedge trimmers," he explains. "We even got a battery-operated chainsaw that we use sometimes if we need to cut down a limb or something."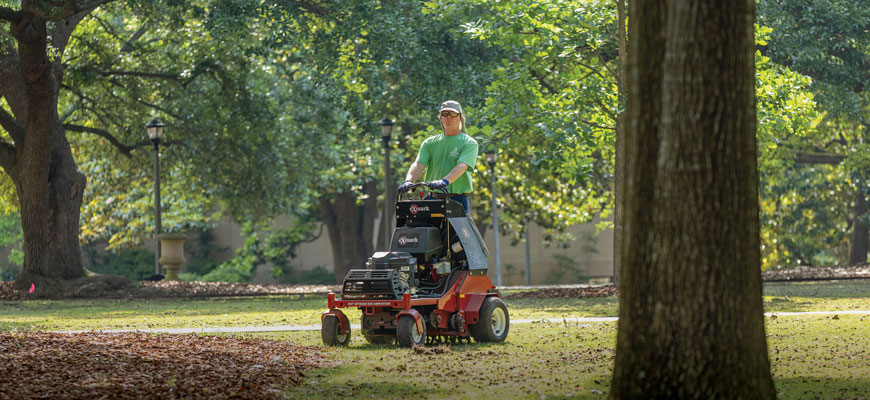 And Stewart expects that trend to continue as Facility Services updates its equipment. In fact, a new fully electric riding mower system is coming to the Horseshoe this fall.
"I can see us over the next 10 years replacing gas-powered equipment with battery-operated equipment," he says. "There will be certain things that will still need maybe some gas-powered equipment, but as the gap closes, I see us moving in that direction."
Dave Whitaker | Landscape Manager
With fewer students on campus over the summer, USC's landscapers have a golden opportunity — to go green. That includes catching up on larger maintenance projects like aeration and topdressing (spreading sand atop established turf), but in recent years, it also means being more environmentally friendly.
Among other efforts, USC has implemented a new turf management plan that reduces the university's carbon footprint. And there's a lot of turf underfoot. In all, Facility Services manages more than 65 acres of manicured turf across campus, including high-need areas like the Horseshoe, Koger Center and Foundation Square, plus smaller, less-traveled patches of grass.
For landscape manager Dave Whitaker, that's an added incentive to think about impact — not just of the thousands of feet that compress grass in high-traffic areas but of turf maintenance in general. The goal going forward is to optimize mowing cycles, produce less emissions and help grass become more resilient during harsh summer heat.
That matters big picture but also on a smaller, more local scale — to the other creatures that call campus home.
"We have a lot of wildlife on campus, believe it or not," says Whitaker. "We have frogs, lizards — there's fish in certain parts on campus, there's a lot of predatory birds, squirrels. There's so much that a turf management program, or just the landscape in general, can affect if you're not mindful."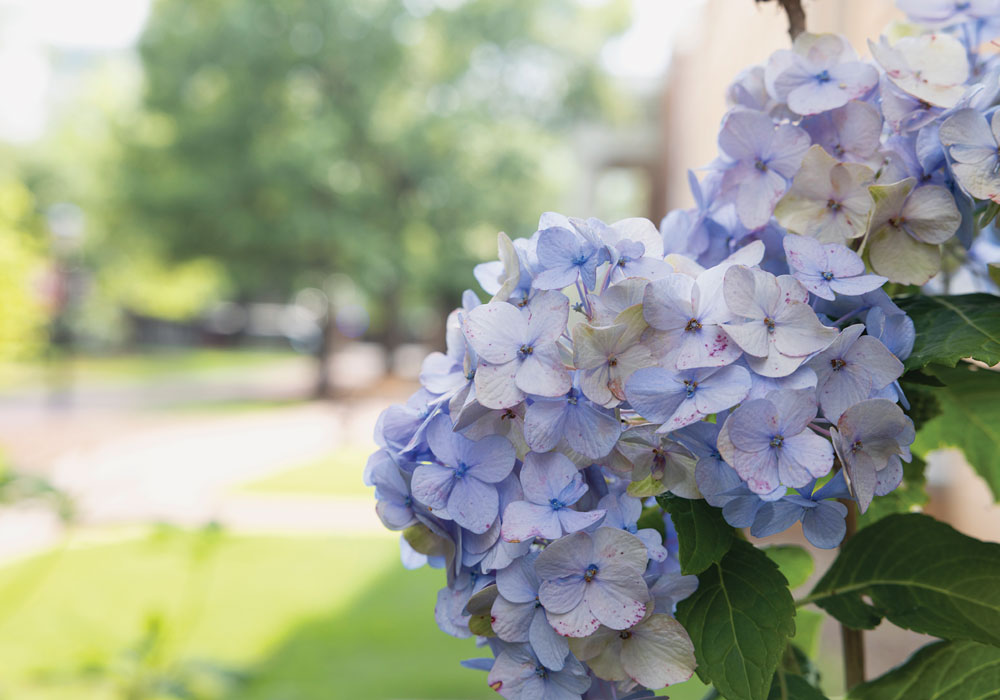 A former schoolteacher, Whitaker shifted careers to help his father, who owned a pest control business. Twelve years ago, that expertise led to a job doing outdoor pest control at the university. This year, he moved to a landscape manager position.
"I was hired here solely for the pest control side of things — we didn't really have a fully im­plemented turf program yet," he explains. "It was basically just making stuff look green, you know?"
And what does he enjoy most about the job?
"I like the aesthetics of it, the beautification," he says. "And I like to see the finished product. I like to see a plan that works from start to finish."
Erik Hopper | Senior Landscaper
Erik Hopper joined the university as a senior landscaper in January after working for a private company doing turf maintenance. Earlier in his career, Hopper worked in mortgage banking but went back to school for a certificate in landscape management because he wanted more stability and a change of scene.
"I decided to switch careers to get out of the cubicle and not have to worry about layoffs every time the economy goes bad," he says. "And I like working outdoors."
When USC TIMES flagged him down on the Horseshoe in mid-May, Hopper was busy aerating the soil, which becomes compacted from heavy use during events like commencement. Aerating helps the soil take in more water and enables organic matter like lawn clippings to break down.
Right now, the university aerates the Horseshoe about once a year, according to Hopper, but he could see increasing the frequency. "It can breathe after you do this," he explains. "You'll see it beef up really quick, like a big inhale, but it's a temporary growth spurt."
Hopper himself is more resilient, even in the summer heat — "You learn where to go in the afternoons and plan your day accordingly," he says — and he chuckles when asked what he enjoys about working outdoors: "The grass doesn't really talk back to me. Or it does a little, but it's nice."
Omar Perez | Groundskeeper
Omar Perez is shoveling mulch out of a Facilities pickup behind the University Greenhouse when we stop to chat about his job. The plan? Make room in the truck's bed then load up with plants slated to go in the ground at key spots around campus.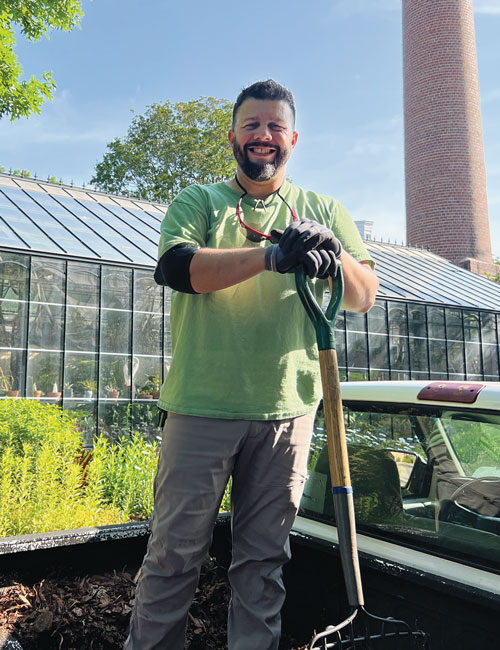 "The President's House is a big one. They have a lot of annual beds that need to get planted," Perez explains. "But then there's also all the little annual beds that you see around campus like on Pendleton Street or at the front of the Horseshoe."
There's a lot on the agenda, and the temperature is creeping up, but Perez is unfazed by the summer heat. In fact, he enjoys working outdoors. It's a big reason he joined Facility Services' new horticultural team dedicated to caring for campus' most beautiful spots and creating new ones.
"I wanted to get my hands dirty, just do an honest, hard day's work," says Perez, who relocated to Columbia from Connecticut six months ago. "You go home nice and tired, and you get some sun. You can't beat that, especially coming from the snow. I'd rather sweat through my clothes than wear eight layers!"
But the weather wasn't the real reason Perez and his family moved south. Before landscaping, he worked as an EMT for 14 years, but he needed a change after a family tragedy. Two years ago, his young daughter, Chloe, died unexpectedly. His parents live at Lake Murray, and he and his wife, Yamaira, needed to be closer to family. "We uprooted everything and just took off," he says.
Yamaira is now a behavioral health specialist at USC's Student Health Services, and his son, Michael, is a freshman majoring in marketing. Omar, meanwhile, looks forward to coming to work every day. "I work with a nice group of guys, it's a good team atmosphere," he says. "And it's been really good for my family moving down here. It's been healing."