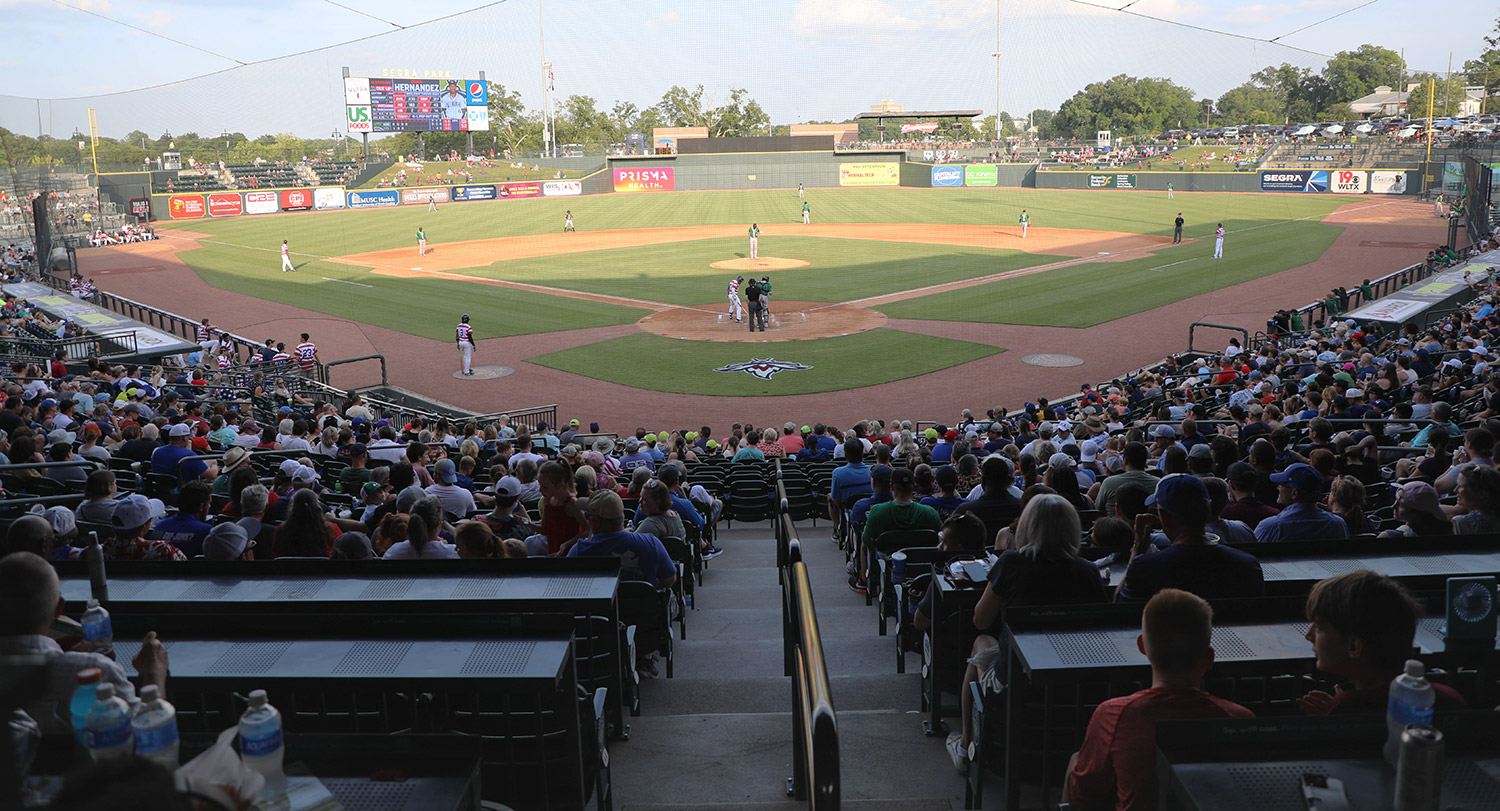 There's something different about minor league baseball. It's more homegrown and approachable than its major league counterpart. It's a training ground for the big leagues — and the training it offers is both intense and rewarding.
That's as true whether you're standing on the pitcher's mound or organizing a team's theme night, as students from the University of South Carolina's College of Hospitality, Retail and Sport Management are learning this summer at teams throughout the Southeast and beyond. Providing these hands-on opportunities is a priority for USC's Department of Sport and Entertainment Management, which emphasizes real-world experience and career development alongside classroom instruction.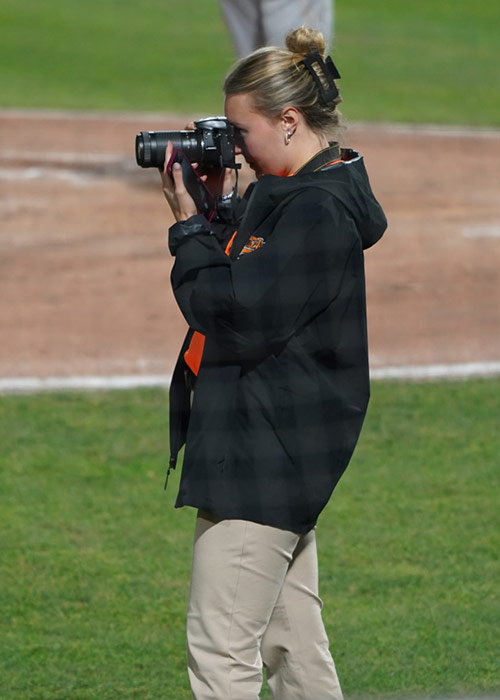 "The best thing about working in the minor leagues is that you're running a huge operation with a small, tight-knit office, so the ability to have your ideas heard and be hands-on across several departments and aspects of the business is amazing," says Gillian Bay, who earned her bachelor's degree in sport and entertainment management in 2022. She worked for the Savannah Bananas and Charleston RiverDogs while still a student and is now the premium experiences manager for the Jacksonville Jumbo Shrimp.
Minor league baseball is all over the country, with 120 MLB-affiliated teams and many more in independent leagues and summer leagues for college players. The season is ideal for college internships, and presence of minor league teams all over the country creates flexible career opportunities.
Every summer, Gamecocks become Baysox, RiverDogs, GreenJackets, Ducks, Jumbo Shrimp — and, of course, Fireflies and Blowfish. More than 50 students are working this summer for one of the two teams. The university's relationship with the Fireflies is particularly strong: Fireflies President Brad Shank serves as an adjunct instructor at USC, as did his predecessor, John Katz. Overall, more than 80 USC sport and entertainment management students are working with minor league teams this summer, along with dozens more alumni.
"What's most important is, and what differentiates our program from others, is that you can't teach everything in the classroom. You can give students the principles, but they have to experience it, because there is no set answer to a question," says internship director Steve Taylor. "If you're in pharmacy, if you're in physics, if you're in math, you can look in a book and find an answer. In our field, it's going to depend on the situation."
Because minor league teams tend to be small, nimble organizations, they offer learning opportunities that would be harder to come by in larger organizations.
"There aren't many opportunities in the sport industry where you can come in your first year and have an immediate, major impact on your organization. Sales and minor league baseball have enabled me the opportunity to do just that," says Alex Barnes, a 2022 alumnus and now senior manager of corporate partnerships for the Winston-Salem Dash. "The wealth of knowledge I've acquired surrounding this business in just my first year has allowed me to grow as a professional in a way that wouldn't have been possible in other areas of sport."
The minor leagues also offer countless chances for creativity with an emphasis on authentic fan experiences. From theme nights to concerts to celebrity guests to letting kids run the bases, the minors are famous for finding things beyond just the baseball game to bring fans of all ages to the ballpark.
"It's all hands on deck for everything," Taylor says. "You're doing marketing, you're also pulling the tarp, you might put on the mascot suit, who knows. But also, you are probably right there with the director of marketing, you're in the room where the big decisions are being made."
Current students and alumni agree that those extra experiences are among the best parts of life in the minors.
"The best part about working in baseball has been seeing all the kids' faces when they get to be a part of a small activity that I got to help create, especially when it is their first game," says Emily Reichling, a sport and entertainment management student interning with the Augusta GreenJackets this summer. "The kids get to enjoy more than just a baseball game and it is rewarding to be a part of that experience."
Another perk of working in the minors? Career advancement can move fast for those who do outstanding work. Kelly Evans, who earned three degrees at USC, started as an intern with the Blowfish and rose to become the team's general manager in just five years. Now an assistant professor of sport management at Metropolitan State University of Denver, she fondly remembers those days.
"My most memorable experience was during the annual Fort Jackson night with the Blowfish," she says. "The excitement of the soldiers and families in the stands was contagious, and we topped it all off with fireworks and it felt magical. To know I helped create a core memory for others was such a rewarding and fun experience."