Riverbanks Zoo alumni at the aquarium
How many University of South Carolina graduates does it take to open a new aquarium filled with 11,000 animals? Turns out, quite a few.
Seven Gamecocks were on the frontlines of the March opening of the Darnall W. and Susan F. Boyd Aquarium & Reptile Conservation Center at Riverbanks Zoo & Garden. With degrees ranging from advertising and public relations to biology and marine science, these USC graduates play important roles in powering the No. 1 tourist destination in South Carolina, which attracts more than a million visitors annually.
We spoke to these Gamecock alumni to learn how they discovered their dream jobs, what goes on behind the exhibits and how the zoo is advancing global conservation efforts.
Christie Vondrak
Chief administrative officer
Advertising and public relations, 2000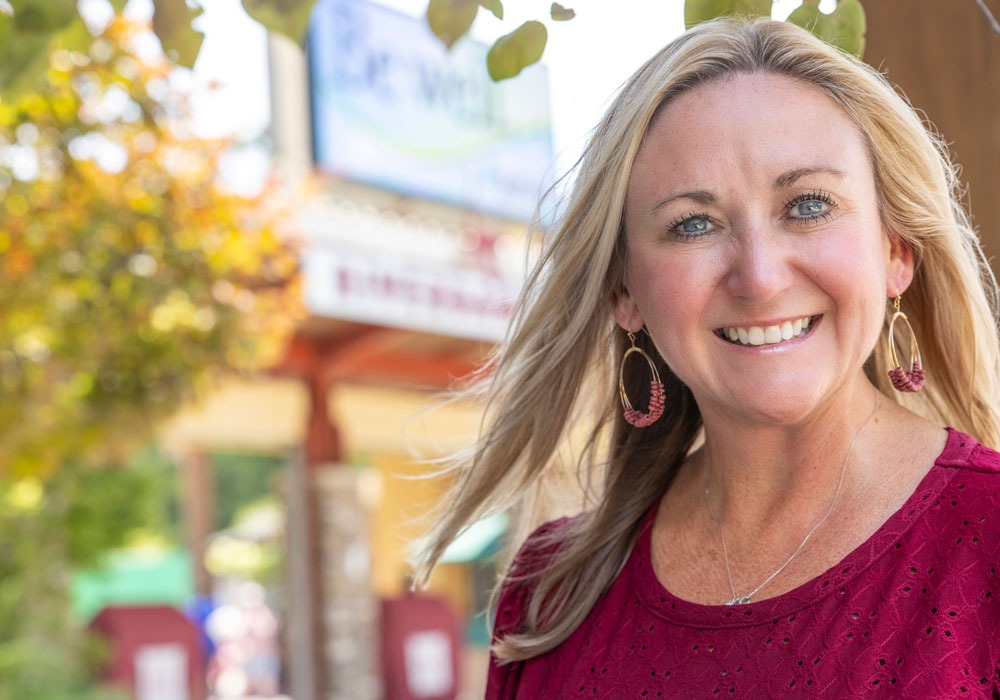 How did USC impact your career path?
"Getting my degree at USC prepared me to know that every organization has a story, and Riverbanks Zoo is no different. Through the teams that I directly manage, we make sure that on every employee's first day they understand the impact we have in our community. Every position here impacts conservation."
How did you help in the opening of the Aquarium & Reptile Conservation Center?
"We were so excited about the opening of the ARCC, and my role specifically became more geared toward calming everyone down as it it became very stressful. It can be tough for all of the employees when you're having a huge project like that."
What surprised you most about working at the zoo?
One thing that people don't understand about working here is the diversity of our career experiences and it's not just a zookeeper. You have food and beverage and retail, you have administration, finance, IT and so much more. There's a career for everyone. It is a very diverse experience.
Kathy Vause
Herpetology supervisor
Biology, 1978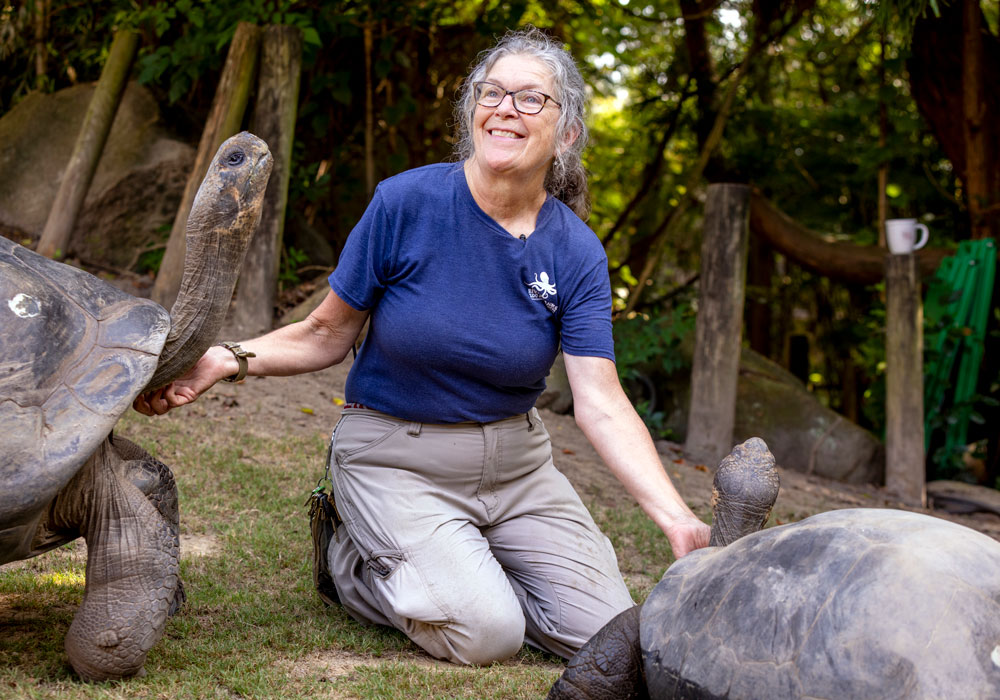 What was your most memorable experience at USC?
I took an animal behavior class with Pat DeCoursey at USC and did some projects that made me realize there's lots of local conservation that can be done. I also took classes with Wade Batson every time I could because he would take you all over South Carolina to see all the rare plants. Those classes really keyed me into conservation. I started at the zoo in 1979 until 1984 in the mammal department with the hippos and sea lions, and then I worked with the giraffes and rhinos. I came back in 1990, working all across the zoo. When the ARCC opened, I joined the reptile department, and I've been there ever since.
Have you always wanted to work with animals?
When I was a kid growing up and seeing that Philadelphia Zoo, I would see a keeper and say, "That's clearly the best job in the world." I just fell in love with it, and there is nothing better than taking care of these animals. We also get to be part of important conservation projects like working with the gopher tortoises and, currently, our gopher frogs project.
What do you think is the zoo's biggest role in conservation?
I think the zoo's biggest role is bringing people in close to look at wildlife and learn to value it. We have a lot of graphics that have those important conservation messages, so it is all about education.
Trenton King
Graphics assistant
Advertising, 2022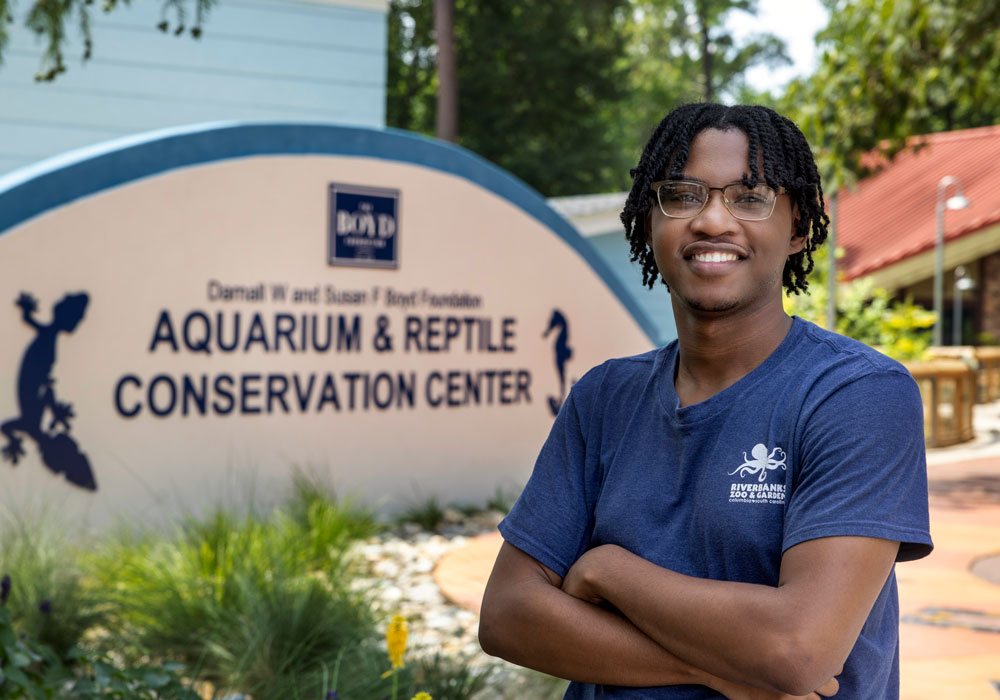 Could you tell me about your role as a graphics assistant?
My job is to be the medium between the knowledgeable keepers and curators at the zoo and the guests here. I make signs and put things into plain language and take photos of the animals. Most people would be surprised the scope of the graphics department's jobs and responsibilities. We work with every single department in the zoo.
How has your major helped you in your career?
USC helped me prepare to take a deeper dive into graphics. In the new aquarium there are a lot of backlit signs that were cool to work on. It's definitely extremely rewarding to be able to know that my artistic efforts are having an impact. That's one of the big things that I wanted to be able to do when I was leaving college. I couldn't ask for anything better.
Kendra Bottini
Aquarium curator
Marine science, 2006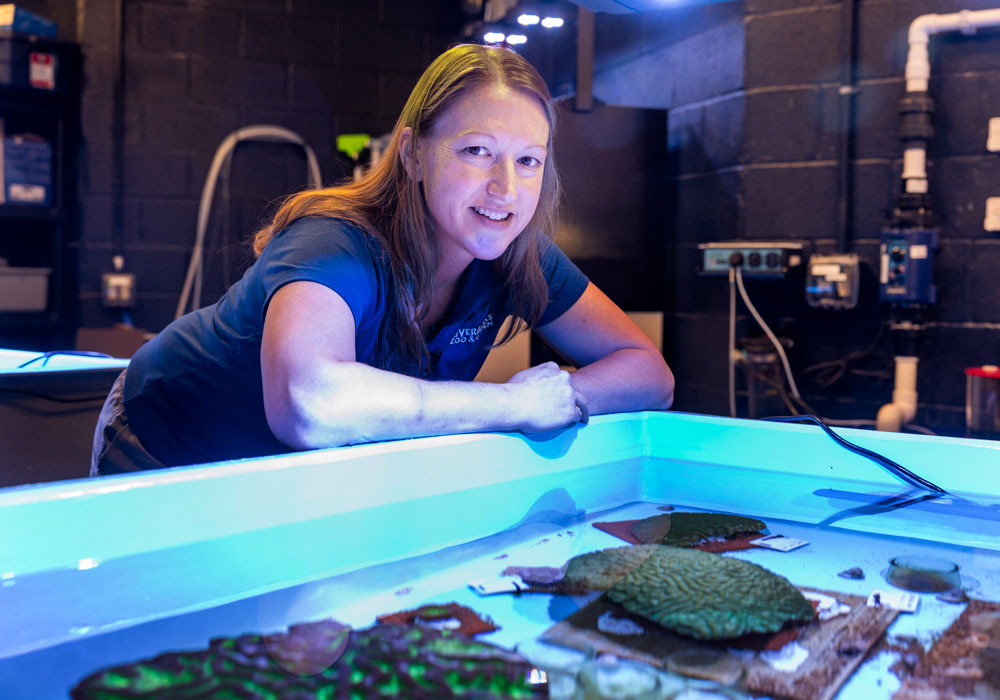 What led you to become an aquarium curator?
I have wanted to work in a zoo since I was a little kid. My parents have a really silly drawing that I made of me being a zookeeper that I did when I was in first grade. One thing I remember from studying at USC was Joe Quattro's Ichthyology class, and I knew I loved fish after that. So I ended up here, and I've been working with fish ever since.
What critical role does Riverbanks play in protecting coral reefs?
The zoo is part of the Association of Zoos and Aquariums Florida Reef Track Rescue Project. The reefs are in peril because of something called stony coral tissue loss disease. At some places on the reef, they're seeing up to 90 percent of complete loss of these species. The coral reefs of Florida protect the coastline and act as a barrier for hurricanes. It's also huge for the tourism industry. If the beaches get eroded because the reefs are gone, that will impact the economy. Thanks to our coral reef program, we will hopefully one day help to repopulate those reefs."
Michelle Carter
Aquarist
Marine science, 2020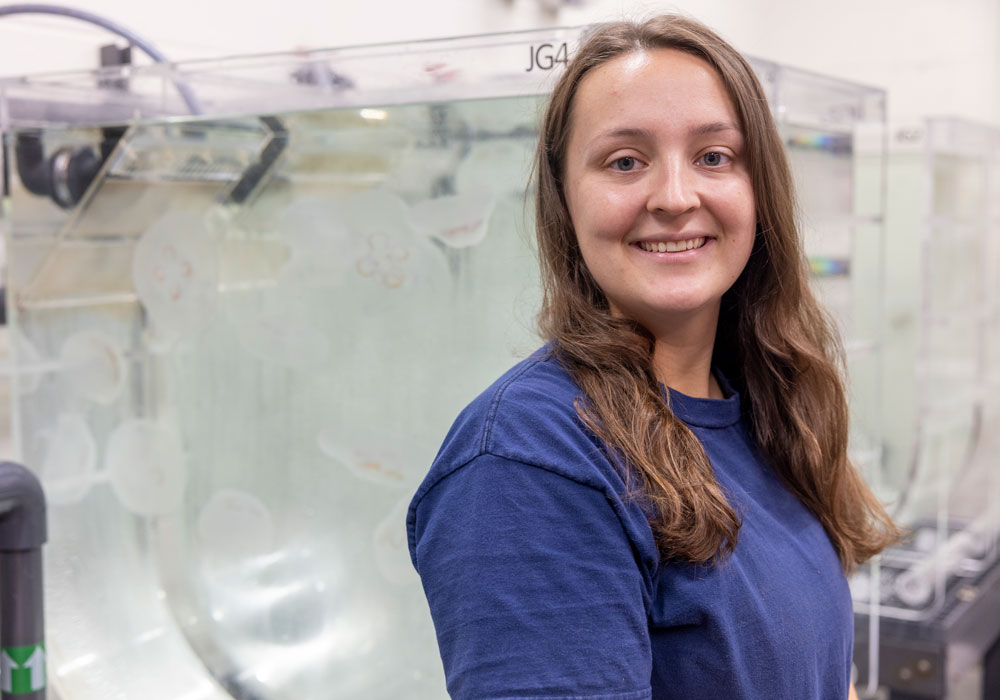 How did you begin working with corals and jellyfish?
My USC internship at the zoo showed me everything that I would be doing at my job. All of my classes helped prepare me with background on the animals that I'm working with, their biological mechanisms and just everything that they need to have a healthy life.
What animal is the crowd favorite at the aquarium?
The moon jellyfish are obviously unlike any other animals that we have. They actually can't swim. They're considered plankton, and they just move based on current. It's definitely a lot of work to take care of them because we must balance the flow in the tank, and all of these guys have to get fed individually with a dropper three times a day. I'm personally excited about getting our jelly propagation fully up and running. We've got adult moon jellies right now, but we're working on getting the whole life cycle going.
Sarah Weaver
Aquarist
Marine science, 2018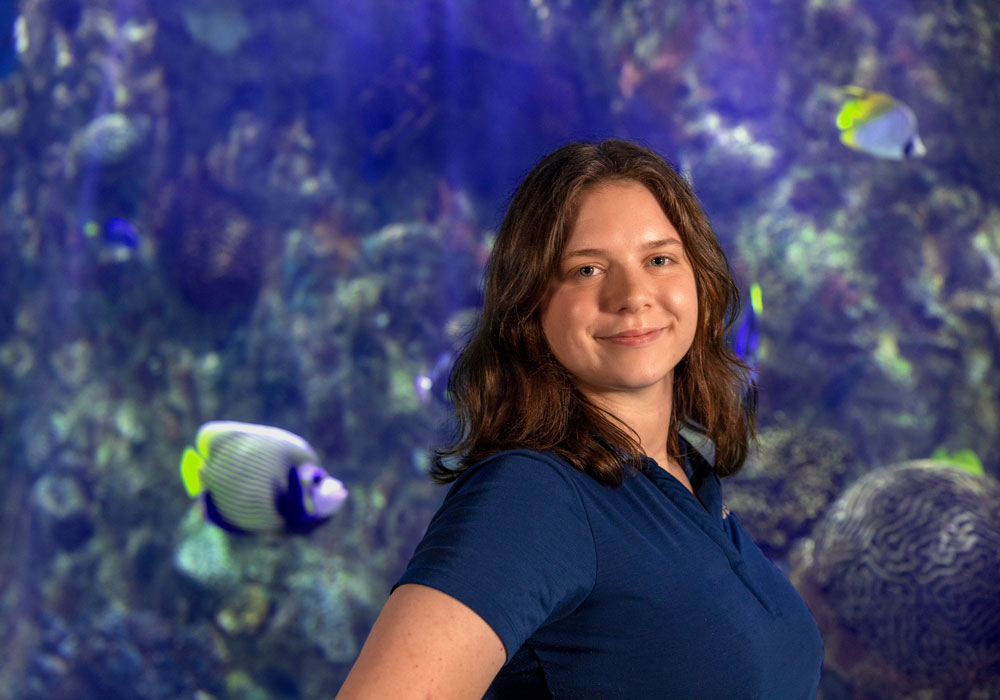 How did you discover your dream of working with marine animals?
From a young age, I used to go to Myrtle Beach all the time. When it was low tide, I would spend hours exploring the tidal pools, and it just amazed me how much life could exist in those little holes. That kind of started the ball rolling into working with marine animals. I took an aquaculture class and had an internship here at the aquarium through a program that USC does, and the rest is history.
What conservation project is most special to you?
I love the sea turtle program that we do with the Department of Natural Resources. They will give us a hatchling, and we basically help it get a head start on life. In the aquarium we let it grow to a good size, and then we release it. That work helps to increase the survival chances for that sea turtle.
What do you hope visitors learn at the aquarium?
I hope that they're able to see animals that they wouldn't normally be able to see on an everyday basis. I hope they realize that the ocean has so much more going on underneath, and whatever happens to the ocean affects the animals. That's why we want to make sure that we take care of the ocean and take care of our environment because, otherwise, you're going to affect the animals.
Amanda Sciora
Events and marketing specialist
Advertising, 2021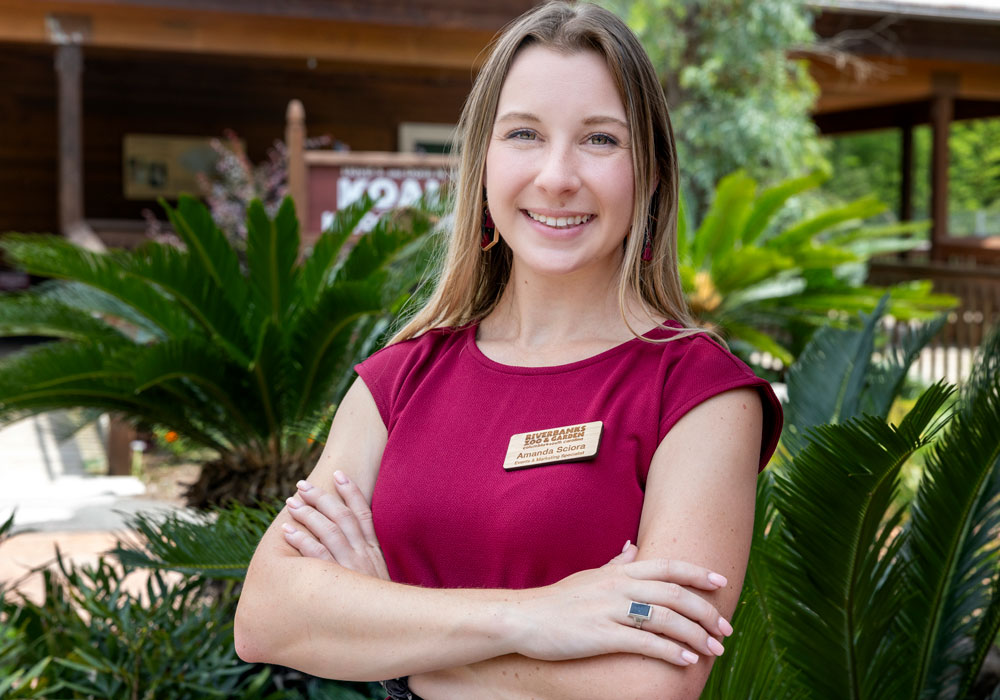 How did your time at South Carolina prepare you for your career?
USC has just really been such a good foundation because it allowed me to have so many experiences where I could work with outside companies before even starting my position here at the zoo.
What is your favorite event?
I love seeing how different events bring out people of all ages. Whether it's Brew at the Zoo or even Boo at the Zoo, where you have the kids come out, it's just really exciting to see everyone learn about conservation and how they can help.
What conservation projects do you want more people to know about?
I really like the smaller things that the zoo is doing, from donating your cellphones to help the gorillas to sipping sustainably by using oyster shells instead of paper or plastic straws. I find that to be really fascinating because such a small change can make a really big difference in the grand scheme of things.
What is the best part of working at the zoo?
The zoo is a place for everybody. You can have your degree ranging in anything from biology to advertising, like myself. I have found a home and something that I'm extremely passionate about, and I never would have thought that I'd have been able to combine work and passion, but USC allowed me to do that.