Look around Stephen Brown's suburban Atlanta home and you might not be able to tell what he does for a living, but you'll know right away about his interests and tastes. The Town at Trilith property features an Olympics-themed room plus areas devoted to '80s advertising and, perhaps most tellingly, Marvel paraphernalia.
Sometimes, the pop culture buff can even look out his living room window and see superheroes in action — because the largest motion picture production studio in Georgia, the studio responsible for Ant-Man, Spiderman and other Marvel feature films, is located directly across the street.
And the studio town just happens to be one of Brown's clients.
As president of one of Atlanta's top public relations agencies, Cookerly PR, Brown enhances brands' reputations through marketing, content development and crisis management. But the 1995 School of Journalism and Mass Communications and Honors College graduate does so much more.
Brown is a lover of the arts, and his multiverse expands into theater and film. He is a film critic, running his own website SilverScreenCapture.com, where he reviews the latest blockbusters like Barbie and Oppenheimer and reports on entertainment news.
His website has opened doors for other opportunities, including attending the 88th Oscars ceremony. Invited by the PR team of Dolby Laboratories in 2016, Brown attended the event in major Gamecock fashion, bringing his mini Cocky figurine with him and paying homage to USC on the red carpet. Since then, he's become increasingly immersed in critics groups and was even accepted into the Southeastern Film Critics Association.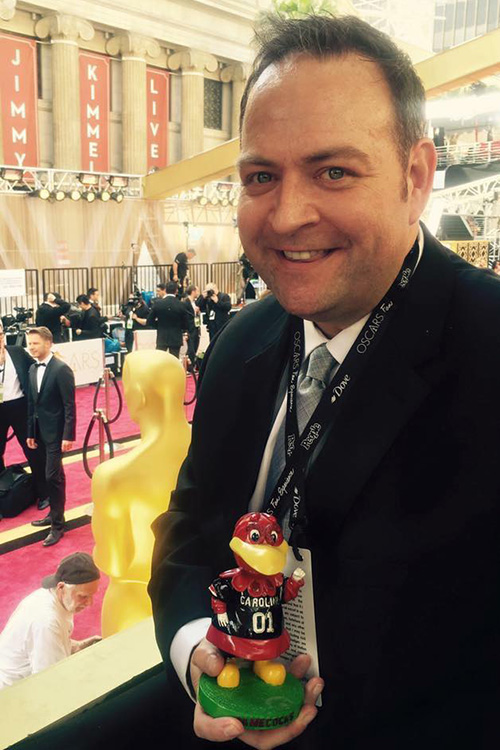 Brown does a little bit of everything. From PR superhero to film critic to writer, world traveler and collector, he's intentional in both his personal and professional life. Not only are his themed rooms and website examples of this, but the work he does at Cookerly represents this as well.
At Cookerly, Brown and his team create campaigns, manage brand messaging, help companies launch products, lead media training sessions, handle crises and transform industries. People who've seen him work understand the value of what he does.
"We bring an additional layer of service to strategize new and different ideas," Brown explains. "It's like, 'How are you going to get me a return on that investment?' If it's somebody who understands PR, they recognize we're building the brand over time," he says. "Sometimes they have a little more patience. 'Oh, I get why we're reaching out to that media outlet,' or, 'Oh, I see why that story is worth pursuing — because it's going to help our company grow. It's going to help our company to change a perception.' "
Building a brand takes cultivating relationships and leveraging resources. From managing major clients like Mercedes-Benz, the Georgia Film Academy and McDonald's to working with celebrities like Ludacris on a client's Super Bowl hype campaign, Brown has done just that, becoming a trailblazer in the PR world.
As someone who has watched social media advance in the digital age, Brown gets excited when talking about how the game-changing invention has transformed the world of PR. In fact, Cookerly has embraced modern social media platforms like Instagram and TikTok and regularly uses them to tell brands' stories.
"It used to be that public relations people would come in with a 'stone tablet' mentality and say, 'This is what we're hoping to get out to the world,' " Brown explains metaphorically. "Now that next news story or that looming situation — a product launch or a reputation issue we have to handle — can arise from lots of grassroots sources. And so, for us, it's really important to curate different channels for our clients to make sure that they're getting their word out regularly and staying relevant to their customers."
The PR champion is also making strides to improve Atlanta, representing Simon Properties on one of his most recent projects to bring the city's luxury retail spaces back to prominence post-pandemic. "It's about transforming what people even think of as luxury shopping experiences," he says. Under this project Cookerly worked to bring attention to Phipps Plaza shopping center after COVID-19 by helping promote the area's newly added Nobu Hotel, a food hall, offices and luxury retail shops.
In addition to improving Atlanta's retail industry, Cookerly also works with Atlanta-based clients such as LexisNexis, Westin Hotels & Resorts, NAPA Auto Parts and more. From working with insurance companies to flooring companies and major restaurant chains, Brown and his team are keeping the Atlanta area thriving.
As a Gamecock, Brown is dedicated to supporting generations of students looking to explore career options in public relations. Within the past few years, Brown has come back to his alma mater to speak with students about his career. He has hosted student visits at Cookerly and has supported USC financially. He also hires Gamecocks — about one-sixth of his Cookerly colleagues are USC graduates.
"It is critical for all of us in positions in our chosen industry to teach what we know and help connect the next generations to our cherished profession. My parents are both educators and instilled this value in me at an early age," he says. "I'm endeavoring to be the resource that many were for me — from professors to interns and work supervisors and even the founder of my current company, who shares great lessons with me every day."