Peggy O'Neill Hewlett was honored at a program on December 6th at Top of Carolina for her seven highly successful years as Dean of the College of Nursing. USC President Harris Pastides, his wife Patricia Moore-Pastides, and USC Provost Dr. Michael Amiridis were in attendance to recognize Dean Hewlett as an outstanding asset to the College of Nursing, to the University of South Carolina and to the State of South Carolina. Also in attendance were Dean Hewlett's family, College of Nursing faculty and staff, the College of Nursing Partnership Board and community partners and colleagues.
Speakers included Dr. Amiridis, Jeanne Cavanaugh, Partnership Board President and Lydia Zager, College of Nursing Clinical Professor and the former Director of the Center for Nursing Leadership. The Partnership Board presented Dean Hewlett with an honorary College of Nursing Alumna Award.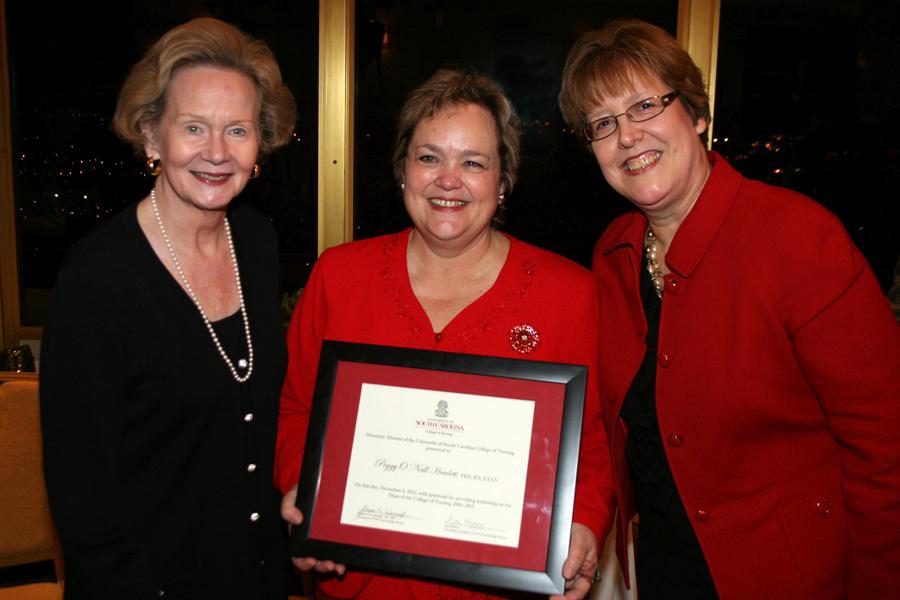 Dean Hewlett has been responsible for many exciting initiatives at the College, including the development of a state of the art clinical simulation laboratory on the Columbia campus. Her bold efforts have allowed the College to significantly increase the number of well qualified baccalaureate prepared nurses. The College has received private foundation and state funding to provide doctoral education to increase nursing faculty and nurse practitioners prepared with doctorates.
Her statewide nursing leadership has supported the development of clinical simulation, the "One Voice One Plan Initiative", the use of dedicated educational units and she has proactively positioned South Carolina to be a leader in implementing the Institute of Medicine's recommendations on the "Future of Nursing". Because of her tireless efforts, South Carolina and the profession of nursing are better positioned to continue this important work of reducing health care disparities, forecasting future health manpower needs and assuring the very best leadership for the future of nursing.
Dean Hewlett leaves a rich legacy of dedicated leadership at the College of Nursing. She will be serving as the interim director of the Center for Nursing Leadership after stepping down as dean.