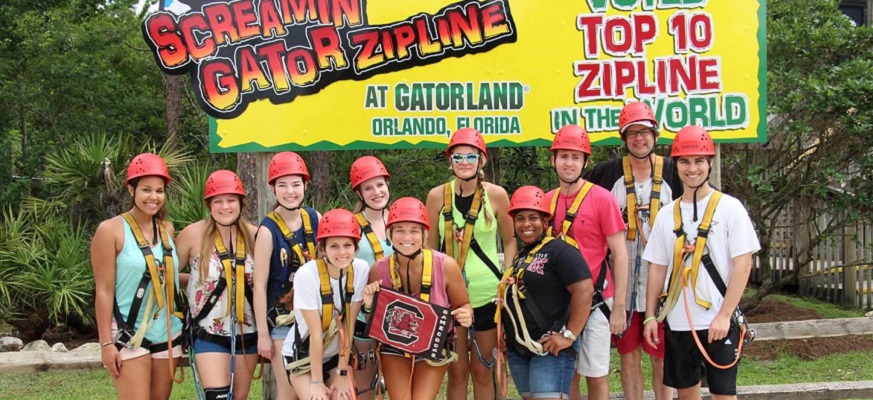 Magical Maymester
Maymester class takes students behind the scenes in the wonderful world of theme parks.
---
By Allen Wallace,
awallace@sc.edu
, 803-777-5667
---
University of South Carolina hospitality and tourism students kicked off summer early by spending an action-packed week exploring the most famous theme parks and attractions Orlando has to offer. But they weren't on vacation.
"The students are just blown away," said Scott Smith, who teaches the Theme Park and Attraction Experience Maymester course. Smith, an assistant professor in the College of Hospitality, Retail and Sport Management, is also among the world's foremost experts on the theme park industry.
The class is one that most college students would never have an opportunity to take. Similar courses are offered by less than 10 other universities nationwide, and the chance to visit the theme parks and gain real-world experience is unique to South Carolina.
"Nobody does this," Smith said. "They just sit in the classroom and talk about it." Smith's students do far more than talk. They spend two weeks preparing, reading articles from industry publications and academic journals, participating in online discussions led by Smith and taking tests.
"Because it's so unique, so new, there's no textbook," Smith said. "We work really hard for two weeks." The third week is the one students have been waiting for: the trip to Orlando, with visits to Disney World, Universal Studios, Gatorland and Seaworld.
The inside information included a chat over lunch with Dan Cockerell, vice president of Disney's Magic Kingdom. Cockerell also took the students on a preview of Disney's new Pandora attraction, which opened to the public Memorial Day weekend. "I think the best part for me was learning about the history and the evolution of the theme parks, said Veshannah Lovelace, a graduate student in international hospitality and tourism management. "It was also a great opportunity to get inside information on the industry."
"It's a series of planned tours that continue the learning," Smith said. "We learn about it, then we go and experience it." The week in Florida also includes meetings with high-ranking theme park executives and one of the relatively few remaining employees who was hired by (and was a close friend of) Walt Disney himself."
"I found the conversation we had with [Cockerell] about the differences in Disneyland Paris and American Disney parks, and why Disney needs a different model to be successful in different countries really exciting," said freshman hospitality management major Erica Rauschenbach. "I learned how to think critically about the way theme parks are run. I know I will find myself thinking about these lessons when I visit a park."
The students were required to post photos and commentary in a course Facebook group while exploring the parks, showing examples they found of concepts learned before the trip.
Smith said those lessons summed up the reason for the class. "They'll never look at a theme park or amusement park the same way again."
---
Share this Story! Let friends in your social network know what you are reading about
---