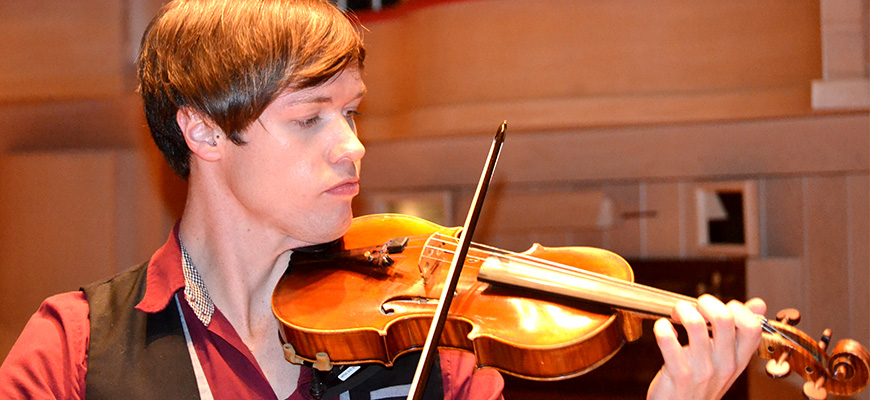 It's all about expression
---
By Glenn Hare,
HAREG@mailbox.sc.edu
, 803-777-3685
---
A 'Rose' by any other name would play as sweet
Sean Heely has a favorite joke: "What's the difference between a violin and a fiddle? A fiddle is a violin that has had Guinness beer spilled on it," says the violin performance major who's adept at playing works by Mozart as well as tunes from the Scottish Highlands. Heely has heard dozens of similar quips, and is astonished that some people think violins and fiddles are different instruments. "The music is the only difference. Not the instrument," he explains.
Accomplished as both a classical violinist and traditional fiddler, he owns several instruments. Not because he prefers to play orchestral music on one and Celtic styles on another. "I have one that I play almost all the time that I call 'Rose.' I have another I use when I'm performing outside and the weather's not great. Then I have one that I take on my family's boat," Heely says.
A native of Virginia, Heely is of Scots-Irish decent and music is in his blood. His maternal grandmother was a concert pianist, an uncle is a music executive for Disney and an aunt is an accomplished choral director. Before he was born, his father played the banjo in the family band that specialized in folk and Celtic music.
Surrounded by music, Heely followed his sister's footsteps and started classical violin lessons in elementary school. Private lessons followed. He studied for two years at George Mason University and made his solo debut with the Virginia Symphony Orchestra three years ago, performing Mozart's Fifth violin concerto in A major.
He transferred to the School of Music to continue his training under William Terwilliger and to refine his playing of classical composers, such as Mozart, Bach and Brahms, a few of his favorites. "I auditioned at several schools. But the first lesson I had with Dr. Terwilliger solidified my choice to come here," Heely recalls.
"Sean is an exceptionally talented violinist with natural musicality — something that a teacher can't really teach to a student," says Terwilliger. "As his teacher in the various styles and periods of classical music, I am responsible for guiding his playing and technique in the traditional violin repertoire, but it is impressive that he has cultivated and developed other violinistic interests."
As a classical violinist, currently Heely performs as a member of the USC Symphony Orchestra, the SC Philharmonic and the Brevard Philharmonic.
"It was as if USC was calling me. I'm very thankful my path led here," Heely adds.
Between classical performances he finds time to go back to his roots, playing in local and national Celtic fiddle competitions and teaching workshops. Recently, he won the first prize at the Scottish Fiddle Competition in Charleston, which qualifies him to compete in the national competition next year, and he attended Alasdair Fraser's fiddle camp on the Isle of Skye, Scotland. There he had the opportunity to meet the famed Scottish fiddler and performed with Natalie Haas, one of the most sought-after cellists playing traditional Scottish music today.


It was as if USC was calling me. I'm very thankful my path led here.

Sean Heely

"It was an awesome chance to meet people and take classes," he says about his European journey. "Playing with Natalie was one of the most special moments in my life. For years and years, I've listened to her recordings. Now, we were playing together."
Heely's latest passion is performing with the Flat Out Strangers, a Gypsy swing and jazz group based in Columbia. For the past several months he has immersed himself in the music of Stephane Grappelli, the grandfather of jazz violin. In mid-1930s France, Grappelli teamed up with guitarist Django Reinhardt to form the Hot Club of France Quintet, a group noted for both vivacious swing and lyricism.
When asked which genre he favors the most—jazz, classical, Celtic or bluegrass, which he also dabbles in — Heely is torn and can't decide. "It's all about expression," he explains. "Each style is merely a different way for me to musically express myself. So I can't totally select one kind of music over another." But he admits, right now playing Celtic is a major focus.
He credits his artistic growth to Carolina. "The musical progress I've made in classical and my new ventures in bluegrass and Gypsy jazz couldn't have happened elsewhere," Heely says.
---
If you're going
Sean Heely's talents will be on display during his senior recital at 7:30 p.m. Nov. 14 in the School of Music recital hall. He plans to play several monumental works by Sibelius, Bach and Mozart. There also will be a Celtic tune or two on the program.
---
Share this Story! Let friends in your social network know what you are reading about
---