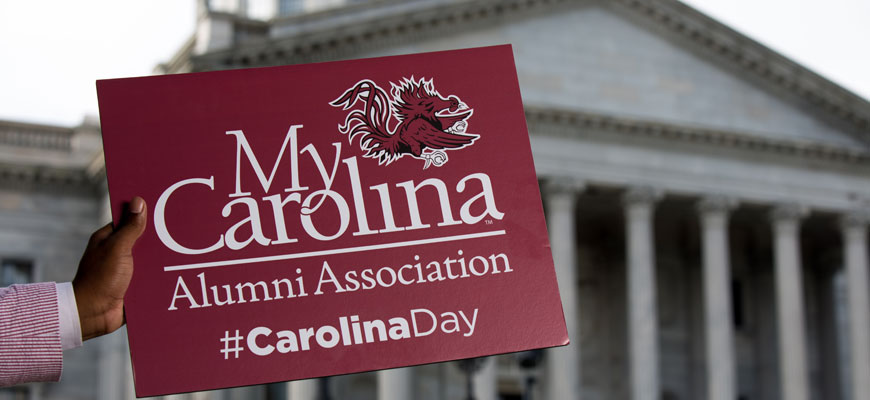 Improving South Carolina lives
---
By Peggy Binette,
peggy@mailbox.sc.edu
, 803-777-7704
---
Ada B. Thomas, for whom the university's top undergraduate adviser award is named, believed in Carolina and believed in preparing students who would make a difference as leaders in communities across South Carolina.
To Dr. Lisa Bishara ('88, '93), Thomas was more than an adviser. She was her grandmother.
"I wouldn't be at Carolina if it weren't for my grandmother, Ada," says Bishara, an anesthesiologist in Florence, South Carolina. "I was at another university and wasn't satisfied with my major. She suggested I transfer to the university and try a different major. She couldn't have pointed me in a better direction. I graduated in biology and went on to earn my medical degree at USC. She advised me as she had so many other students. She helped shape and direct many people's careers here in the state. I think she would be tickled to know that the university recently launched a University Advising Center."
Bishara met her husband, Tarek, at medical school. After 10 years of training and practicing in other states, they returned to South Carolina to be closer to their families and to give back to the University and South Carolina.
"I'm proud that I earned my medical degree from the university and that I'm working in our state providing health care to its citizens," Bishara says.
As a Gamecock, she's also proud of how the university is improving the health of communities and people throughout South Carolina.
"The University of South Carolina is expanding its role in medicine and continuing to look for ways it can reach many patients across the state to improve their lives," Bishara says. "In Florence where I work, we have begun teaching residents and medical students on a full-time basis. Helping to provide more access to health care and providing education to patients about their health is a worthy goal that the university always is working to improve."
Bishara, who serves on the board of governors for the My Carolina Alumni Association, will be among several hundred alumni, faculty, staff and students from the university's eight campuses who will meet with elected officials from their respective districts Feb. 3 as part of the university's Carolina Day at the Statehouse.
She and others will share their observations of how the university's campuses — individually and collectively — make the state stronger, whether by improving the health and prosperity of communities and residents or by adding to the quality of life through myriad cultural, educational and athletic offerings.
"Last year was my first Carolina Day. It was so impressive to see people from across the state make the University of South Carolina a priority for a day," Bishara says. "I had never been to my state legislator's office, and neither had the others I was with. It was an awesome experience to bond together to be advocates for our school and to impress upon state legislators how important the university is to our state's economic prosperity. They heard firsthand from us how USC is key to developing the workforce for South Carolina's future."
The annual Carolina Day is organized by My Carolina Alumni Association. This year marks the first time that the event will be held in the university' new alumni center, which is located steps away from the Statehouse at Senate and Lincoln streets.
"I'm delighted Carolina Day will be in our new Alumni Center. This means that we can host a much greater number of alumni and supporters than in previous years, so our voice will be even louder when we arrive to the Statehouse," Bishara says.
Faculty and staff are invited to participate and can register online. Check-in begins at 8 a.m., followed by visits with legislators and then lunch at the alumni center. South Carolina Speaker of the House Jay Lucas and President Harris Pastides will speak at the lunch. There is an $18 registration fee, which defrays the cost of the meal.
"We are excited to have our new Alumni Center not only serving as the launch point for Carolina Day, but also serving as the year-round headquarters for advocacy support for our alma mater," says Jack Claypoole, executive director of My Carolina. "Carolina Day is a great way to begin your involvement in advocating for all that makes our university system great, but it is only one small component of an emerging long-term effort to mobilize our nearly 300,000 alumni in support of the USC system specifically and higher education in general."
---
Share this Story! Let friends in your social network know what you are reading about
---