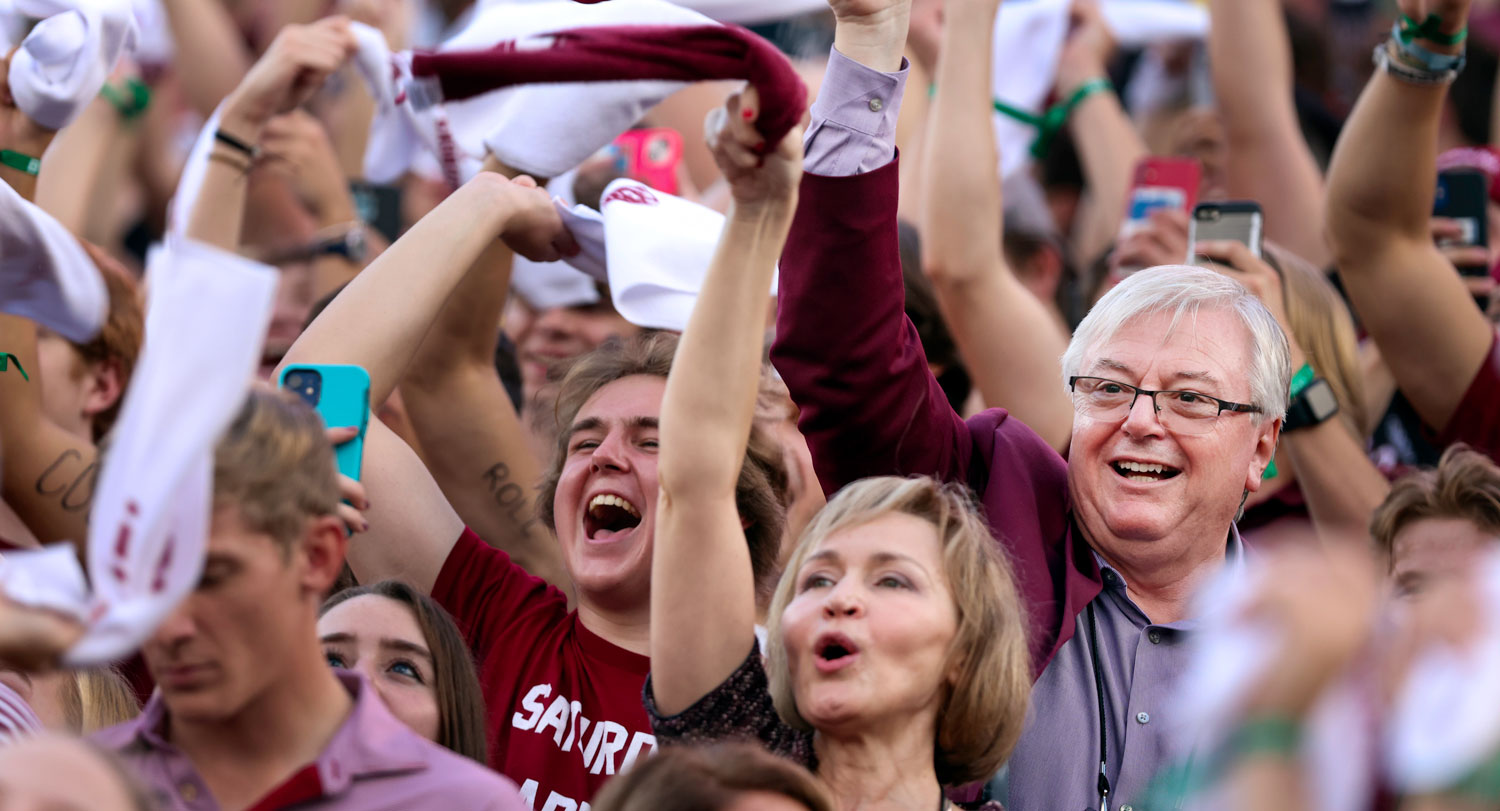 Did campus feel just a little bit livelier this year? A touch more spirited? A tad more optimistic? We thought so, too — and not only because we named a new president back in January. Yeah, that was one heck of a way to ring in the new year, and it set the tone for the months ahead, but in the end, 2022 was about all of us, from the President's House to Russell House, from Colonial Life to Williams-Brice. It was about respecting tradition, rediscovering our identity, remembering our past and reimagining our future.
In 2022, the University of South Carolina reminded us all what it means to be USC.
In January, longtime Gamecocks cheered as the Board of Trustees announced that a familiar face would be returning to campus as the university's 30th president. USC's onetime Vice President for Academic Affairs and Provost Michael Amiridis had spent the previous seven years honing his leadership skills as chancellor at the University of Illinois Chicago, but he was eager to return to the place that launched his administrative career. As he and his wife, Ero, were preparing for the move back south, Amiridis told Carolinian magazine just how it felt to trade a great job for his dream job. "Leaving UIC is bittersweet because this university and this city embraced us for the last seven years," he said. "I wouldn't give up this position for any place but one, South Carolina. It is home."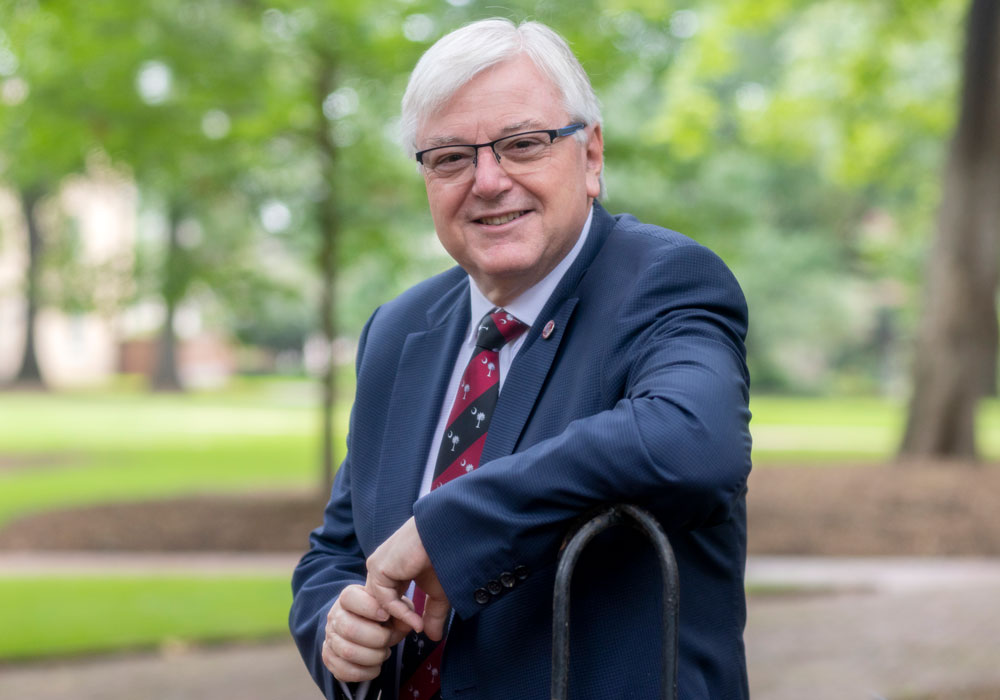 In January, a student residence hall near Colonial Life Arena became the first campus building named for an African American. Formerly known as 700 Lincoln, the Celia Dial Saxon Building honors the legacy of an educator, advocate and community activist who taught in Columbia's segregated schools for more than half a century. "Celia Dial Saxon's life stands as a testament to perseverance, compassion, hard work and a commitment to excellence," said board member Alex English, who co-chairs the university's History Commission Implementation Group. "Her legacy bestows honor and dignity to our campus."
On a cool spring morning in mid-March, ABC's Good Morning America broadcast live from Colonial Life Arena — and there was a cool story behind the show. The event, which coincided with the runup to the women's basketball team's latest championship run, was a homecoming for three College of Information and Communications alumni who now work for ABC. Kenneth Moton and Eva Pilgrim, both '04 graduates, are on-air talent at the network and appear regularly on GMA; Pilgrim doubles as a weekend anchor. Sarah Messer, '06, is a producer for the program and was instrumental in bringing it to the Capital City. The three were close friends at USC and have remained tight as they advance through their careers. "There was a group of us [at CIC] that all thought, 'We really want to try to do this for our life,'" Pilgrim reflected the day before the broadcast. "So we all became very close."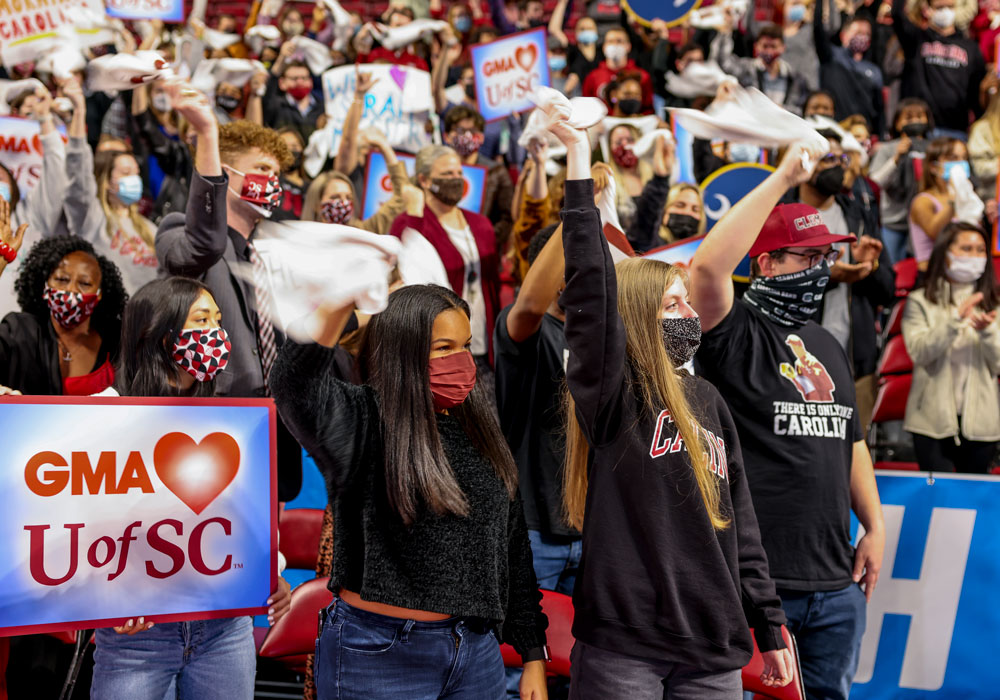 March Madness spilled into April as the women's basketball program brought home another national championship. The Gamecocks beat the University of Connecticut Huskies 64-49 in the final game of the 2022 NCAA tournament on April 3, thanks in large part to a career-high 26-point performance by guard Destanni Henderson. Forward Aliyah Boston, who won national player of the year honors, put up big numbers as well, scoring 11 points and bringing down 16 rebounds in the final game. In the process, Head Coach Dawn Staley became the first-ever Black college basketball coach to win two Division I titles.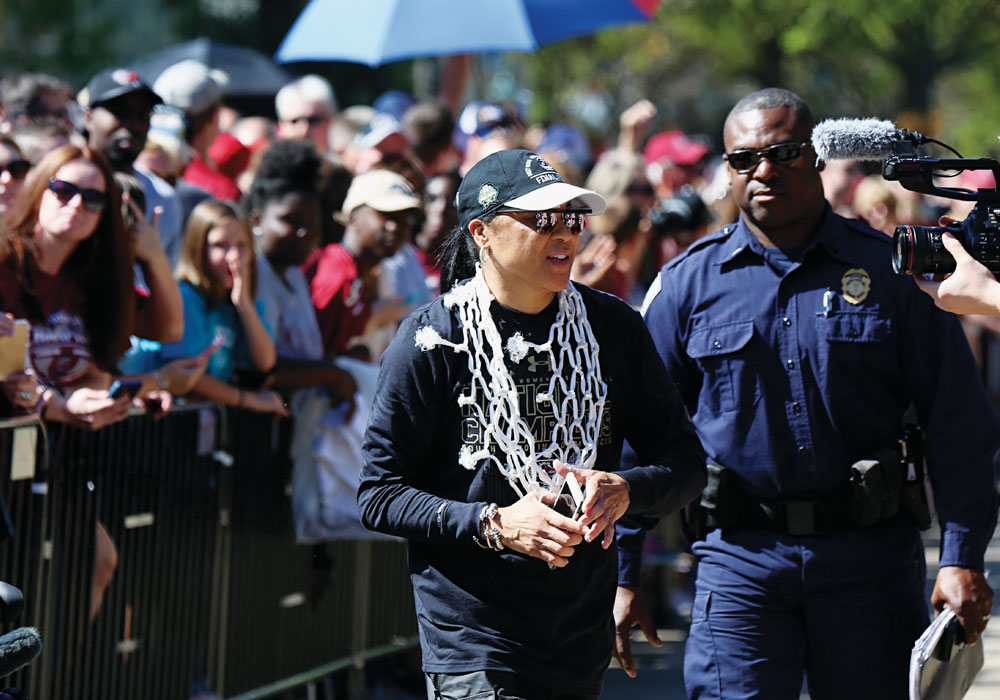 After the women's basketball team nabbed their second national title, alumnus Darius Rucker performed a free concert for students at Colonial Life Arena. The acclaimed country artist and lead singer for Hootie and the Blowfish suggested the concert via tweet April 1 — after South Carolina beat Louisville for a spot in the championship game — but it was no April Fools' joke. Rucker played to a packed house on April 24 and brought along Grammy-winning hip hop artist Nelly as a special guest. A few months later, in unrelated Hootie news, University Libraries announced the donation of a large collection of Hootie and the Blowfish memorabilia courtesy of superfan Rick Noble. "The support of fans like Rick Noble over the past 30 years is what allowed the dreams we had as South Carolina students to become reality on stages across the world," Rucker said. "It's such a special, full-circle moment to see his collection come home to the USC library, and we couldn't be more thankful to him for supporting both our band and our university."
Building buzz
If you think this past spring at USC was all about the hoops, you're not entirely wrong, but Dawn Staley wasn't the only basketball coach making news. USC's men's basketball program named a new coach in April, inking University of Tennessee at Chattanooga Head Coach Lamont Paris to a five-year deal. In his last season at Chattanooga, Paris led the Mocs to the Southern Conference regular-season title and the SoCon conference tournament title. As he began rebuilding the USC program this fall, he enjoyed some early successes including a 60-58 buzzer beater over Clemson before an excited Colonial Life Arena home crowd Nov. 11.
In June, USC's Anne Frank Center received 100 pieces of correspondence written by Otto Frank, the father of Holocaust victim and world-renowned diarist Anne Frank. The donation, which is now housed at University Libraries, coincided with the 75th anniversary of Anne's famous diary's publication and will provide an invaluable resource for future scholarship. "With the center approaching its one-year anniversary on our campus, we welcome the addition of a correspondence that offers unique insights on an important period of history and will help us continue to share the story and legacy of Anne Frank," said Harris Pastides, who was interim president at the time.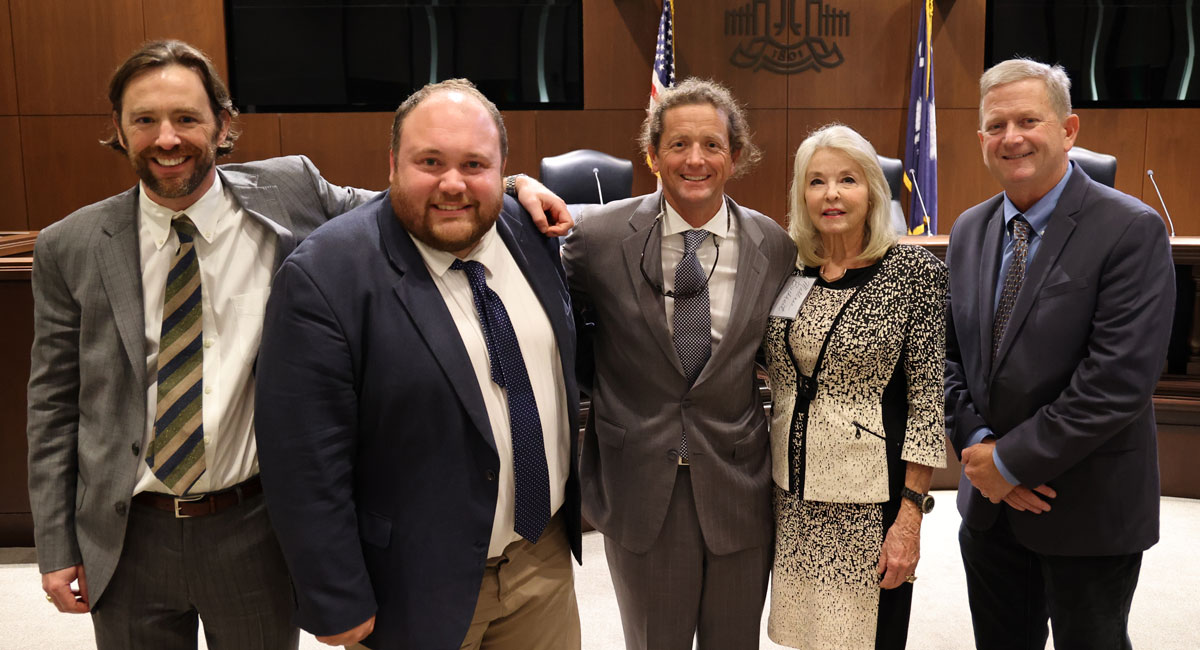 May was a big month for College of Information and Communications alumni Win McNamee, '85, and Josh Dawsey, '12. Both men were part of teams awarded Pulitzer Prizes in journalism for their coverage of the attack on the U.S. Capitol on Jan. 6, 2021. McNamee, chief photographer at Getty Images, was named along with fellow Getty photographers in the Breaking News Photography category. Dawsey, a reporter for The Washington Post, was part of a team that covered the attack, earning the Pulitzer in the category of Public Service. The two alumni returned to campus in October to deliver the annual Buchheit Family Lecture at the USC School of Law.
Rank and smile
Rankings aren't everything, but it's always nice to get recognized by U.S. News. In 2022, for the fourth straight year, the publication ranked the university's first-year student experience No. 1 among public universities. And that wasn't the only good news in the annual roundup. USC also maintained its No. 1 U.S. News rankings in international business — both graduate and undergraduate — and the School of Medicine Columbia earned the No. 1 spot for graduates working in underserved areas. Our living and learning communities were recognized, too, coming in at No. 6 among public universities and No. 16 overall. But it wasn't just U.S. News giving the shoutouts. The university also earned the No. 1 spot on the Military Times Best for Vets: Colleges list, which is the gold standard among the military and veteran communities when it comes to higher education.
In July, USC's Board of Trustees announced plans for a new 50,000-square-foot nursing simulation center and teaching space on the campus of Lexington Medical Center. The project, funded by LMC, will be completed by 2024 and is estimated to cost $20 million. The board also announced a new graduate medical education affiliation with LMC to help meet local and statewide needs for primary care physicians, a goal that aligns with USC School of Medicine Columbia's mission to increase the number of primary care physicians in the state.
In the spring, law school alumna Judge J. Michelle Childs made national headlines when her name was floated for a potential nomination to the U.S. Supreme Court. Despite strong bipartisan support, Childs did not receive the nod, but in July she was confirmed as the newest member of the U.S. Court of Appeals for the District of Columbia Circuit. Speaking to Carolinian magazine this fall, she underscored her impartial, apolitical judicial philosophy. "I like people to believe that when they come into the courtroom with me as judge, I have no preconceptions about the case," she said. "I will be very prepared. I will ask the appropriate questions, but either side has the opportunity to convince me of their position."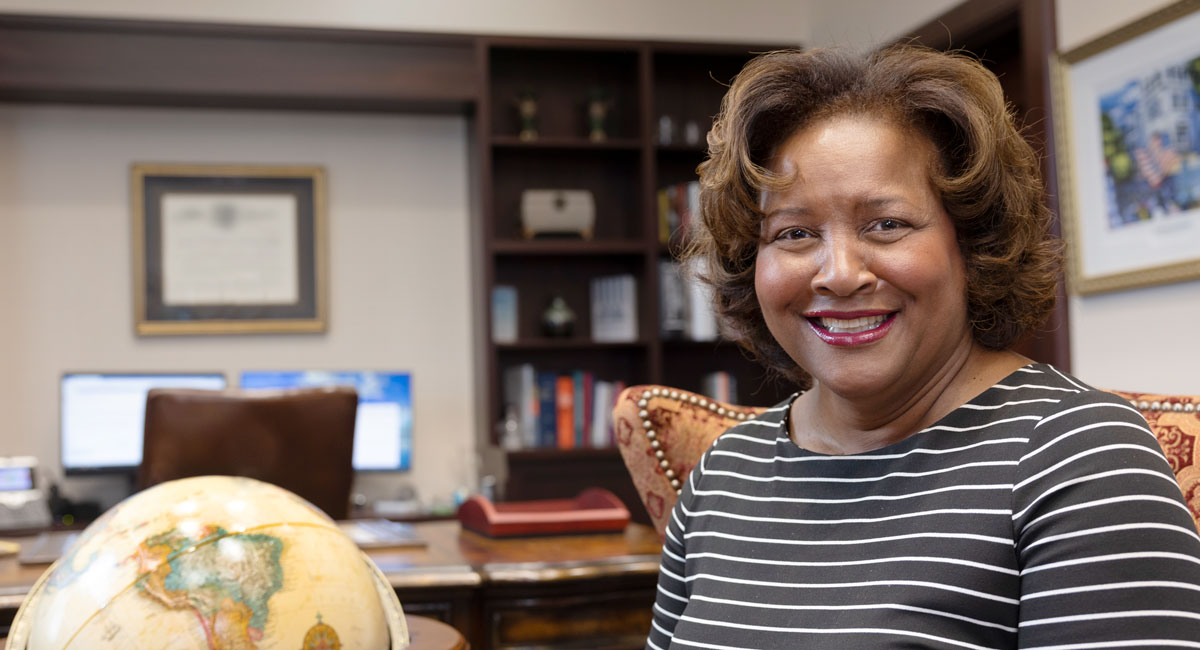 Big on diversity
In August, USC's Columbia campus welcomed the largest and most diverse freshman classes in school history. Of the more than 6,500 new Gamecocks, nearly 25 percent were underrepresented minority students, an increase of 15 percent over 2021. "The surge of interest in admission to the university speaks to our strong brand and reputation for providing a high-quality education and an exceptional student experience," said Scott Verzyl, vice president for enrollment management and dean of undergraduate admissions.
As big birthdays go, 50 is up there. No, we're not age-shaming — we're celebrating one of our marquee programs, University 101. Launched in 1972 as an elective course, U101 is designed to help first-year students adapt to the rigors of college and develop stronger connections to the university. Over the last half century, it has proven so successful that is now the undisputed model for colleges and universities nationwide. And, of course, it's a difference-maker here at USC. "What we know from 50 years of research is the No. 1 predictor of a student's decision to stay at Carolina is helping them establish a sense of belonging," said Dan Friedman, executive director of University 101 programs. "That means that they like the people and they find it easy to make friends."
It was a banner year for USC's Center for Civil Rights History, which attracted major public and private support. In February, the center received a $1.5 million gift from Williams, an energy infrastructure company, to help fund traveling and permanent exhibitions, expand its collections and enhance student learning in South Carolina's K-12 and college classrooms. Next, the center announced a partnership with the National Park Service — and $3.4 million in grants over five years — to expand their work in civil rights education and scholarly research. Finally, Boeing announced a $1.5 million gift this fall to establish the James E. and Emily E. Clyburn Endowed Chair of Public Service and Civic Engagement Fund, which was awarded to associate professor and center director Bobby Donaldson.
In July, President Amiridis completed his executive leadership team, announcing the return of former Vice President for Development Michelle Dodenhoff, who previously left USC in 2009 to coordinate fundraising efforts in the health care sector, and new Vice President for Student Affairs and Academic Support J. Rex Tolliver, who worked with Amiridis at the University of Illinois Chicago. The two announcements followed the appointments this summer of Donna Arnett as USC's new executive vice president for academic affairs and provost and the elevation of Julius Fridriksson from interim vice president of research to the permanent position.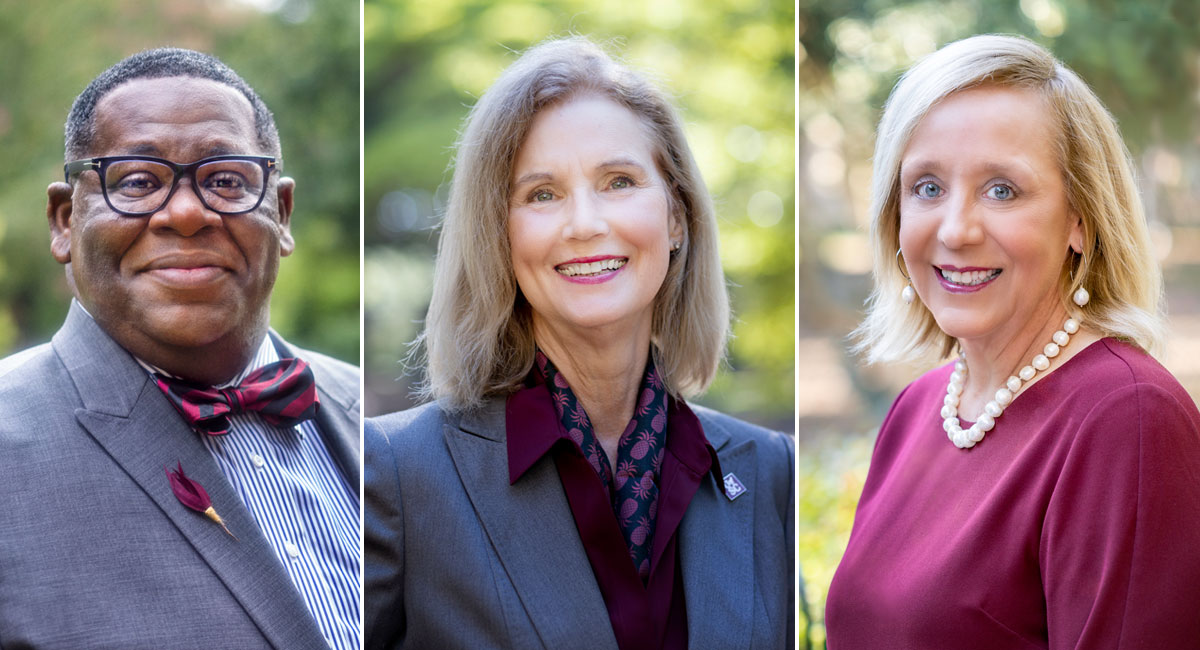 Saturday Night Lights
A night game at Williams-Brice Stadium has always felt special, but this fall the experience reached new heights — or maybe new brights. During the season opener against Georgia State, the university flipped the switch on a brand-new LED light system that further electrified an already electric atmosphere. The garnet and white lights, which were installed as part of a larger renovation in May, run the length of the sidelines and flash in time with "Sandstorm" when the Gamecocks kick off and whenever they score a touchdown.
Imagine Carolina
In September, more than 300 undergrads signed up for Imagine Carolina, a one-day retreat hosted by President Amiridis. The idea? To provide an open forum for students to share their thoughts on academics, student life and the college-to-career transition. "To create the most exceptional experience at South Carolina, we must first hear directly from students," said Amiridis. "Working together, we can make your time at South Carolina all it can be." Due to the event's popularity, plans are already being made for follow-up forums in the coming months.
What's in a name? Apparently, quite a lot. On Oct. 26, the university announced that we would "sunset" the UofSC acronym adopted in 2019 and once again refer to ourselves as USC. The university also introduced a new logo and spirit mark more in line with our identity, prompting an outpouring of support on social media. "The Board of Trustees strongly supports this action," said USC Board Chairman Thad Westbrook on the day of the announcement. "Our alumni and stakeholders have overwhelmingly stated their strong desire to return to the USC name and the USC tradition. We are excited about this change."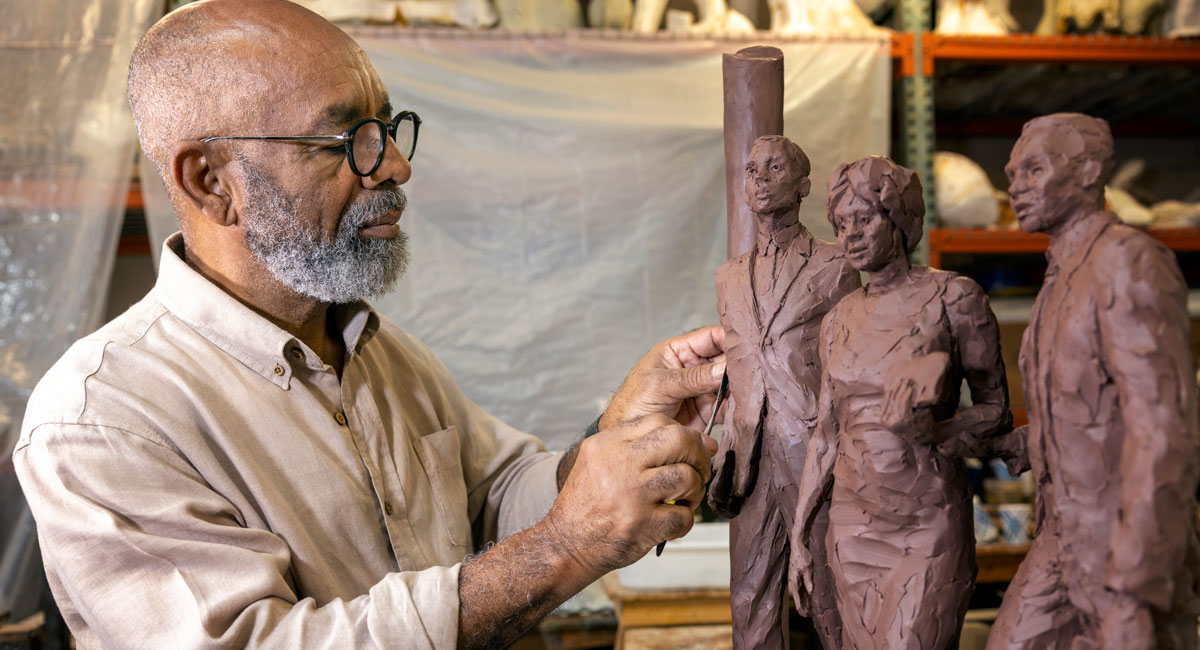 On the morning of Sept. 11, 1963, three students stepped through the doors of the University of South Carolina's Osborne Administration building and into USC history. Henrie Monteith Treadwell, Robert Anderson and James Solomon Jr. — the first Black students admitted to the university since Reconstruction — will be forever remembered for their pivotal role in the desegregation of higher education in the state. Nearly 60 years later, the university announced plans for a statue by internationally acclaimed sculptor Basil Watson. Next fall, the 12-foot bronze monument will be permanently installed in a prominent spot near the Osborne Administration Building.
Garnet and back-to-back
The Gamecocks enjoyed a big win on the road in Kentucky this fall, but the Garnet and Black saved the best for last, knocking off two Top 10 opponents in back-to-back weeks. When the Gamecocks walloped the No. 5 Tennessee Volunteers 63-38 at Williams-Brice, the home crowd went wild celebrating the biggest win of the Beamer era — up to that point. A week later, Beamer and Co. took the show on the road, beating No. 8 Clemson 31-30 on Thanksgiving weekend at Death Valley. The upset victory over our in-state rival helped earn them an invitation to the Gator Bowl and put an end to the Tigers' 40-game home win streak. "I'm so happy for our fans, so happy for our seniors, our players," Beamer told reporters after the victory. "It was a total team effort. The fight in this team, I hope y'all understand, it is special what we've got in that locker room."
Look ahead: '23 and USC
With so many accomplishments in the 2022 brag bag, we can't help but get excited about the many big projects on the horizon. For starters, there's the grand opening of Campus Village. The largest single construction project in university history will welcome students in the fall, transforming the south side of campus. Likewise, South Caroliniana Library will reopen its doors after an extensive renovation and the restored Greene Street United Methodist Church be reimagined as classroom/rehearsal space (and eventually recital space) for the School of Music. If that's not enough to sing about, check back in December 2023. We'll have plenty more, forever to thee.