For 50 years, freshmen have walked into University 101 classrooms unsure of what to expect, maybe a little overwhelmed and certainly a bit nervous as they navigate their first semester of college life.
In those classrooms, they find a community: instructors to teach them, peer leaders to guide them and classmates to lean on.
A few months later they walk out, confident, comfortable and armed not only with the desire to succeed on the University of South Carolina campus, but also the tools to make that happen.
None of it happens by accident. All of it is by design.
University 101 is the international leader in freshman seminars, a model followed by universities around the world. It is an inclusive program aimed at all students, helping them not just to survive their first year of college, but to thrive.
The results are hard to argue with. Students who take University 101 – 295 sections are being taught this fall – are more likely to return for their sophomore year, have better GPAs and graduate at higher rates than their peers who don't take the freshman seminar.
"What we know from 50 years of research is the No. 1 predictor of a student's decision to stay at Carolina is helping them establish a sense of belonging. That means that they like the people and they find it easy to make friends. It's kind of the heart of University 101," says Dan Friedman, executive director of University 101 programs. "Community is the most essential ingredient."
Friedman's office spends a lot of time researching and retooling the course and, perhaps most importantly, preparing the 250 instructors who will lead the classes, which are capped at 19 students.
"The course is only as good as the person teaching it. So what we have to do is get really great people who have a kind and caring spirit and want to be helpful to our first-year students. And then we give them a lot of development and support to be excellent instructors."
That includes a robust faculty development system that invests heavily in the people teaching it. Before entering the classroom, they are guided by a supportive cohort and a 650-page resource manual that covers anything and everything that could come up in a U-101 classroom, along with assessment-driven best practices.
It's also not stagnant. The content and the curriculum are evaluated every couple of years to ensure its relevance.
"As the institution changes, as our priorities change, as our students' needs change, so too must University 101," Friedman says. "It is built to be adaptive by gathering feedback from students, former students and staff and faculty about what is needed."
We talked to a U101 instructor, a peer leader, a student and an alumna about their experiences in U-101. Here are their stories.
Ashley Elliott Dukes
University 101 instructor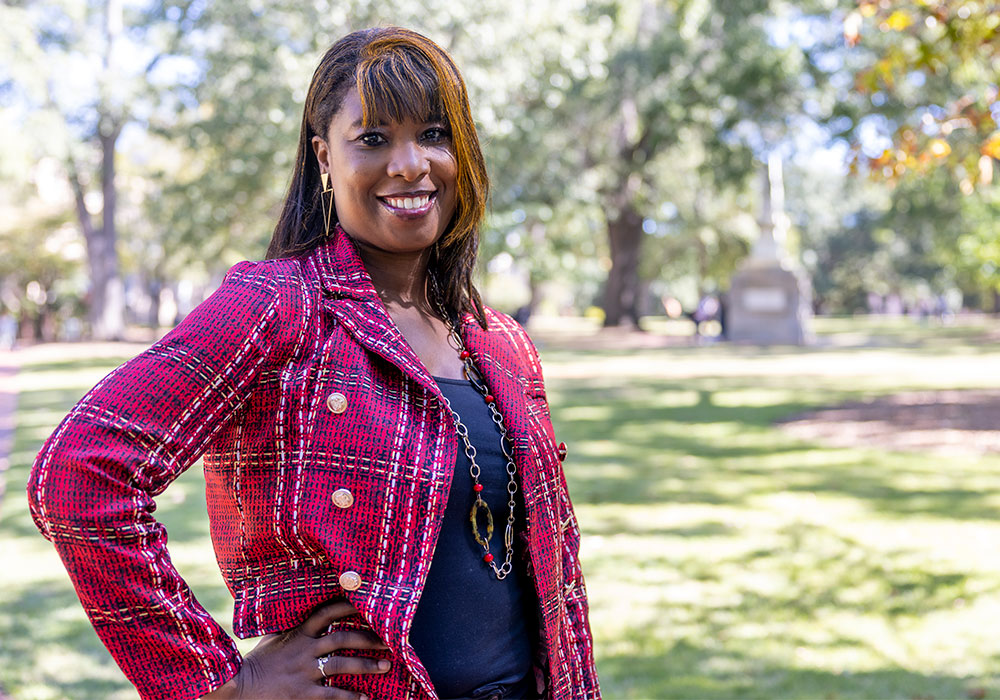 Ashley Elliott Dukes teaches an early morning section of University 101 on Tuesdays and Thursdays, making it the first time most of her students step into a college classroom.
And Dukes, the manager of scholar engagement at the Darla Moore School of Business, is thrilled to be standing at the front of the room.
"Having that be the very first college class for many of them is impactful. It's creating a foundation to say, 'We're going to make sure that we give you the resources and tools you need to be successful. But not only that, we want you to build community. We don't want you to feel isolated. We want you to know that there are many individuals here to make sure that you win and that you're successful,' " Dukes says.
Dukes has been teaching U-101 since 2014, soon after she arrived at the university, when she worked in marketing for the Career Center. She has previously taught general sections of the course, along with sections for undeclared or undecided students, who were seeking to identify their major choice.
"It was a natural fit because I tailored my sections specifically around career services and helping students discover their skills, strengths, and interests to in-turn identify what they wanted to do after graduation," she says. "I wasn't confident in my major choice when I first got to college, and didn't know the career I wanted to enter into, so I felt like my purpose was to help my students with that and it was very rewarding to have that opportunity."
Now working in the Moore School, she teaches two U-101 sections for Rising Scholars, a program designed to connect diverse and underrepresented, South Carolina business students with opportunities and resources across campus.
And while the past several years have been filled with challenges — Dukes lost two family members in 2018 and 2019, and then COVID-19 hit ­— she said the students in her classroom have inspired, motivated and encouraged her.
"There was uncertainty and many challenges around the pandemic. But my students were brave and they pushed through. They sacrificed a lot," she says. "We sometimes think that this generation of students are not resilient, but they absolutely are. Their presence alone and displays of resiliency helped me navigate adversity and that was inspiring because I was instrumental in helping teach them this vital skill."
In her U-101 classes, she notices quite a change in every student.
"They come in and they're reserved, they're quiet, and often very nervous. It doesn't matter where they are from, it doesn't matter what dimensions of diversity they identify with, it's natural to have these feelings," she says. "However, by the end of the semester, they're confident. They say, 'You know what, I can do this. I can make it the next three years.' They feel like they belong and that they are at home, no matter where they've come to us from. They feel like a true Carolinian. And that makes me really happy and very proud of them."


Jacob Lenski
University 101 peer leader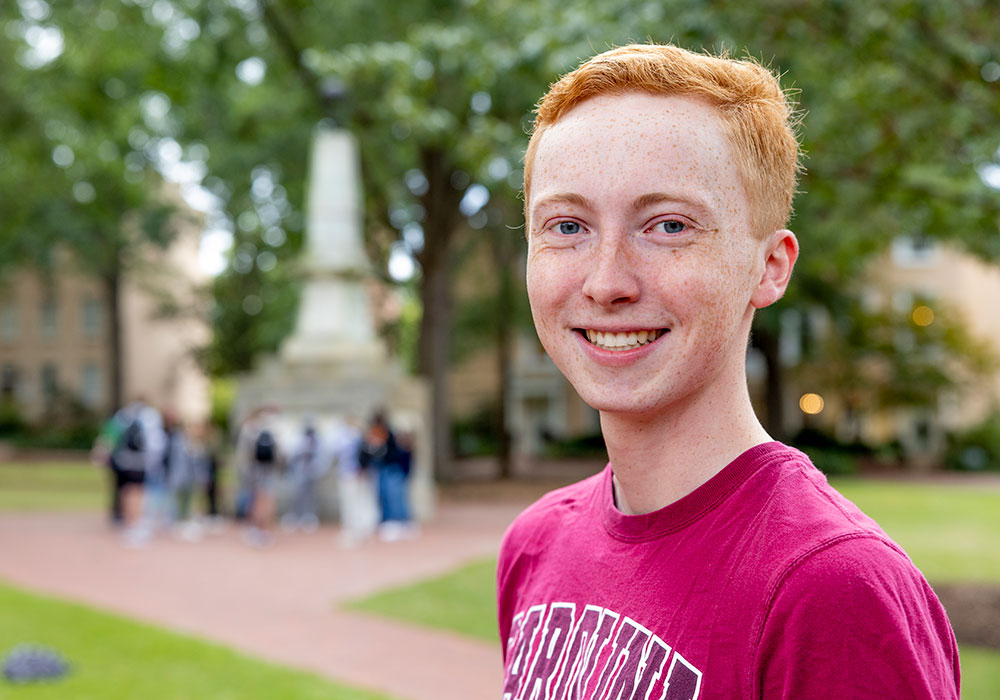 Jacob Lenski, a University 101 peer leader, is different from every other student in his U-101 classroom – he didn't take U-101 as a first-year student.
But it was that fear of what he had missed that led him to apply to be a peer leader – a student who works as a mentor and assists the instructor in each U-101 class.
"A lot of my classmates had really good experiences with it, and they said it was super beneficial for them," Lenski says. "And then there was an email that came out saying that they were looking for peer leaders. I thought, 'Hey, this seems like something that'd be really interesting.' It was something I missed out on as a freshman, but I may be able to experience in a different way as a peer leader."
Lenski, a senior majoring in biology and minoring in computer science, is now in his second year with the U-101 program. And the South Carolina Honors College student from Columbia is thriving in the role.
"A peer leader helps with teaching the lessons and giving examples, but they're also a role model. And since you are so close in age to the people you're teaching and you've been through the same things that they have, you're a mentor in a way," Lenski says. "You give a lot of advice, and you help them learn from your mistakes and your successes."
For example, Lenski says he didn't have a perfect first-year roommate experience, and now knows that he waited too long to clearly voice his concerns.
"So when my student came to me with a very similar type of situation, I was able to say, 'Hey, this is kind of what I did and what didn't work so well, and this is what I would have done differently.' "
As for his successes, he is able to share some of his tips on study habits, such as how he blocked off time for difficult classes and how he contacted classmates to set up study group sessions.
"I think the most rewarding thing about being a peer leader is that you're really making a difference in some people's lives. In every class that you have, there's a couple of people that are really quiet and reserved. And the best thing in the world is to see them start off as very shy and not forthcoming at the beginning of the semester. And then by the end of the semester, they're involved in clubs, they're making friends, they are really enjoying their freshman year," he says. "So I think that's the most rewarding thing, seeing how people really thrive in college when maybe they didn't think they were going to at first."


Mali Hunter
University 101 student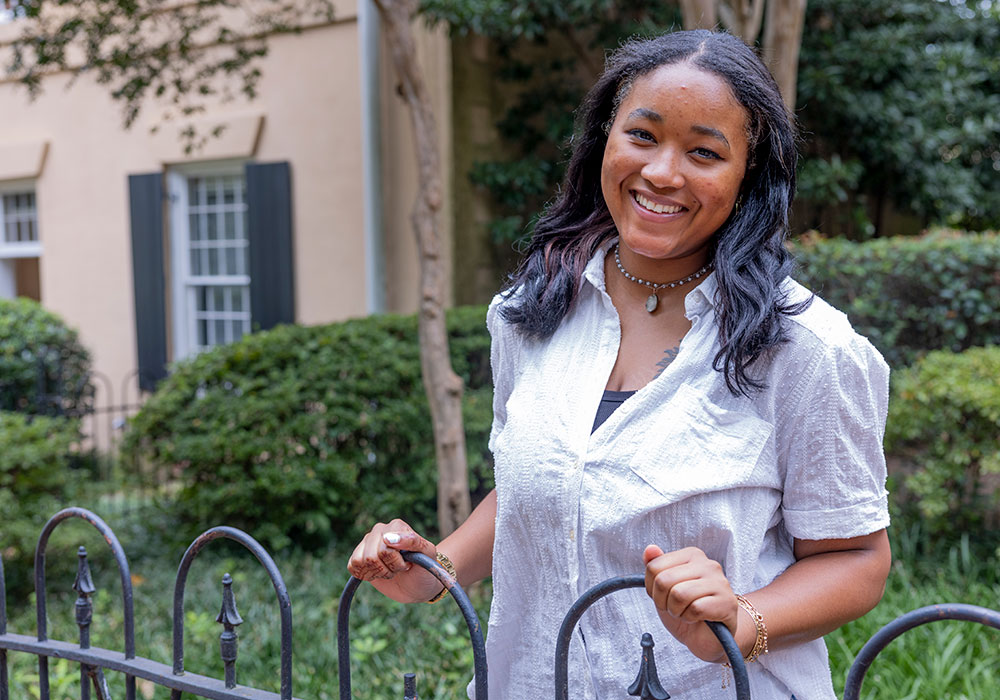 When Mali Hunter arrived at the University of South Carolina from Greenville, she says she found it a little difficult to make friends during her first days on campus.
That changed in her University 101 classes.
Soon, she saw familiar faces around campus, at her home in Green Quad and even in the library, where her peer leader also worked.
"I feel like our class was really close and I was able to hang out with people and go to games with them and go to the carnivals and other on-campus events," Hunter says. "My teacher (Sandy Greene), she really kind of made us a community."
Hunter says she first became interested in taking U-101 after reading about the program's reputation and the academic success rate for students who took the first-year course.
Hunter also called on Greene, who is the associate director for communications and partnerships with University 101 Programs, for advice when she was trying to figure out her next steps at Carolina. At the mid-point in the semester she met with Greene and told her she wanted to apply to be an international business major in the Moore School of Business.
"We sat down and we basically were laying out what type of clubs and organizations I could join to become more involved on campus. It was really nice to sit down with the instructor and have that kind of help."
Hunter learned this summer that she was accepted into the IB program. As a German minor, she hopes to eventually work in Germany.
Now starting her sophomore year, Hunter says she is still friends with her classmates from U-101, and she has advice for incoming students at South Carolina.
"I would definitely recommend that they take (U-101), because it may lead to other opportunities that they don't even know about," she says. "They don't want to not take it and regret it later."


Maya Sabbagh
University 101 alumna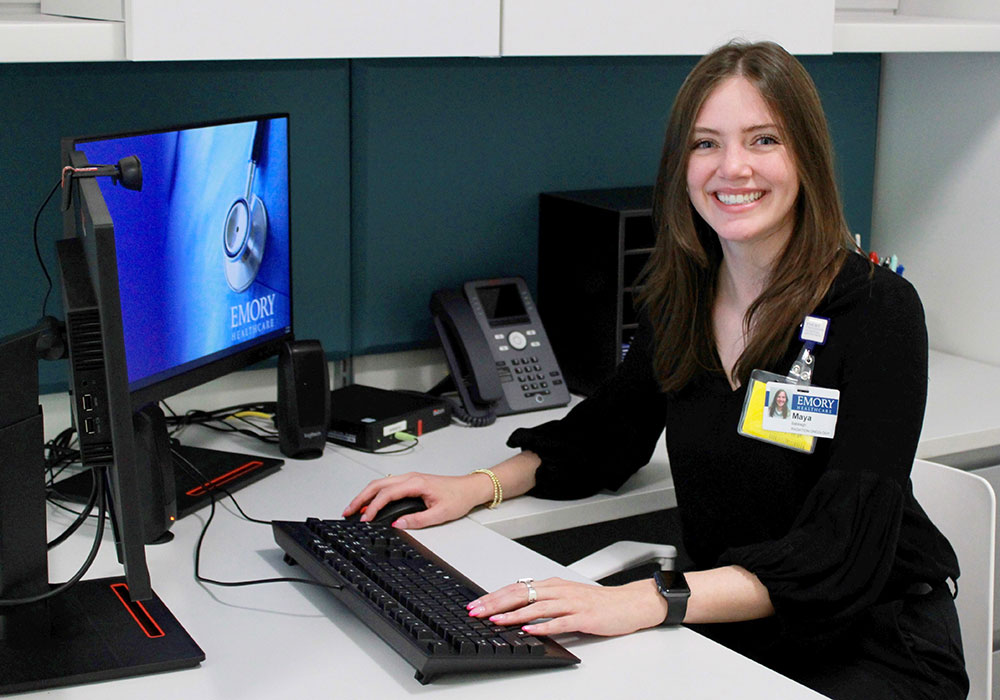 Maya Sabbagh, who earned her degree in 2018 from the Arnold School of Public Health, recently offered some advice to a co-worker whose daughter is starting the college application process.
"I told her, 'First of all, you should look at USC because I adored going there. But secondly, you should look for a school that offers a program similar to U-101,' although I don't think there are any quite as good," said Sabbagh, who earned her master's in public health with a concentration in epidemiology from the University of Michigan in May. She now works at Emory Healthcare in Atlanta.
As a Capstone Scholar who came to the university from Toledo, Ohio, Sabbagh says much of her success in college and beyond can be traced back to the U-101 classroom.
"It's really important to have that cornerstone, that touchpoint in your first year when everything seems so chaotic and you're thrown into pseudo adulthood," Sabbagh says.
Her section of U-101 was a service-oriented class for Capstone Scholars. She took it with her freshman roommate, and the two are still best friends. She also has remained close with others from her U-101 class.
"It's been really cool still being friends with the people I took that class with. I've been watching them graduate law school, get engaged, move to cool places, get cool jobs. I think, 'Wow, we all really started together and here we are now.'"
Along with the class helping her navigate the campus, she remembers discussions about values and how those shape the decisions people make.
"I remember that was a really impactful class for me. And also having the peer leader who was a role model of someone who had done what I at the time hoped to do in college was really great."
She was such a fan of the class that she ended up working in the U-101 office from her sophomore through senior years, and was a peer mentor and team teacher while at UofSC.
"It helped me make a blueprint for my college years that I very much followed throughout. And I don't know how well I would have done without that. I think I probably could have figured it out, but having that groundwork really helped me," she says. "Looking back at college, I really don't have any regrets. I'm very proud of what I did, and pretty much all of it can be linked back to what I learned in U-101 and the opportunities I got from taking it."