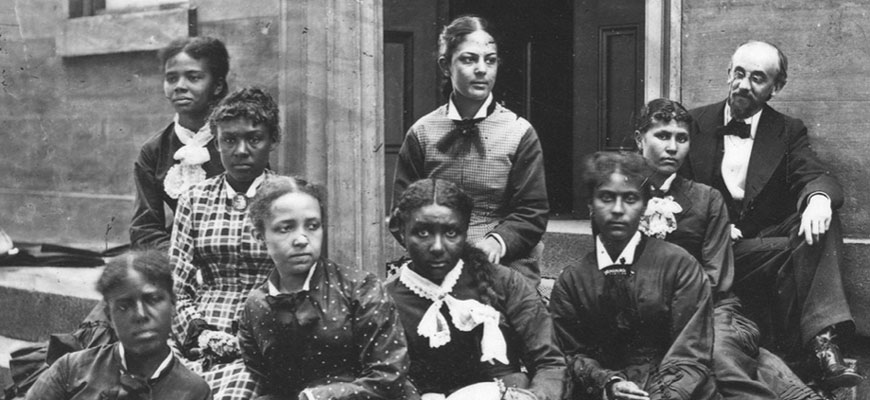 The honor and dignity of Celia Dial Saxon
A student residence hall becomes the first University of South Carolina building named for an African American
---
By Chris Horn,
chorn@sc.edu
, 803-777-3687
---
A student residence hall near the Colonial Life Arena has become the first University of South Carolina building named for an African American. Formerly known as 700 Lincoln, the Celia Dial Saxon Building honors an educator and community advocate whose teaching career spanned six decades in segregated schools near the university campus.
University trustees voted unanimously this past January to rename the dormitory for Saxon, who was one of eight Black women to graduate in 1877 from the State Normal School, established briefly during Reconstruction to train teachers for Black schools in South Carolina.
"Celia Dial Saxon's life stands as a testament to perseverance, compassion, hard work and a commitment to excellence," says Alex English, co-chair of the university's History Commission Implementation Group that considered candidates for whom to name the residence hall. "Her legacy bestows honor and dignity to our campus."
Saxon, who was born enslaved in Columbia just a block from the university campus, taught mostly at Howard School and Booker T. Washington High School, two of the city's Black schools during segregation. She missed only three days of work in 57 years of teaching and died of a heart attack in 1935, a day after teaching and grading papers.
"What really propelled her forward was her sincere love of children," says Alexandria Russell, a 2018 history Ph.D. graduate who recently published a scholarly article about Saxon in the Journal of African American History. "Education transformed her life, and she was determined to give that gift to other Black children in the city and throughout the nation."
Celia Dial Saxon's life stands as a testament to perseverance, compassion, hard work and a commitment to excellence.

Alex English
Saxon was honored in 1930 when the then all-white Blossom Street Elementary School was renamed Saxon Elementary. The facility became an all-Black elementary school until its closure in 1968. The building, located beside what is now the Strom Thurmond Wellness and Fitness Center, was demolished in the mid 1970s. A former public housing project in Columbia also was named for Saxon in the 1950s, and a state historical marker was placed in 2008 at the corner of Blossom and Assembly streets to commemorate her life and the former school building that bore her name.
While Saxon is best remembered for her long teaching career, she also was a founder of the S.C. Federation of Colored Women's Clubs, working alongside Mary McCleod Bethune to promote educational and social welfare resources to Black citizens. She participated in the inaugural S.C. Negro Race Conference in 1907 and created Fairwold Home, a safe haven for orphaned Black girls. Saxon was also prominently involved in the Palmetto State Teachers' Association, the Culture Club, the Lend-a-Hand Club and the Woman's Christian Temperance Union.
"During the late 19th and early 20th centuries, a time that has been called the 'nadir' of U.S. race relations, African American clubwomen like Saxon understood that their creation of social welfare programs was critical to the survival of their communities," Russell says.
Saxon organized and taught at professional development workshops at Benedict College and collaborated with Josiah Morse, a professor of philosophy and psychology at the University of South Carolina. In 1926, Saxon was awarded an honorary master of arts degree from the State Agricultural and Mechanical College, now South Carolina State University, in Orangeburg.
Banner image: In the archival image above, the woman in plaid is believed to be Celia Dial Saxon.
---
Share this Story! Let friends in your social network know what you are reading about
---