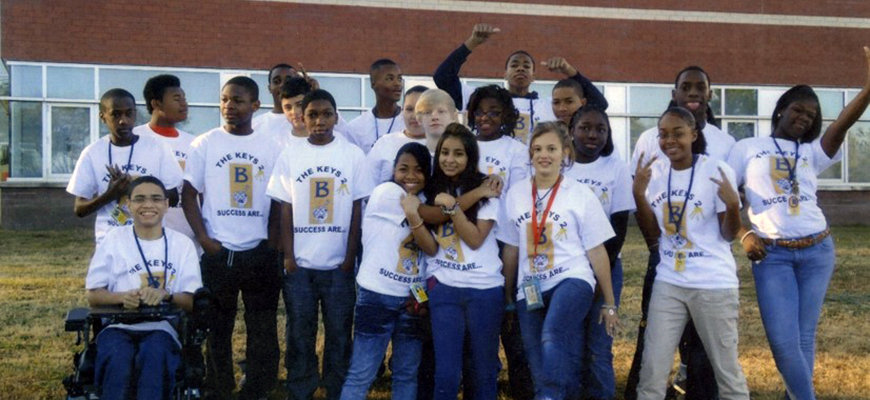 When tracking math students doesn't add up
Education professor finds tracking students leads to additional learning delays
---
By Kathryn McPhail,
mcphailk@mailbox.sc.edu
, 803-777-8841
---
Three years ago, a math teacher at Blythewood High School decided to perform her own covert experiment to see if a group of freshman students labeled "below average" in math could succeed in algebra despite their past struggles. At the time, Hope Reed was also a doctoral student in the University of South Carolina College of Education. She, along with education professor Rhonda Jeffries, began researching how to close the achievement gap for racial minority and low-income students, specifically those tracked to be in remedial classes.
"We knew that research suggests that the tracking process used by our schools was actually delaying students even more, and sometimes was negatively influencing teachers as well," Jeffries says. "It's a self-filling prophecy of sorts. The students know they have been labeled as unsuccessful and don't often apply themselves, and the teachers might not push these children to succeed as they would for a college-prep learner."
Reed, who typically taught honors students, volunteered to teach the remedial freshmen. Though enrolled in what the school called a math technology course, which was designed as a review of math skills, Reed quietly began teaching the 49 students algebra. Of those remediated students, nearly all were African American and half were from economically disadvantaged families.
"Each day for the semester, those students learned algebra," says Jeffries. "Dr. Reed used the college-prep curriculum and treated those students no differently than their counterparts who were 'tracked' for algebra."
The result was an astounding 90 percent (44 of the 49 students) passed the course.
"She proved that all children can learn when given a chance, coupled with effective and culturally relevant teaching and support," says Jeffries.
The positive outcome led Reed and Jeffries to approach the school administration to discuss a formal change in the tracking process. Beginning in the 2014-15 school year, freshman students who would have been remediated in math instead received 45 minutes of instruction separated from their peers who were tracked for algebra then 45 additional minutes of instruction in the classroom with their peers.
"Logistically creating schedules like this takes a team of supporters including your counselors, all your math teachers and your administrators. It was a change in culture and thinking," stresses Jeffries.
In that year, 159 students were placed in the new course. At the end of the semester, 75 percent were passing the algebra class.
"After that, there was no doubt the program was working for these students."
Jeffries and Reed also examined how the average students were impacted by sharing class time with their peers who were considered low performers.
"Parents are always concerned that the lower performing students will be a distraction to the achievement of the average student. But, our research showed that 90 percent of the average students passed the class and end-of-course test which aligned with previous year results. So, the combination of the classes didn't hurt anyone while really helping those remediated students," Jeffries says.
Jeffries says they saw the attitudes of the students towards learning math change as their test scores and grades rose.
"Students were more confident. They started saying that, for the first time in their lives, they really loved math. This, to me, is a remarkable outcome. That is what teaching is all about," she says.
In August, Blythewood High School will enter its fourth year using this math scheduling and instruction model. In the 2015-16 school year, the school even boasted the highest math standardized testing scores in its school district. Because of its success, another school in the same district, Westwood High School, also is adopting the math program this year.
---
Share this Story! Let friends in your social network know what you are reading about
---