There is no typical first-generation college student. Some come from immigrant families, some from households where family members didn't graduate from high school. But all add energy and variety to the University of South Carolina campus.
"First-generation students are important to the university because they bring a unique perspective to higher education, and everyone benefits from a diverse student population," says Althea Counts, executive director of TRIO programs. "First-generation students are not monolithic, but they do share some common characteristics. They are resilient, determined and self-reliant. And to be 'first' means you are courageous."
At USC, 21 percent of the student body identifies as first-generation college students, meaning their parents did not complete a four-year degree.
Once they arrive at USC, they find a range of services to help them thrive, many based in the university's TRIO office. Carolina has sponsored TRIO programs for more than 50 years, while the Opportunity Scholars Program, one of four TRIO programs funded by the U.S. Department of Education, is marking its 50th year of existence on campus. OSP is a learning community designed to increase retention and graduation rates of first-gen students from low socio-economic backgrounds. The program provides guidance and advocacy services that promote retention and graduation, Counts says.
The university is marking National First-Generation College Student Celebration Week Nov. 8-12 with a full schedule of events. We spoke to two undergraduates, an alumna, faculty and staff member to learn more about their experiences as first-gen students.
Meet our first-gen students
Jazmine Lara Guerrero
Political science, College of Arts and Sciences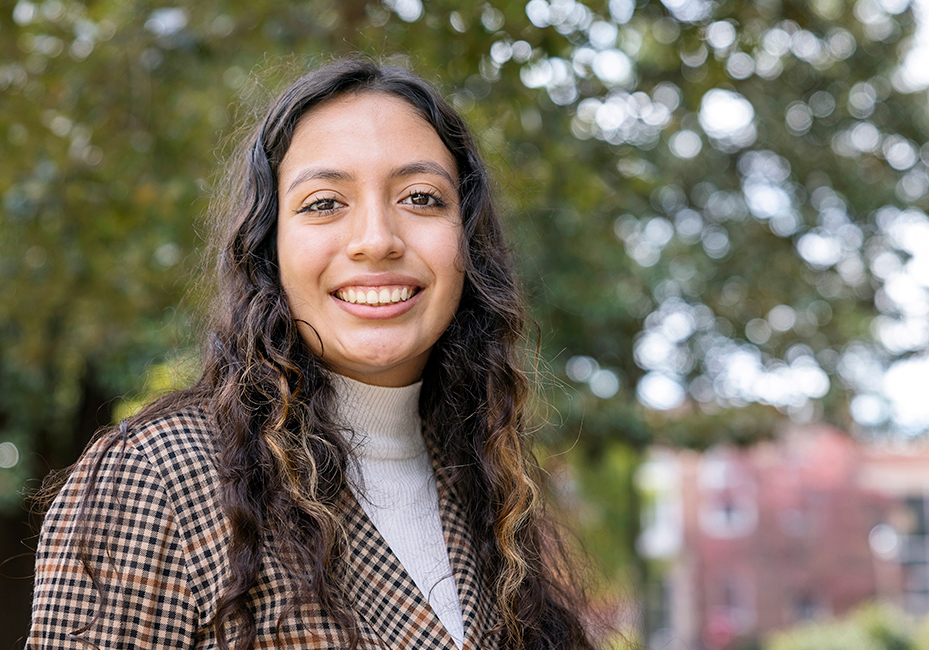 Jazmine Lara Guerrero's parents immigrated to the United States from Mexico, settling in North Myrtle Beach for one reason: to give their two children the chance at a better life.
Her parents worked hard in the service industry along South Carolina's Grand Strand. Her father, who didn't finish high school, works as a chef in a restaurant; her mother cleans houses. Neither of them went to college.
"I really appreciate the hard and physical labor my parents put in to help me afford to go to college because this was their main goal — get me in college, get a degree and set up a stable life here in America," she says. "They didn't have that opportunity."
Her parents married young, and Lara Guerrero's brother was born in Mexico. Her father joined friends in Myrtle Beach, found a job and sent money so his wife and baby son could join him. Lara Guerrero was born in South Carolina.
Lara Guerrero attended the Academy for the Arts, Science and Technology, a public magnet high school in Myrtle Beach. She attributes much of her confidence and success to that experience, saying it helped prepare her for college.
She originally expected to go to a two-year technical school close to home, because she didn't know if she would be able to afford to attend a four-year university. But her guidance counselor recommended USC and told her about the Opportunity Scholars Program, which offers tuition reduction and smaller freshman classes taught by instructors who are especially prepared to meet the needs and concerns of first-gen students. Her parents weren't sure, and worried about the cost of their daughter attending a large university.
"My brother drove me from Myrtle Beach to Columbia to do a tour of the campus to see if I liked it. And I fell in love when I saw it," she says. "And then I applied. My parents weren't happy, but I got in early admission and they were finally happy when they saw all the scholarships I was getting and all the financial aid the university is giving me. So that's how I ended up here at USC."
Now a junior majoring in political science and minoring in education, she remains a committed Gamecock.
"I still love it here. You know how much I love it here? I need only six more classes to be done with my degree. But I'm like, 'No, I want the full four years I don't want to graduate from here yet.'"
Lara Guerrero was a Ronald E. McNair Scholar last summer, a program that helps TRIO students prepare for graduate school, and she was able to do undergraduate research and start on the path to earning an advanced degree. She eventually wants to be a professor.
"I will apply to grad school and be on my way toward a Ph.D. in political science," Lara Guerrero says. "And I have a great mentor, Dr. Todd Shaw. He's been helping me with all the questions about grad school, as well as helping me with more undergraduate research so I can become a better candidate."
But she remembers her first days on campus, and how unsure she felt as a first-generation student, wondering whether she belonged on a university campus. She found professors and staff members who believed in her and helped her through those unsteady early days.
"And now my parents are really proud of me. Granted, they don't know exactly what I do here. I tell them I'm doing research, and they say 'Oh, that's cool. What's that?' But they're just proud of me actually being here and getting a degree.
"My mom can't wait to see that bachelor's degree and see me graduate. My parents just dropped everything and went to brand new country where they didn't know the language, didn't know anything. They were around the age I am right now. And they just did all this for their kids. I find that amazing."
Kim Butler Willis
Alumna, Arnold School of Public Health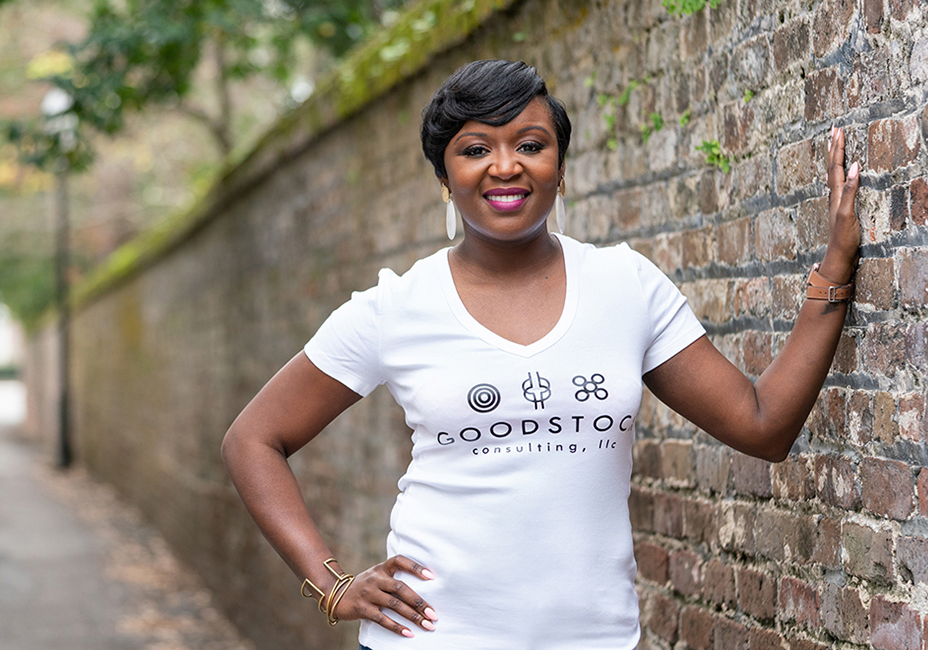 Kim Butler Willis left her home in the tiny Charleston County town of Hollywood to attend the USC as a first-generation college student.
"I chose USC, honestly, because I received a packet from the TRIO program there," she says. "I had no idea what it was, but my parents appreciated and recognized that USC was providing support around me. As a first-generation college student, they knew that I would need people around me with greater exposure and perspective."
Willis went on to earn her undergraduate, master's and doctoral degrees from the Arnold School of Public Health. She is back home in Hollywood with her husband and children — and a thriving career as a managing director of an organizational development consulting firm.
And she traces her success back to the support she received as a first-gen student at USC through the TRIO program, which provided her with academic support and a social community, including a group of friends she still is tight with decades later.
"I felt like I couldn't fail even if I tried because I had not only a team of instructors that wouldn't allow it, but I had a whole network, a whole cohort of students that wouldn't allow it either," she says. "And we had a natural sense of community and protection around each other. I kind of wish some of my other friends who weren't in TRIO had done it because some of them dropped out, especially those who came from first-generation households."
It was her contacts in the TRIO program, where she was a Ronald E. McNair Scholar, that connected her with researchers during her senior year as an undergraduate and suggested she attend graduate school after earning her bachelor's degree in exercise science. She went on to earn a master's and Ph.D. in health promotion, education and behavior.
"I stayed at USC and I got my Ph.D. I got married, I had babies, and so it took me a little bit longer for the Ph.D. than the first two degrees, but I finished it. And it was really because of what was not just instilled in me, but invested in me during my undergrad experience with TRIO. I promise you I wouldn't be where I am today without it."
Where she is today is the co-managing director of GOODSTOCK Consulting LLC, a Charleston-based consulting firm started by Willis and two other women. An organizational development firm, GOODSTOCK provides strategic planning, diversity, equity and inclusion education, and community assessments for organizations and agencies across the country.
Her career started as a medical records assistant at Prisma, where she worked full-time while an undergraduate student at USC, and later returned to the hospital system as a manager in the Community Health Services department. This position gave her the experience to return to Charleston to become the director of community health at Roper St. Francis Healthcare before taking a position as senior vice president of Patient Care Operations at Planned Parenthood of Michigan. But she realized she wanted to spend less time traveling and more time with her family and her community in South Carolina.
"I really wanted to keep my expertise, impact, focus and perspective in South Carolina because of what it gave to me and because of my upbringing," she says. "And now I feel as though I'm doing work that matters to me and is substantive every day."
She met her husband at USC, where he earned his degree in engineering. The couple and their two children live in Hollywood, just south of Charleston, and within 5 miles of her close-knit family.
"I got my Ph.D. because I was determined to show it to my grandmother. She is 91 years old and back then, could not go past the sixth grade. Hollywood was a rural and isolated place back then. She worked her entire life as a maid for folks in Charleston to provide more for her family."
Now she has a granddaughter with Dr. in front of her name. And Willis' three sisters all graduated from college and earned master's degrees.
"She is just over the moon. I have to remind her all the time that I am not a medical doctor, but now I can go to her doctor's appointments with her. I can use my health education background to make sure she understands everything during the visit. And for her to see that she has grandchildren who are doctors, engineers, and master's level teachers and human resource folks," Willis says. "I mean, it's amazing.
"Education is the bedrock for everything. I don't care what industry or sector you're in. Investing in first-generation college students is not just about the student, but it's about families."
Chris Loftis
Computer science, Honors College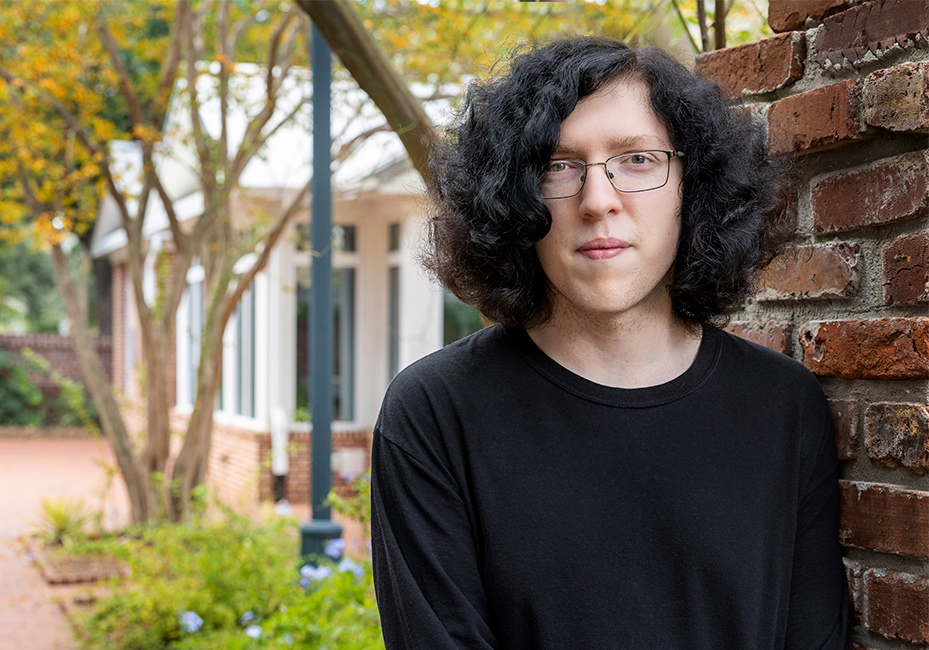 Chris Loftis stumbled upon computer programming when he was looking for something to do growing up in York, South Carolina. He was drawn to one of the rare hobbies where all he really needed to get started was a computer and an internet connection.
He soon found out he was good at it.
"I'm a giant nerd," he says.
He's now a software developer and a senior studying computer science in the South Carolina Honors College. He also is a first-generation college student and the first member of his family to graduate from high school.
Loftis lived with his mother until he was about 5 months old, and then was raised by his grandparents. His grandfather had dropped out of school in his early teens so he could help support his family, while Loftis' father, half-siblings and cousins also did not earn high school diplomas.
"So, when I was growing up, it was really just me and my grandmother who were able to read. And when she passed away when I was 14, it kind of fell on me to read the bills and other things," he said. "And that was kind of stressful, but I got through it."
He was helped by focusing on his next steps. Once he became interested in computer programming, he checked the Bureau of Labor Statistics website and figured out what it would take to build a career in the field.
"For me, that meant going to college, which wasn't something that I found strange or weird or intimidating at all. It was just another thing that I felt like I had to do in order to get to where I wanted to be," he says. "For me, college was an avenue to get there."
He wasn't sure he'd be able to afford it, though. He took as many AP and dual enrollment courses as he could in high school, figuring it would help lower his college costs.
"I figured that going to college would have meant getting buried in loans. Fortunately, that's not something that happened, but that's due to a mixture of luck and working really, really hard in high school," he says.
He applied to the Honors College because he knew there would be opportunities for scholarships, and he thought it sounded both fun and challenging. Along with access to resources and top classes, he has had an internship with a downtown company that develops software for call centers. For him, software development is the perfect career choice.
"I like the idea of starting from nothing, starting where the only thing you have is a problem that you want to solve. And then going from having a completely unsolvable problem to breaking it down into smaller problems that can be solved, designing solutions for them, and then hooking those solutions together into a greater system," he says. "Solving that puzzle is really fun for me because there's not a single thing you can do in programming where you don't have to go out and learn something else. And learning is something that I happen to be good at doing. I'm kind of lucky with that."
He's also drawn to the group dynamic of software engineering, where individuals work on parts of a problem and come together to develop a single solution.
"For me it's about the problem-solving and it's about just how cool designing and making systems can really be," he says. "It's also about meeting a lot of really awesome people because there are some crazy smart, crazy nerdy people in Columbia. And I've had the absolute pleasure of meeting and talking to a bunch of them."
Meanwhile, there is a proud grandfather back home in York.
"He tells everyone that I'm a computer engineer. And I let him tell people that because I've tried to explain what software is, but it doesn't really work out. He's really, really proud, even if he doesn't know exactly what it is that I do. And I'm always really happy to make him proud."
Loftis, who will graduate in May, also has some advice for future first-generation college students: "It gets better. It's simultaneously not as daunting as people make it out to be, and also way more complicated than it is on paper. But there are a lot of programs you can apply to for money, and there are a lot of people who want to see you succeed. People tend to be good-natured, and if you if you make it clear that you're trying to make yourself better, people are more willing to genuinely help you when it comes to things like applying for financial aid. Just be human and be confident, but don't be full of yourself."
Spencer Platt
Alumnus and faculty, College of Education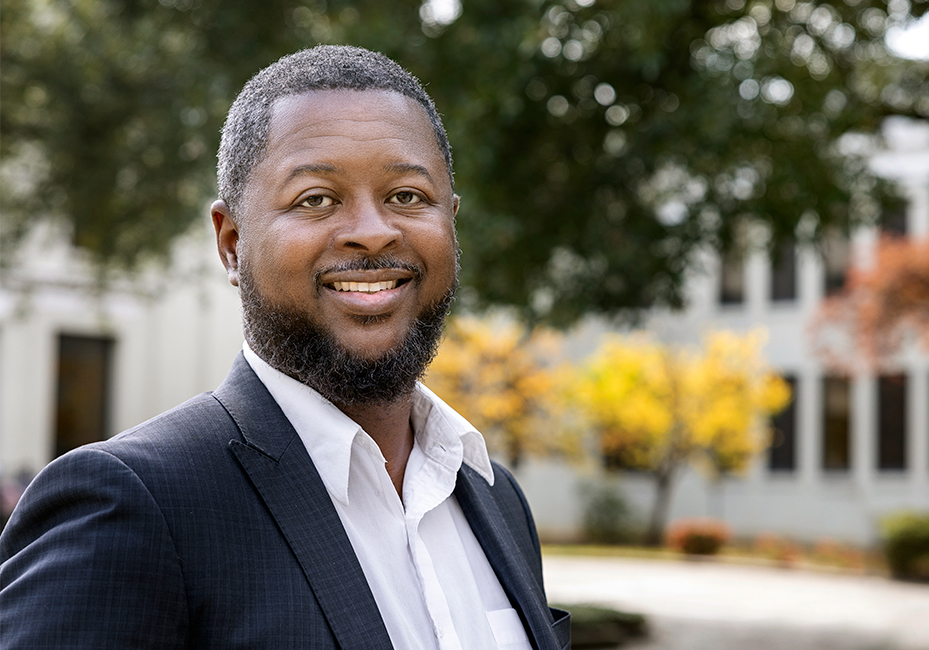 Money was tight when Spencer Platt was growing up in Conway, South Carolina. His father worked two jobs before going on to open a barbershop. And Platt and his three younger siblings relied on the subsidized lunch program in school.
"There were a lot of really lean years. It was tough sometimes. But we made it through. All of us went to college. All of us went to the University of South Carolina," says Platt, now an associate professor in the College of Education.
A good student at Conway High School, Platt had his eye on attending a historically Black college or university, thinking he would have a hard time fitting in at a predominantly white institution.
"Then when I came to the University of South Carolina on a visit, I was like, 'Oh, this is nothing like what I was reading about with PWIs. This is a place that I could see myself.' I saw vibrant communities of people of color all across the spectrum. And I really loved all that."
Platt was part of TRIO's Educational Talent Search, a federally funded program sponsored by USC that promotes college access to students from working-class families. As a TRIO student, he was helped by smaller classes and financial assistance, but also was able to build a community and improve his study skills.
"We didn't do family vacations and we didn't see the world very much. So being away from home in that way was the toughest part," he says.
And because school had always come easily for him, he says he never developed strong study skills — something he would need to be successful in college.
"When I was in undergrad, it was a precarious time. It was probably more precarious than I realized because there was a period of time when I only had about a 2.3 grade point average and I could have lost faith in myself. I could have believed that maybe I was just a big fish in a small pond growing up," he says. "But I kept the faith. I was determined that I was not going to quit, that I was not going to fail."
He attributes some of his academic struggles to not understanding higher education's reward structure.
"Messages I recall learning from family and the community were largely about the importance of earning a college degree. So, in addition to needing to develop stronger study skills, I needed to understand how grades played a role in the opportunities we receive both in college and after college."
He was helped by a high-achieving roommate, who offered tips and advice about ways to study, along with connections with the TRIO staff and the Office of Multicultural Student Affairs. His grades greatly improved.
After earning his degree in psychology, he went home and worked with TRIO programs at Horry-Georgetown Technical College, working with high school students in Georgetown County. A mentor recommended he earn a master's degree if he wanted a career in higher education. He headed to University of Dayton for his master's, and then accepted a job in student housing at the University of Texas. While there, he was accepted into the doctoral program.
"Once I got in, I told myself, 'If I don't like it, if I feel it's not the way forward, I can walk away with a clear conscience if I do everything I'm supposed to do. I need to do everything at the highest level that I'm capable of.' And you know what? I did it and I love it. I love, love, love it."
But he always hoped he would return to the place that gave him his start.
That happened in 2012, when he was hired as a faculty member in the USC College of Education. He is an associate professor in the Department of Educational Leadership and Priorities and also is the co-director of the Center for Innovation in Higher Education. He believes the university's faculty and staff work to ensure that USC remains an excellent choice for first-generation and other underrepresented students.
"I feel like I understand the trials and tribulations that first-generation students have that other students don't really have in the same ways. I think other students don't necessarily have to wonder about how to navigate in the same ways. It was intimidating. I know that folks need advocates, they need people who understand what they're going through on college campuses. And I feel like that's a lot of why I'm here."
Paulia Williams
Alumna, Gamecock Guarantee coordinator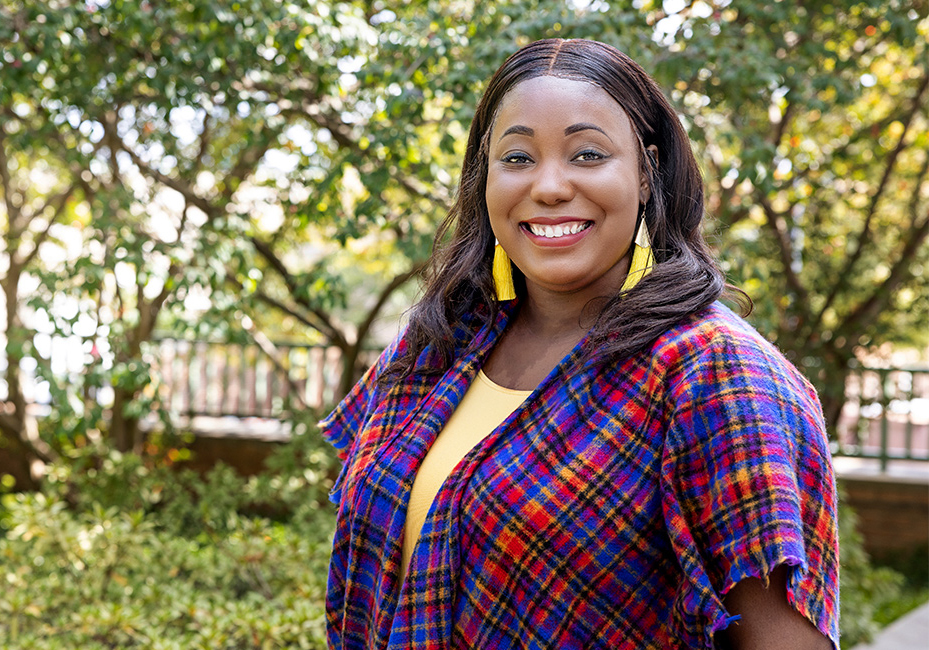 For Paulia Williams, life at USC has come full circle.
The first-generation college student was recently named the new coordinator of the Gamecock Guarantee program for the TRIO Opportunity Scholars Program. That means she runs the need-based financial and academic support program that makes a USC degree more attainable for first-generation students from South Carolina families.
It's a student population whose story Williams understands — because it is her story, too.
Her mother is a high school graduate with an early childhood development certification; her father attended 12 years of school, but was one class short of graduating and never earned his high school diploma. But they worked hard to provide their daughter with more opportunities than they had growing up.
"They always instilled in me to go ahead and get your education," Williams says. "They always supported me through high school by being encouraging and offering affirmations, but couldn't always assist academically or with the college application process, other than paying the fees."
Williams graduated near the top of her class at Union County High School, but she knew nothing about preparing for the SAT or ACT, so her standardized test scores prohibited her from getting into her dream schools. She enrolled at a junior college in Spartanburg, and later transferred to USC for the journalism program, with a goal of becoming a reporter.
In Columbia, she says she went through "transfer shock," intimidated by the size of the school. Her first semester was difficult, until she got a job as a cashier at Gibbs Court Bistro and became a university ambassador. That led to a job in a university administrator's office and a chance to attend an emerging leaders program.
During the summers, she went home to work to make money to offset the costs of college that people don't always think about — dining out with friends, movies and other extracurricular activities. She took an unpaid internship at a local radio station the summer before her senior year, and while her parents paid for the course, they couldn't fathom that students were supposed to pay to work for free. After graduation, she didn't immediately find a job in the TV news field, so she accepted a job in the university's Visitor Center, coordinating campus visits.
"I really started to love the students that were volunteering in the Visitor Center. They would ask me for personal advice or career advice and I felt like, 'OK, I have a knack for this.' It made me realize I could get a degree in higher ed where I could mentor students and do these things."
She opted for the higher ed program at Columbia College that met on weekends, so she could work full-time during the week to support herself.
"I spent every Saturday and Sunday in the classroom after five days of work. There were moments when I would be like, 'Please, I don't want to do this anymore.' But I finished in 2016. And I knew I wanted to find a job that kind of fed my soul, nourished my spirit and made me feel like I was giving back."
That led her to TRIO, where she has spent the past six years working with middle, high school and college students — helping them understand how to prepare, what to expect and how to succeed once they get to college. She also has taught University 101 for TRIO students at USC.
"I just want students to feel like they have a blueprint now with getting into college and persisting through college. I just want to give my insight to these new students, whether they're middle school students, high school or college students."
And she is thrilled to be able to work for a program that is so beneficial to students who were in her shoes a decade ago.
"I feel completely blessed to work with TRIO programs, helping first generation and low-income students. And I realize there are some barriers, but hopefully with our programs we are going to guarantee our students won't be in a great amount of debt and they can actually give back to students like themselves as well."