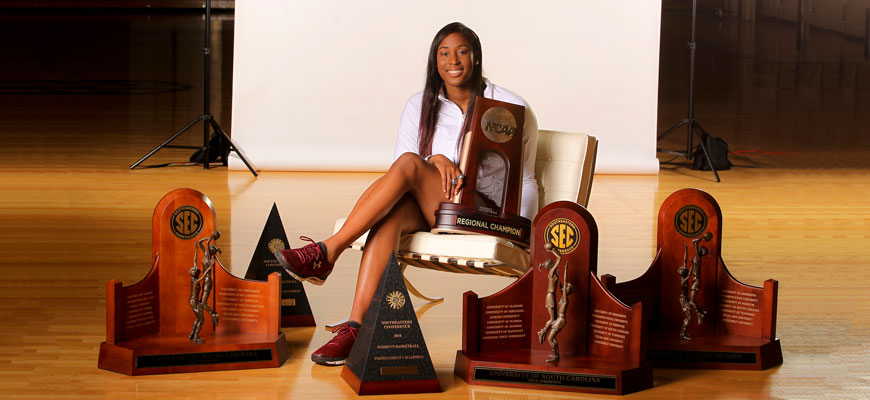 Center court
Senior Alaina Coates leads Gamecocks to new heights
---
By Melinda Waldrop,
melwal@mailbox.sc.edu
, 803-777-3685
---
Update April 14, 2017
Alaina Coates was the No. 2 overall pick in the WNBA draft April 13. She was selected by the Chicago Sky. Her Gamecock teammates Allisha Gray and Kaela Davis were the No. 4 and No. 10 overall picks, respectively; both of them going to the Dallas Wings. Their individual successes came after the women's basketball team won its first national championship this year.
While Coates was unable to play in the NCAA Tournament because of an ankle injury, she was a key part of the most successful four-year run in team history. Earlier this year, we talked to Coates about her career as a Gamecock. That story follows.
---
The University of South Carolina campus is a comfortable place for Alaina Coates.
It's one of the few places the 6-foot-4 senior center can walk around freely without being mobbed by the legion of fans she's made in her record-setting basketball career.
"It's very rare when I don't get recognized, but I'm used to it now," says Coates, who led the Gamecocks to their fourth straight regular-season Southeastern Conference championship last month. "People on campus, they're more cool about it."
I imagined success for us, but I never really imagined winning the SEC regular season all four of my years. I didn't expect to get a lot of the firsts that we did for the university.

Alaina Coates
Not that Coates, an Irmo native and Dutch Fork graduate who led the SEC and ranked seventh in the nation with 11.1 rebounds per game this season, has much time for hanging out on the Horseshoe. Her days are filled with practice, study hall and games — with the added recent complication of treating a nagging ankle injury that she reaggravated during the SEC tournament, when the Gamecocks won their third consecutive tournament title.
Coates cheered from the bench as Carolina defeated Mississippi State 59-49 in the final. A walking boot encased her ankle and previously earned championship rings glittered on her fingers. The week between the conference and NCAA tournaments will no doubt involve more treatment and lots of rest as the Gamecocks await the NCAA tournament selection show to learn the next step of their postseason journey.
"We can't win a national championship without Alaina," Gamecocks coach Dawn Staley says.
Coates has racked up hardware during the Gamecocks' run of unprecedented success. After an All-American high school career, she earned SEC freshman of the year honors. She made the first of two all-conference defensive teams as a sophomore and the first of two straight all-SEC first teams as a junior.
Coates is the driving force in a senior class that won a record 59 regular-season conference games in a four-year span. She led the Gamecocks to their first Final Four appearance in 2015, when the Gamecocks lost by a point to Notre Dame.
Her influence extends off the court into the locker room, Staley says.
"We call Alaina 'Big Girl,' " Staley says. "When Big Girl speaks, everybody listens. She doesn't shy away from saying what needs to be said. She's a gentle giant. She took our freshman class under her wing when they first got here. She made the effort to build that relationship, to make it strong, and now they're able to spread their own wings and fly on their own."
With Coates sidelined for the tournament final, freshman forward Mikiah Herbert Harrigan and freshman guard Tyasha Harris combined to score 13 points as the Gamecocks held off the Bulldogs.
Coates' nurturing spirit is also evident in her selection to the SEC's Community Service Team. Coates, a sociology major, speaks at local elementary schools, visits local medical facilities and has volunteered for Meals on Wheels.
"I feel like people will know I wasn't just a student at the University of South Carolina and I wasn't just a player at the University of South Carolina," Coates says. "I was also one of those people who really got out and did things for the community."
Coates is the Gamecocks' all-time leading defensive rebounder and is second in career blocked shots, trailing teammate and two-time SEC player of the year A'ja Wilson. She's been such a force for so long, it's strange to imagine a Carolina game without her on the court.
Her coach, for one, isn't ready to do that yet.
"It's hard for me to go there," Staley says. "I don't want to go there because I don't like finales. She's been with our program for four years now, and she's been a mainstay. You never want to lose someone who is as valuable to your program as Alaina Coates. You want to stay in the moment and not close the door on it until we have to."
Carolina hopes to stretch that moment as long as possible in this year's NCAA tournament. Last year, the Gamecocks' Big Dance trip ended abruptly with just their second loss of the season in Syracuse's Sweet 16 upset.
A longer run this season — perhaps to a national championship — would be a fitting send-off for a player who has lifted the program to new heights.
"Coming in, I didn't really expect for us to achieve what we did," Coates says. "I just felt like we were on the rise and building something. That was a big thing because I wanted to be part of a program that was building.
"I imagined success for us, but I never really imagined winning the SEC regular season all four of my years. I didn't expect to get a lot of the firsts that we did for the university."
---
Share this Story! Let friends in your social network know what you are reading about
---