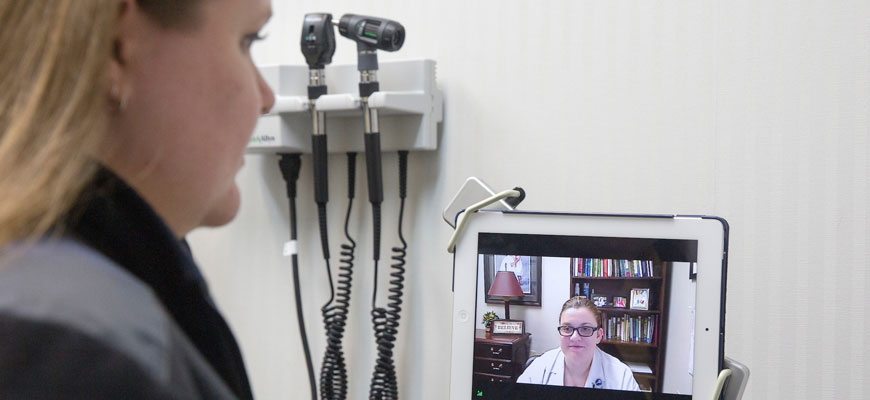 The timely promise of telehealth
Carolina health care faculty put telehealth to work improving lives of rural patients
---
By Chris Horn,
chorn@mailbox.sc.edu
, 803-777-3687
---
Your 2-year-old wakes up feverishly hot with a chest rash — early Sunday morning when the pediatrician's office is closed. But after answering a few questions online from a health care professional and texting a photo of the rash, a diagnosis is made and a prescription dispensed.
Welcome to SmartExam, a service offered by Palmetto Health-USC Medical Group and one of several examples of telehealth's arrival on the health care scene. In addition to 24/7 health care consults, the power of broadband is making its way into health education, psychiatric evaluation and stroke assessment.
It's one of the many ways clinical faculty at the University of South Carolina are using technology and innovation to change the way health care is delivered and improve the wellbeing of the state's rural population.
"Telehealth is changing the lives of patients and health care providers, allowing more collaborations and partnerships in real time to improve overall health and quality of life," says Dr. Meera Narasimhan, professor and chair of clinical neuropsychiatry and behavioral science and associate provost for health sciences at the University of South Carolina.
Mind over matter
Narasimhan has been a pioneer in telepsychiatry for several years, demonstrating through several grant-funded projects that successful psychiatric evaluations can be conducted remotely by mental health professionals.
The projects have focused on rural areas and small hospitals where professional mental health resources are often sparse. Using telehealth technology, mental health professionals in larger metropolitan areas access patients in those rural or remote locations and make treatment recommendations to the local health provider. More than 30,000 patients in South Carolina have been evaluated through Narasimhan's telepsychiatry projects with a calculated savings of $2,500 per patient compared with traditional face-to-face treatment.
Cost saving appeals to insurance companies and other payers whose buy-in is key to getting psychiatrist participation, Narasimhan says. That is especially important in a state like South Carolina, which has just 10 psychiatrists for every 100,000 people.
"The older adult population is growing, as is the need for access to comprehensive and timely mental health care for aging older adults," says Shilpa Srinivasan, a geriatric psychiatrist and professor of clinical psychiatry at the university's School of Medicine in Columbia.
"Geriatric telepsychiatry is professionally fulfilling, and I am so grateful for the opportunity to treat and serve older adults in this state via the use of innovative technologies."
Telehealth improves access, alleviates the shortage of providers in underserved areas and reduces the burden and cost of transportation. It allows for us to deliver care at the doorstep of our citizens."

Meera Narasimhan, associate provost for health sciences
Tena McKinney in the College of Nursing oversees an interdisciplinary educational program for teams of graduate nursing students, master's of social work students and graduate pharmacy students who use telehealth technology to consult with patients.
"There's a gap in mental health between being OK and being in the emergency room — those are the clients we're addressing," says McKinney, a clinical associate professor of nursing and director of the nursing college's psychiatric mental health nurse practitioner program.
"Rural providers don't have many resources, so we beam in, talk to clients for 45 minutes and make recommendations for treatment. We also provide a list of behavioral things a patient needs to be coached on and what resources are available in that area."
McKinney's project, funded by the Duke Endowment, trains students to work in interprofessional teams while getting experience in both mental health treatment and telehealth technology.
"Telehealth takes a bit of getting used to, especially if you're accustomed to using therapeutic touch. If the patient starts crying, you can touch without saying anything," says Danielle Simmons, a mental health nurse practitioner student who has worked as an RN in mental health for several years. "In telehealth, I would say, 'I see you're upset, can you tell me what you're feeling? Tell me the best you can, I don't care what words you use.'"
Eric Wooten, another mental health nurse practitioner student, says practice makes perfect with tele-mental health assessments. "The patients are used to talking to someone face to face rather than online," he says, "but they get more comfortable when they realize they can get the help they need without having to drive 50 miles to see someone."
When seconds count
A blood clot in the brain is the most common cause of stroke, and the drug that can dissolve the clot — tissue plasminogen activator — should be administered within three hours to be effective. The shorter the time interval, the better the outcome.
That's why a telemedicine project involving the USC School of Medicine, Palmetto Health and six remote hospitals across the state is saving lives.
Broadband connections with the hospital allow Columbia-based specialists such as Dr. Souvik Sen to make a fast diagnosis on a patient a hundred or more miles away.
"We had a patient who came to Lake City Community Hospital [90 miles from Columbia], and within an hour and 10 minutes from symptom onset, we had TPA infusing," says Sen, professor and chair of the School of Medicine's neurology department and endowed chair of the SmartState Stroke Center. "If we had not had the system in place, that patient would essentially have had to wait until they got shipped by ambulance here or to a hospital in Florence. If you delay another hour to an hour and a half, sometimes TPA doesn't even work.
"By the time the ambulance got them here, the patient was completely back to normal with no stroke symptom. To me, we had already saved the brain, we were just following up on the TPA treatment with monitoring here."
Spread the word
There aren't enough hours in the day for Dr. Divya Ahuja, an infectious disease specialist in the Palmetto Health-USC Medical Group, to talk to every health care provider in South Carolina about one of the state's pressing medical issues: chronic Hepatitis C.
The viral infection, often spread by intravenous drug use and related to increased diabetes, lymphomas and kidney diseases, has hit the state hard. An estimated 70,000-80,000 have chronic Hepatitis C. Many physicians aren't up to date on best practices for treatment, which include several new drugs introduced since 2013.
Ahuja uses telehealth technology to conduct weekly conferences in which providers discuss their patients with Hepatitis C. Treatment often depends on the particular genotype of Hepatitis C a patient has.
"Telehealth not only helps other providers," Ahuja said in a recent interview with S.C.ETV. "I think it makes us better also because we learn from them, from other cases across the state and around the country."
Improving health education, treating stroke victims, reaching remote areas with mental health resources — the benefits of telehealth are becoming ever more apparent. But driving the use of the technology are tectonic changes in the health care landscape itself, notes Narasimhan.
"The changing health care landscape has put a tremendous demand on providers and payers to improve health outcomes while reducing costs," she says. "Telehealth improves access, alleviates the shortage of providers in underserved areas and reduces the burden and cost of transportation. It allows for us to deliver care at the doorstep of our citizens."
---
Share this Story! Let friends in your social network know what you are reading about
---