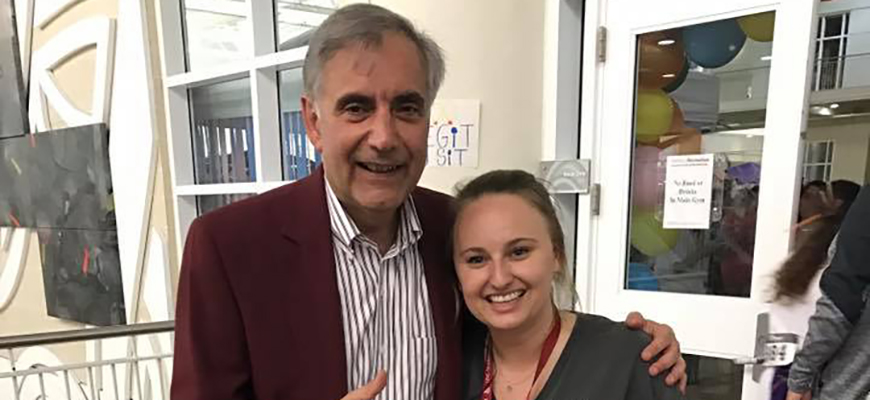 Four years, $2 million, a lifetime of lessons
HRSM senior Lindsey Zybrick helps lead Dance Marathon to record-setting year
---
By Allen Wallace,
awallace@sc.edu
, 803-777-5667
---
The University of South Carolina gave Lindsey Zybrick a second home when she was 18-years-old and moved 700 miles away from her home state of New Jersey.
Next month, Zybrick will say goodbye to Carolina as she graduates with a bachelor of science in sport and entertainment management, and her departure will be very much like leaving home. However, her four years have helped shape her future in ways she never expected, and it's safe to say she will always be a Gamecock.
"There have been so many different cool opportunities, like the Masters and the amazing speakers that come to campus," Zybrick said.
Zybrick has taken full advantage of those opportunities while a student in the university's College of Hospitality, Retail and Sport Management. She worked at Augusta National. She studied in Europe. She worked at the NBA Draft Lottery in New York. She worked for a minor league baseball team. She also found time to serve for four years with USC Dance Marathon, during which she helped raise more than $2 million dollars for Palmetto Health Children's Hospital.
To be able to say that I had a seat at that table is something that I'll be honored to hold for the rest of my life.
Zybrick wanted to find a way to give back to the community that embraced her. She found it with USC Dance Marathon, where she began as a freshman and grew more and more involved. She served as director of hero relations this year, as the student organization raised a record-setting $703,289.
"It's great to see it grow. That's part of my legacy that I'm leaving here. That makes me feel so proud," she said. "I met some of the most amazing people ever in that organization, all pushing toward the same thing. To be able to say that I had a seat at that table is something that I'll be honored to hold for the rest of my life."
As in every other opportunity she took advantage of, Zybrick found practical lessons alongside the excitement of Dance Marathon. "I learned the importance of deadlines," she said, adding that being a leader gave her new perspective on that importance. "Until then it was never someone else relying on me. If something wasn't done when we got into a board of directors meeting, someone else couldn't do their job."
Seeing things from different points of view than she had ever considered became a frequent experience for Zybrick, in academics and beyond.
"I learned so many things I didn't think I would learn," Zybrick said. She laughed when asked about her favorite academic memories, because the first that came to mind was one of her most difficult experiences, Tom Regan's sport finance class. "I loved how hard it was," she said. "I loved that he pushed me."
She also learned the value of different perspectives in classes that she did not expect to become favorites, such as sports ethics with Matthew Bernthal and sports marketing with Khalid Ballouli.
"It was so real. We were having discussions about things that were happening right then, and we were having them with our peers," Zybrick said. "I grew up in central New Jersey. My perspective is very different from someone who grew up in Aiken, South Carolina. It was so cool to hear all those opinions in a respectful and safe manner."
From professors like Armen Shaomian, Zybrick learned that while sport was her main interest, the line between sport and entertainment is a fine one. She put that lesson into action while shadowing an executive at the 2016 NBA Draft Lottery.
"I did anything she needed me to do," Zybrick said. "I had my hand on power tools. I had never touched a power tool in my life. It was so cool to see. It had everything to do with sports, but it was a production. It was entertainment."
Zybrick said each experience has helped shape her future, from learning about the entertainment side of the sport management industry to learning to be a leader to learning to raise money, and most of all, the importance of passion.
She recently received a call from a family friend who works in fundraising at UCLA. "She called me because of Dance Marathon, actually. She was like 'I see what you do. I see the passion that you have and I see how you relay that to the people that you touch,'" Zybrick said. "She kind of put the idea of development in my head. I'm kind of rethinking what I thought I'd want to do."
"I don't know where my career will take me, but it meant so much that this strong career woman contacted me and saw these qualities in me because of Dance Marathon. I've learned so much about yourself," she said.
Learning about yourself is, to paraphrase Aristotle, the beginning of all wisdom. Zybrick has gained a great deal of wisdom in her time at the university, enough to know how much remains unknown.
"Anybody who's willing to give me a chance to learn, I'm more than appreciative," she said. Zybrick will be leaving the Carolina campus soon, but the lessons she learned here have laid the foundation for a future full of promise.
---
Share this Story! Let friends in your social network know what you are reading about
---