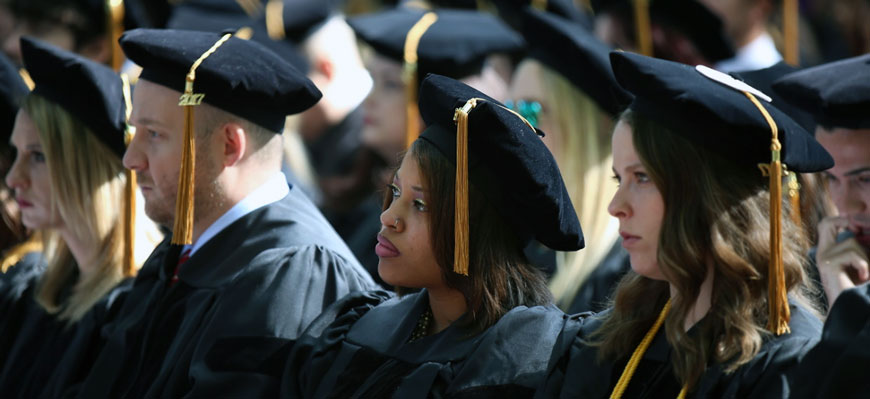 Senior wisdom
4 recent graduates share memories of their Carolina careers
---
By Megan Sexton,
msexton@mailbox.sc.edu
, 803-777-1421
---
College is one of life's most transformative experiences. Freshmen arrive on campus each fall curious, excited and sometimes a little nervous about the road ahead. By graduation, they're often completely different people.
We asked four seniors at the end of their undergraduate careers about how the college experience had changed them and what it has meant to have that experience at Carolina.
BEN YOUNGBLOOD
A McBee, S.C., native, Youngblood majored in international business and accounting at the South Carolina Honors College. He will attend graduate school in international business at the Darla Moore School of Business.
The first thing that struck me about moving into the Honors dorm — it was a lot more diverse than where I was coming from. McBee is very, very small, and there wasn't that much diversity.
I felt like I was going to Hogwarts in the Honors dorm. I made friends from different parts of the state, the country and the world. It was a very positive experience.
My biggest fear when I got here was that I wasn't as smart as I thought I was.
It's more than raw intelligence. My first two semesters taught me it's not about how smart you are. It's about how hard you work. That was comforting. In the Honors College, there are some legit geniuses, and I don't think I'm one of them, but with a lot of hard work, you can do anything.
I'm most proud of my senior thesis. I collected interviews with Latino migrants in Columbia and the surrounding area. Documented, undocumented, wealthy, poor. I wrote a brief history of Latino immigration to the state and country. Sharing stories can change perspective.
In McBee there are a ton of migrant workers, and some of my friends were the children of migrant workers. I saw a lot of issues in the system they were part of. Growing up in that environment made me realize there are lot of beautiful people behind the numbers we see on the news.
I met a guy through a scholars event who was in the room below me in the Honors College. I went down there the second week of school and there were a ton of musical instruments in his room. I grew up playing music my whole life. We all just jammed out one day. I thought, "Wow, this is exactly what I wanted college to be like."

Studying abroad was my biggest challenge. I went to Guadalajara, Mexico. I was the first student to do that. Not only were the classes challenging — the university was tough and the classes were in Spanish — but I experienced a lot that was challenging and emotional. That was rewarding.
One of my favorite classes was a lab science, my first semester, with Claudia Benitez-Nelson. She is an amazing person. She knows how to push students in an encouraging way. I never felt discouraged. I just wanted to impress her.
Another favorite was my international business class with Daniel Ostergaard. He's an extremely intimidating guy in class, but he will stay in his office until 10 at night if people need to talk. He is what a professor should be. I also learned a ton in his class.
Do as much as you can to make connections with professors. Go to office hours. Talk to these people and create a bond you can carry forth. I wish I would have done that more. I have no regrets from college except maybe that.
---
JADA WILLIAMS
A Spartanburg, S.C., native, Williams majored in broadcast journalism. She is considering job offers at TV stations in several states.
I'm good at two things — arguing and talking. My mom, my entire life, told me I need to be a lawyer because I can win any argument I get into. I'm really into politics. So coming into college, I decided to do political journalism.
The first weekend of college I fainted from heat exhaustion at my nephew's pee wee football game. I got a concussion from my fall and had to have a knee brace and walk around on crutches for my first two or three weeks. It was interesting learning where my classes were on crutches.
My biggest worry was being away from home. I grew up with nine older siblings. We're very close. It was weird for me knowing I was going to get dropped off and be an hour and a half away from my mom, but I still talk to my mom multiple times a day. If I have a question, I Facetime or call her.
My first two years I didn't go out enough to make friends. I held onto a high school relationship. Once that ended, making friends came naturally to me.
I'd tell new students that there will come a point where you decide to stay in Columbia instead of choosing to go home over the weekend.
My junior year I had an internship that opened a door for me. I worked on Hillary Clinton's primary campaign. From August until March, I met celebrities, I drove in the motorcade, I ended up helping with the advance staff. I became accustomed to sitting in a room and having conversations with Secretary Clinton. I remember calling my mom and telling her I just brought Secretary Clinton lunch and we sat in the holding room chatting.
At the age of 20 I did things that are ridiculously cool.
One night I had to pick up Angela Bassett and Vivica Fox from the airport. It was me and one of my bosses from the Clinton campaign — in my 2006 Altima. I had two celebrities in the backseat of my car. I remember asking them about a song from the '90s and we started talking about music.
I had another internship with WACH-Fox. I've realized I enjoy journalism more than politics. I'm in love with local news. I love Columbia and I'd love to stay here.
---
LOGAN RICE

A sport and entertainment management major and Easley, S.C., native, Rice will be an account coordinator at Jackson Motorsports Group in Greenville.
I'd tell my freshman self to take advantage of the time you have. The amount of resources and opportunities and connections and friendships you can make are limitless. If you step out of your comfort zone, it can take you to some really cool places.
College is the perfect balance of freedom and responsibility.
They say it's the college experience. Make sure you experience the college experience.
I remember when I came to tour campus. I was sitting with my parents after the tour on a bench on the Horseshoe. I remember saying, "This is where I'm going."
Move-in day was a mix of nerves and excitement. I walked the route to my classes three times before the first day of classes even started.
Everybody has that fear of "Am I going to fit in?" Looking back, that's a hilarious question. Relax and be yourself. Everybody is rushing around the first few days. I remember constantly thinking, "Is this somebody who is going to be my friend?" Relax. You're going to make friends.
The "I'm doing what I'm supposed to be doing" feeling happened my sophomore year. I switched majors from music to sport and entertainment management.
Sure enough, mothers know best. When I was in high school, my mom saw the sport and entertainment management program and told me it was something I should look at.
In sport and entertainment management, the faculty are people who have lived it. The knowledge and experience and contacts they have are amazing. I want to go into sports marketing because of Dr. Khalid Ballouli's class. He had a way of making it all tangible.
College is the most growth you experience since birth. I would argue the change from a newborn to a 2-year-old is physical. The change you make from freshman to senior year is spiritual and emotional.
Being able to hang out with 11,000 of your best friends at a football game, or freaking out and jumping in a nasty fountain because your team is in the Final Four — I'll miss that.
A class I didn't think I would enjoy so much was choir. I had no expectations, but Dr. Alicia Walker is fantastic. She made such an impact on me. That class shaped me. The power of music in that class helped me through some interesting parts of my life. And we sang at Carnegie Hall.
---
LAUREN McCARTHY
A North Myrtle Beach, S.C., native, McCarthy majored in management and marketing. She has accepted a job with Aspen Square property management and will begin a trainee program in Massachusetts after graduation.
I'm in the TRiO program, so I got to move into South Tower a day early my freshman year. I remember it being overwhelming, but in a good sense. You walk into this room that's an empty box, and that's what you're working with for the next year.
I was pretty grateful about the fact I even got to go to college so I took advantage of everything I could.
After I was accepted, I started talking with Althea Counts (TRiO associate director). She was a lifesaver. I know I'm so lucky. College is expensive. Just the fact that I'm able to afford it through scholarships — I don't take that for granted.
Freshman year, I was almost too involved. But freshman year was also the best year of my life.
My biggest fear when I got here was failing. I was afraid I wasn't going to be successful. But I was determined I was going to do college as best as I could and not take it for granted.
Freshman year I worried about what other people thought more than I did later in college.
I'm most proud of my involvement with Relay for Life. We've raised so much money. My mom has breast cancer — she got it my senior year of high school. It was great to go into a group and connect with other people who understand.
Go abroad. I'd never been out of the country. I thought I was going to another planet when I got on that plane. But it taught me so many life lessons.
My junior year, three of my girlfriends and I were in a two-bedroom. I lived in the living room. Now, every time I see a bed in the living room, I remember when I lived next to the kitchen counter. I think, "Wow, that was so college." I wouldn't do it again, but I'm glad it happened.
I care about this place because USC cared about me. It gave me opportunities. I'm thankful for all the mistakes I made and learned from, and all the opportunity I've been given.
I'll miss the feeling you get on campus, especially when you see someone you know. On campus, you feel like you're invited. It's home.
---
Share this Story! Let friends in your social network know what you are reading about
---