Clips of videos of students preparing kayaks for launch, Group of students kayaking on river, Two students working in lab, Students discussing experiment, Boat skimming on open water, Student on boat taking picture, Speaker at a group discussion, Group walking on USC campus, Class sitting outside on Horseshoe, USC faculty member speaking to class.
For a lot of University of South Carolina students, the realization that this is a special place comes quickly. One walk around the Horseshoe, one time cheering in the stands at Williams-Brice Stadium, and that's all it takes — another faithful Gamecock joins the lifelong family.­
But those signature experiences are only a tiny part of what it means to be a student at South Carolina. Life-altering experiences can be found all over campus and beyond. There are daily revelations in the classroom, mind-opening study abroad trips, new friendships, connections made with professors. There are long nights writing papers or studying in the library before a big exam. There are high-energy, spirit-building events like First Night Carolina. There are off-campus internships that reinforce and expand on classroom learning, all in a capital city ranked by WalletHub as one of the Top 5 in the country for launching a career.
And then there's the university's groundbreaking University 101 course, which created the first-year experience movement nationwide in the early 1970s and remains the cornerstone of USC's top ranking for first-year experience among public universities. For many students, U101 is a gateway that introduces them to what college can be.
Whether it's a friend made, a game watched or a life path discovered, every South Carolina experience is unique. Here are a few stories of students carving their own paths at Carolina.
A summer along the sea
USC students experience coastal research at the Baruch Institute
It's one thing to read about South Carolina's coastal marshes and waterways and the issues they face. It's another thing to be immersed in lab and field work along the coast, as University of South Carolina students are each summer in a residential program at the Belle W. Baruch Institute for Coastal and Marine Sciences.
In 2021, environmental science junior Kamari Boyd took part in a research project exploring the decomposition rate of organic material in marshland, part of efforts to understand how coastal areas are responding to sea level rise.
"It's been a fantastic opportunity," he said. "And all the people that work here, all the undergrads and the other interns are super friendly and down to earth."
While you'll no doubt find marine science and environmental science majors at Baruch, there are also students majoring in environmental engineering, mechanical engineering and biology. The diversity of majors represented makes for a rich learning environment where students can begin to view problems and potential solutions from multiple perspectives.
Creating these learning opportunities is a key goal of the summer program.
"One of the big things we do, consciously, is we make sure the students here don't just work on their project with their adviser or faculty mentor," said Bill Strosnider, director of the Baruch Marine Field Laboratory. "They're pulled about once a week into someone else's project to lend a hand. We think it helps students grow and get a fuller experience."


A chance at a better life
First-generation college students find their place at USC
Jazmine Lara Guerrero's parents immigrated to the United States from Mexico, settling in North Myrtle Beach for one reason: to give their two children the chance at a better life.
Her parents worked hard in the service industry along South Carolina's Grand Strand. Her father, who didn't finish high school, works as a chef in a restaurant; her mother cleans houses. Neither of them went to college.
"I really appreciate the hard and physical labor my parents put in to help me afford to go to college because this was their main goal — get me in college, get a degree and set up a stable life here in America," she says. "They didn't have that opportunity."
Guerrero is now a senior studying political science and serving as a legislative intern at the S.C. Commission on Higher Education. She's also made the president's list for maintaining a 4.0 GPA and been a Ronald E. McNair Scholar, taking part in a program that helps TRIO students prepare for graduate school.
She's already accomplished a lot — but she remembers her first days on campus, wondering whether she belonged on a university campus as a first-generation student. She found professors and staff members who believed in her and helped her through those unsteady early days.
"And now my parents are really proud of me … My parents just dropped everything and went to a brand new country where they didn't know the language, didn't know anything. They were around the age I am right now. And they just did all this for their kids. I find that amazing."


ABOUT The First-Gen experience
Goldwater Scholars gain early-career research experience
National award goes to undergraduate STEM majors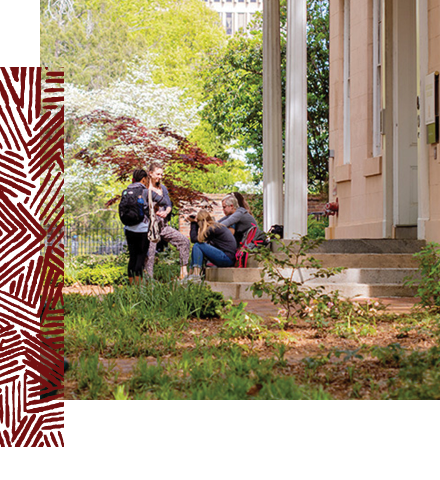 It's a common refrain among Gamecock alumni who graduated 20 or 30 years ago: Can you believe what students are doing these days?
Take, for example, the university's 2023 Goldwater scholars.
The Goldwater Scholarship is a national award recognizing the exceptional work and dedication of STEM undergraduates toward their research careers. This year, for the first time since 2004, all four USC nominees — South Carolina Honors College students Shannon DePratter, Neal Hammond, Emma Mason and Amber Pospistle — earned the prestigious distinction.
Spartanburg native DePratter, a biomedical engineering major, felt compelled to study neurological diseases after seeing firsthand the devastating effects of dementia in her great-grandmother. Now, she studies the link between traumatic brain injury and Alzheimer's disease, working under chemical engineering professor Melissa Moss.
Brain health is also a driving factor for Hammond, a Greenville native double-majoring in biological sciences and neuroscience. Hammond studies the effects of psychological stress on memory in the lab of assistant professor Joseph McQuail at the School of Medicine Columbia.
Mason, a McNair Scholar studying biochemistry and molecular biology, researches nerve repair mechanisms in the lab of biological sciences professor Jeff Twiss. She also researches treatments for Lou Gehrig's disease with support from grants from the Mayo Clinic.
Pospistle, a Stamps Scholar, created her own major through the Honors College. Her computational biology studies apply computer science, mathematics and statistics to probe biological questions. Her research experience includes work on a lung cancer project under environmental health sciences assistant professor Guoshuai Cai and research at the renowned Memorial Sloan Ketter Cancer Center in New York.
These students are a testament to the university's dedication to undergraduate research. But for them, Goldwater Scholarships are also something more: an opportunity to pursue their dreams and make a lasting impact on the world.


Change of plans
Flexibility, resilience pay off for study abroad student
One week before political science and Russian major Josh Hughes was scheduled to fly to Ukraine for a study abroad program, he found out that his trip was canceled.
That was in February 2022, just before the Russian invasion on Feb. 24.
"I was really upset," Hughes says. "I thought, nothing bad is going to happen. There's not going to be a war!"
A couple months later, headquartered in Bishkek, Kyrgyzstan, Hughes livestreamed virtual politics classes from a classroom in Kiev late at night, listening as bombs fell in the city outside of his professor's window.
Hughes didn't make it to Ukraine, but his study abroad plans had been salvaged. Embracing the initial discomfort of disrupted plans, he threw himself into his coursework, language immersion and cultural experiences. Along with everything he learned in his coursework, he absorbed even more by interacting with his host family and others.
"There's nothing more valuable than living with people that have lived in the city you're in for their whole lives," he says. "I was able to become much better acquainted with the city, with Kyrgyz culture, and with Russian culture."
Already, he's gone back for a deeper dive. After a conversation with associate professor of Russian Judith Kalb, Hughes applied for and received the Russian critical language scholarship in Kyrgyzstan. This time, in the summer after his junior year, he began learning the Kyrgyz language and started work on his senior thesis research on the impact of Soviet atheism in the region.
Researching abroad has been transformative, igniting Hughes' passion for learning more about Central Asia. His aspirations include graduate school, where he hopes to study the transition from the Soviet to post-Soviet period.
"It's changed everything," he says. "But it's what makes you grow academically, personally. Handling challenges and being able to adapt to them."


A well played braid
Marketing major builds business, crafts signature hairstyles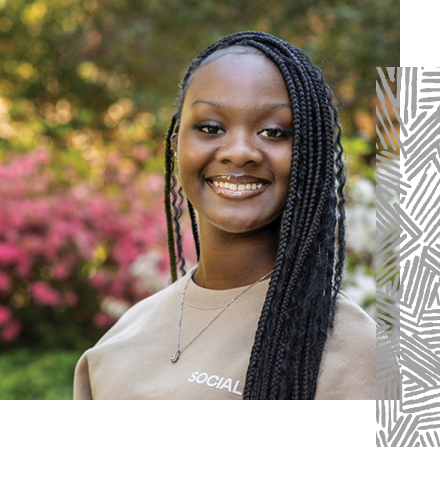 Sometimes college is the place where a passion emerges. Other times, it's the place where a passion finds its path.
Marketing major Jala Lewis already knew before she came to the University of South Carolina that she wanted to expand her hair braiding business. But she couldn't have imagined the opportunities that would come her way at South Carolina.
It all started when a friend sent her women's basketball guard Brea Beal's Instagram post asking if anyone was available to braid her hair. Lewis didn't know anything about the women's basketball team — but she knew how to braid hair.
"We're No. 1 in the nation, but I don't know these girls. I'm not following any of them," she recalls. "Brea had posted asking who's available for large knotless braids ASAP. I'm just looking like, 'OK, yeah, I can do knotless.' But when I clicked on Brea's page, I was like, 'She's got a blue check? What?'"
Beal is a social media influencer with 148K followers on Instagram and 88.4K followers on TikTok.
Lewis wasn't sure if Beal liked what she'd done with her hair at first, but when other players started booking her, she got her answer.
Growing up in Dillon, South Carolina, Lewis watched her mother — a stylist herself — work on clients, and that piqued her interest. She began practicing braiding on a mannequin she got for Christmas and watched YouTube tutorials to improve her technique.
Now, she has an established business with high-profile clients — and she's learning how to manage it all with the marketing degree she's working on at the Moore School of Business.
"It's a surreal feeling," she says. "I never would have thought I'd be booking up-and-coming celebrities, people who are going to be big."