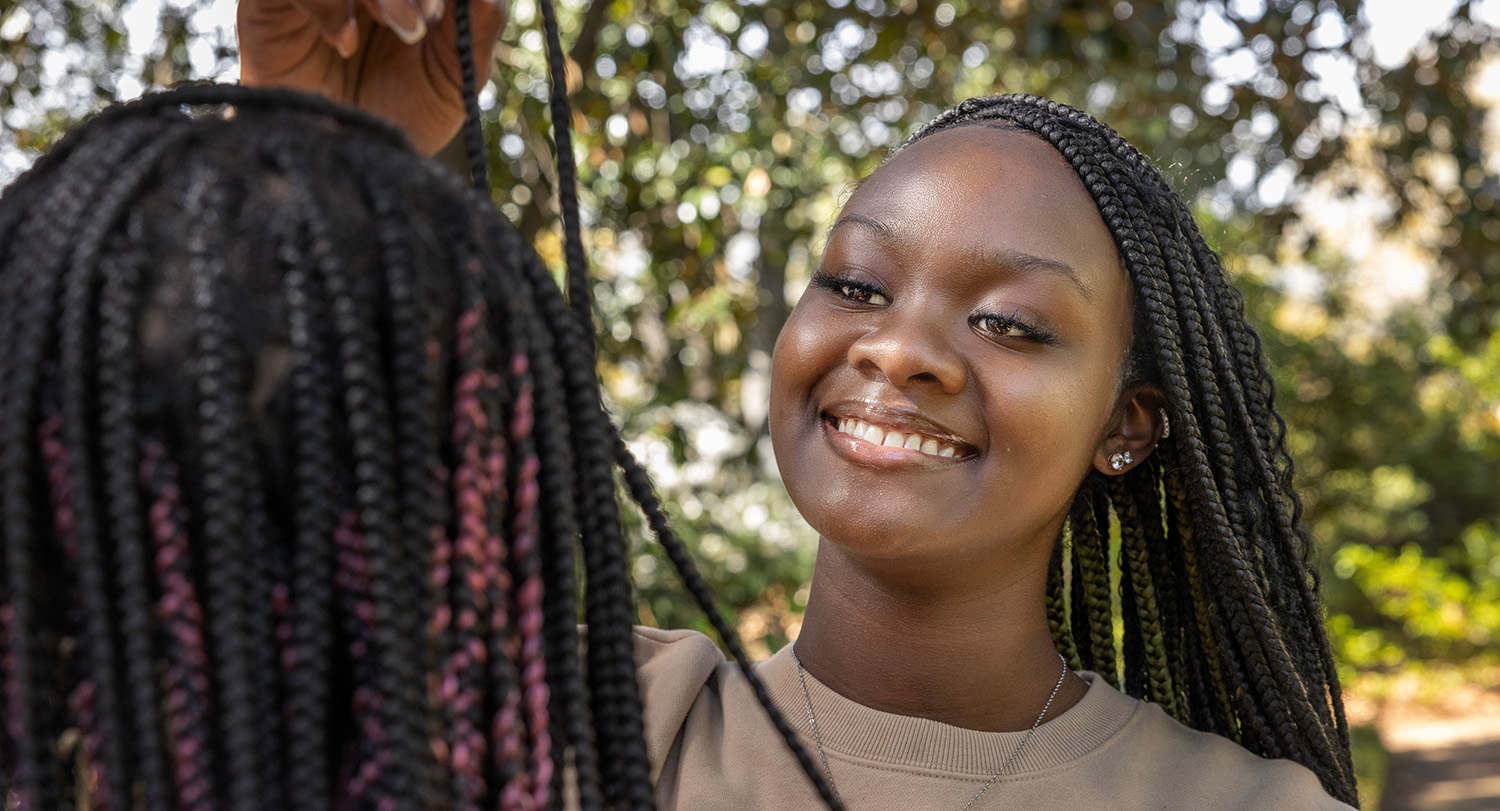 Loud laughter and chatter echo from a study room in the Capstone Residence Hall where Jala Lewis is braiding the hair of some the key players on the women's basketball team.
Though the room is buzzing with energy, Lewis remains focused on crafting the player's signature style. Braiding with practiced precision and making sure every part is neat, so there's not a hair out of place when her client is on the court.
How does a first-year marketing major become the go-to hairstylist for some of the most prominent student athletes at the University of South Carolina? The short answer: social media.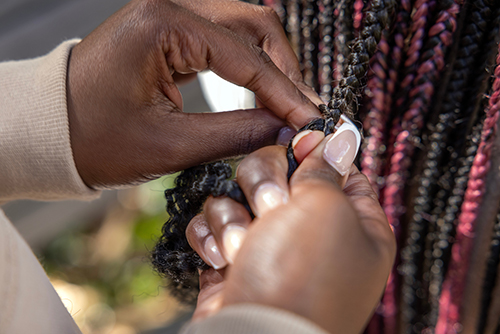 Lewis was scrolling through Instagram when a friend sent her guard Brea Beal's post asking if anyone was available to braid her hair. Lewis didn't know anything about the women's basketball team except that USC had one.
"We're No. 1 in the nation, but I don't know these girls. I'm not following any of them," she says. "Brea had posted asking who's available for large knotless braids ASAP. I'm just looking like, 'OK, yeah, I can do knotless.' But when I clicked on Brea's page, I was like, 'She's got a blue check? What?'"
Beal is a social media influencer with 117K followers on Instagram and 77.9K followers on TikTok.
Lewis wasn't sure if Beal liked what she'd done with her hair at first, but when other players like Zia Cooke, Sania Feagin and Bree Hall started booking her, she got her answer. Even men's basketball player Chico Carter Jr. hit her up.
"It's a surreal feeling," she says. "I never would have thought I'd be booking up-and-coming celebrities, people who are going to be big."
Growing up in Dillon, South Carolina, Lewis watched her mother — a stylist herself — work on clients, and that piqued her interest. She began practicing braiding on a mannequin she got for Christmas and watched YouTube tutorials to improve her technique.
During her freshman year of high school, her mother put her in a three-hour braiding course so she could get better and to keep her out of trouble. Lewis brought her friend along to be her practice model, but she didn't end finishing the style during the course.
"Now that I look back at it, it looked a mess, but at the time it looked really, really good," says Lewis, who got her cosmetology license last summer.
She decided that she wanted to start getting paid to style hair, but at the time she wasn't on social media and didn't have a phone. Her mother eventually let her get a Facebook account to start promoting her braiding services. It wasn't until last year that she got into Instagram. That's when business began to thrive.
With her work now displayed on a bigger stage — on the court and online — she has been attracting more clients. She's even had to get an assistant to help handle clients and set up her makeshift salon.
But while the success may be new, the dream isn't. Lewis knew before coming to USC that she wanted to expand her hair braiding business.
As for her clients, they benefit from the added confidence Lewis' styles give them on the court.
"When people get their hair done, it shows their confidence level, and for them to trust me with their crown is very, very important," says Lewis. "We look good. We feel good. We do good."