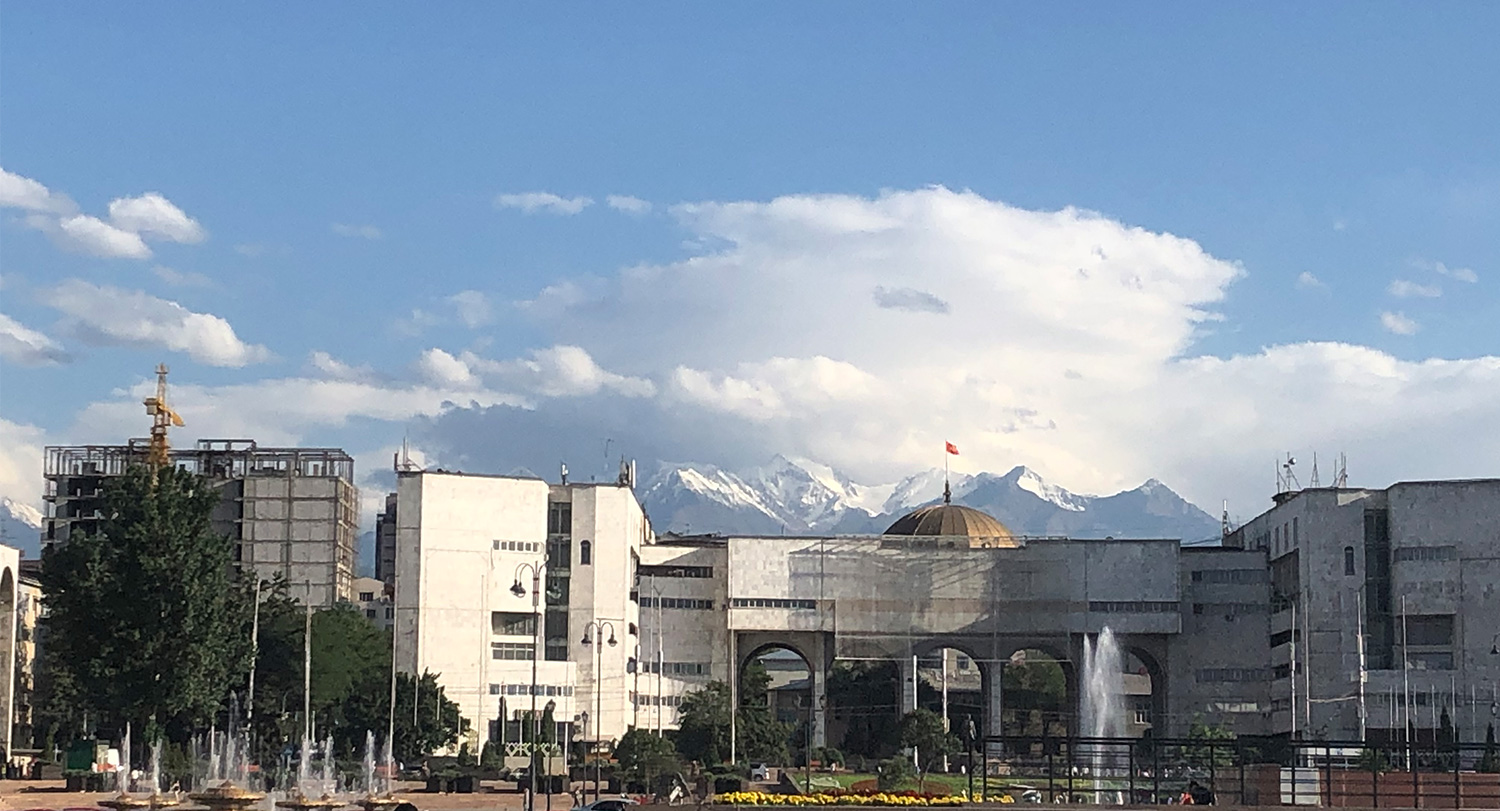 One week before political science and Russian major Josh Hughes was scheduled to fly to Ukraine for a study abroad program, he found out that his trip was canceled because of the escalating conflict with Russia.
"I was really upset," says Hughes. "I thought, nothing bad is going to happen. There's not going to be a war!"
That was in February 2022. A couple months later, headquartered in Bishkek, Kyrgyzstan, Hughes livestreamed virtual politics classes from a classroom in Kiev late at night, listening as bombs fell in the city outside of his professor's window. Though Hughes may not have been in Ukraine, his study abroad plans had been salvaged—and he couldn't have been happier with where he ended up.
Embracing the initial discomfort of disrupted plans, Hughes threw himself into his coursework, language immersion and cultural experiences. Five days a week, he spent time in political science, Central Asian studies and Russian language classes. The most valuable learning, however, happened outside of the formal classroom, from interacting with strangers to piecing together the vocabulary to tell his host family about a weekend camel-riding excursion with a friend.
"I got so much out of living with a host," he explains. "My Russian really improved from living with the host family, but also my connection to the city I was living in. There's nothing more valuable than living with people that have lived in the city you're in for their whole lives. I was able to become much better acquainted with the city, with Kyrgyz culture, and with Russian culture."
Hughes left Kyrgyzstan still feeling deeply connected to the country and eager to return. He knew he'd be back someday. He didn't know how soon.
After a conversation with his professor and now thesis advisor, associate professor of Russian Judith Kalb, Hughes decided to apply for the Russian critical language scholarship in Kyrgyzstan. He didn't know what to expect, but his plans certainly hadn't included returning to his sophomore year host country the summer after his junior year. This time, he'd begin learning the Kyrgyz language in addition to his Russian studies and start work on his senior thesis research for the Honors College.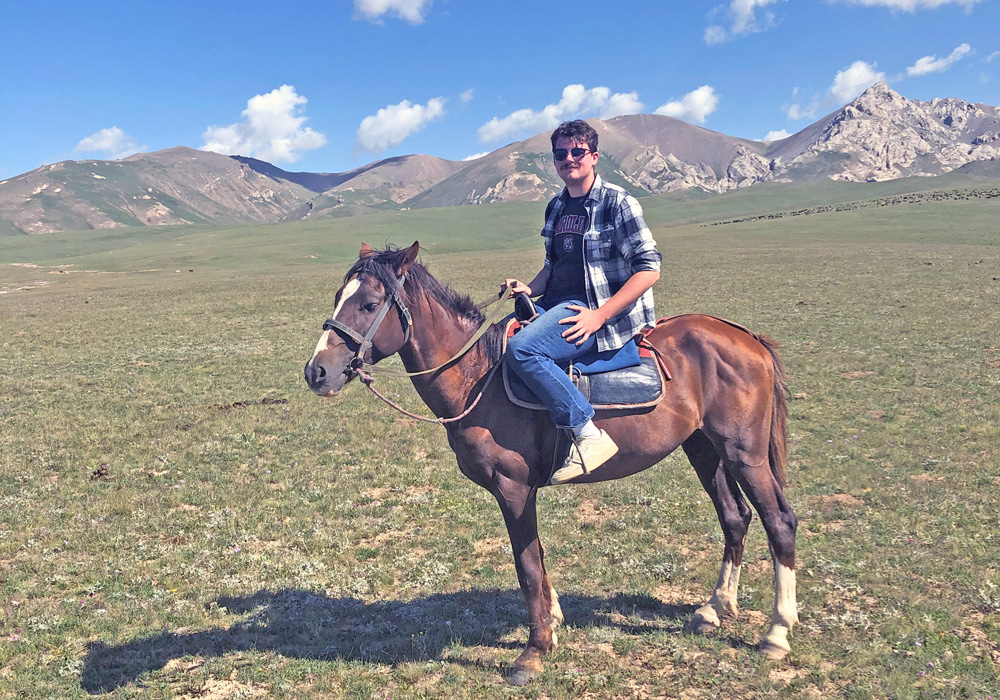 After his semester in Kyrgyzstan, a former Soviet state in Central Asia, Hughes was able to narrow his research down to the impact of militant Soviet atheism in the region. He had observed that though over 80% of the population considers itself Muslim, the country itself is secular and the practice of Islam is often the result of cultural heritage rather than deep religious conviction.
"When [the Soviet Union] existed, it was the second-largest Muslim-population country in the world. We very, very rarely mention the 50 million Muslims in the Soviet Union — that gets overlooked," Hughes explains. "I wanted to study what people's interactions with religion really were, how they interacted with it, and if there was a link between the years of atheist propaganda and how religion is practiced today."
Before returning to Kyrgyzstan, Hughes flew to Kazakhstan to search the archives for Soviet documents on the handling of religion. He also decided to supplement his archival and literature research with an anthropologic angle, sitting on park benches and interacting with strangers about their interpretation of religion, how they practiced their faith, and their experiences of either living under the Soviet state or in free Kazakhstan. Since his return to Bishkek, he's been doing the same thing in Kyrgyzstan.
"Most people probably thought that I was a little bit unusual," Hughes admits, "but they were very happy to share their experiences, their story with me. A lot of them were very happy that I was taking an interest and researching a part of their culture and their lives that they are very passionate about."
Researching abroad has been transformative, igniting Hughes' passion for learning more about Central Asia and even redirecting the trajectory of his future. He entered his initial study abroad experience hoping to work for the State Department upon his return, but his goals look different now.
His aspirations include graduate school, where he hopes to study the transition from the Soviet to post-Soviet period, particularly in Central Asia. From there, he is considering pursuing a career in teaching. Hughes expresses nothing but gratitude for the chaotic circumstances leading up to his arrival in Kyrgyzstan, and he is particularly thankful for his decision not to give into frustration and stay in the U.S. rather than taking his chances on an unexpected opportunity.
"It's changed everything," he says. "But it's what makes you grow academically, personally. Handling challenges and being able to adapt to them. I can't promise that every unexpected turn is going to turn out as fortunately as mine did, but you never know. I'm really glad that I was able to go because it gave me a new perspective on everything."
---
Learn more
Students interested in learning more about critical language scholarships or other external funding opportunities for research can contact National Fellowships & Scholar Programs.