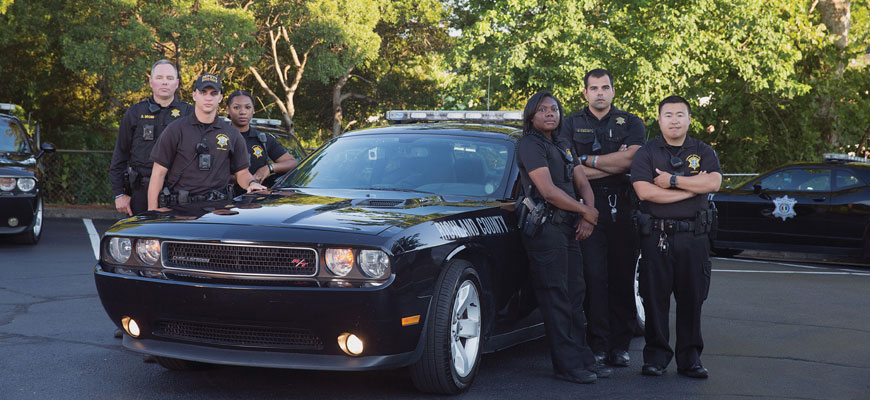 Cause and reflect
Preventing PTSD among police officers
---
By Chris Horn,
chorn@mailbox.sc.edu
, 803-777-3687
---
It was a routine traffic stop on a busy Columbia road, but nothing was routine about Larry Payne's life anymore. The Richland County Sheriff's deputy had been struggling, imagining danger in innocuous situations, hypervigilant to the point of tunnel vision. As he approached the pickup truck, his mind raced. The driver appeared to reach under his seat — for what? A gun? Payne drew his pistol, ready to fire. Oblivious, the driver straightened up in the seat, a large black wallet in his hand.
"I looked at his license for a second, told him to have a nice day — then drove back to the station and told them I was turning in my paperwork to retire. I had almost killed an innocent person."
Payne's traffic stop that nearly went awry was the culmination of post-traumatic stress disorder symptoms that had been brewing for two years after he'd been seriously injured in a shootout with a drug dealer. After that fateful day in 2006, he was in the hospital for a week, recuperated for six, then was back in the patrol car.
"The physical pain is bad, but once that wears off, you notice the mental and emotional stuff that starts coming through, which is a million times worse," Payne says. "Once you finally realize you need help, you're ready to open up and get the help. If you're not ready, nothing good is going to come out of it."
Richland County Sheriff Leon Lott leads an agency with some 800 deputies and is committed to protecting the public and taking care of his officers, particularly when they've experienced traumatic incidents. He's seen deputies with PTSD reach the point of dysfunction, lose their jobs, their health and their marriages. He's seen them try to cope by drinking or abusing prescription drugs.
"If you're a cop, you're going to see or experience some bad things, and if you're not prepared for it, it can hurt you psychologically," says Lott, who earned an associate degree in police administration from USC Aiken in 1973 and a B.A. in sociology from the Columbia campus in 1975. "It came to me one day that we need to be proactive — talk to officers before an incident happens instead of waiting until the damage is done."
That line of thinking led Lott to create the Critical Incident/PTSD Awareness Program, one of the very few law enforcement programs of its kind across the country. Deputies who have been previously diagnosed with PTSD and cleared for duty lead the sessions, sharing their experiences and offering practical advice to fellow officers. It's designed to help them recognize symptoms of emotional distress in themselves or their partners and seek help.
"I knew we had a lot of officers who needed help and just weren't speaking up," Lott says. "So this is a way to open the door for them. You've got a captain or a major or a sergeant up there leading the session, and they've been in a critical incident and they break down and get emotional telling their story — that has a powerful effect.
"A young deputy sitting in the class thinks, 'That officer has been here for years so if it's OK for them to cry, I guess it's OK for me to show my emotions, too.' "
You don't get PTSD just from being shot at or killing somebody. You can get it from just seeing the crap we deal with every day.

Deputy Larry Payne
That's important, Lott says, because a reluctance to admit weakness or vulnerability has been a traditional hallmark of the law enforcement culture.
"As cops, we want to be tough and bad," Payne says. "If you come across as 'I've got a problem' after you've experienced an incident like I did, you're afraid they're going to take your badge and your gun and make you go talk to the 'crazy doctor.' The problem with being too honest about how you're coping is the threat of having your livelihood taken away."
Payne eventually confronted his demons, got the help he needed and took on a different job in the sheriff's department's internal affairs division. He's also one of several instructors in the Critical Incident/PTSD Awareness Program.
"It's actually beneficial to stand up in front of a class and be vulnerable and tell 20 people that you were taking seven pills a day — all of it legal but terribly harmful combined with the drinking and crazy thoughts," he says.
"You don't get PTSD just from being shot at or killing somebody. It can be a car wreck or a call you respond to where there's a 2-year-old child who's been raped and killed. You can get it from just seeing the crap we deal with every day."
Through a connection with USC criminal justice professor Geoff Alpert, Lott has taken the message of proactive PTSD awareness training to the International Association of Chiefs of Police. His presentation was well received, but there's a long way to go, he says.
"A lot of civilians — and cops — if they don't see a visible wound, they think you're OK," Lott says. "It's hard from them to understand that you can be wounded but it's inside, and that wound can be just as serious as being shot or stabbed."
Roxana Meetze, an RCSD major, has seen plenty in her 22 years in the department. On road patrol in 1999, a routine property check escalated into a high-speed chase across three counties and ended in a shootout with the assault rifle-wielding driver. Meetze and another officer fired the shots that killed the suspect, but knowing the action was necessary and justifiable didn't lessen the impact.
"Taking someone's life is clearly an overwhelming experience that I just can't explain," Meetze says. "It was not what I signed up for. I'm not ashamed to say that when we got to him and I realized he was dead, I was on my knees and I cried."
Meetze's PTSD symptoms developed over time with bouts of anger and impatience. Her home life fell apart as she turned to alcohol and sleeping pills to anesthetize the problem. Now, as an instructor in the Critical Incident/PTSD Awareness Program, she tells fellow deputies what to expect if the unthinkable happens.
"We want them to know what to expect and to be prepared, to know that the feelings they may have after an incident are normal," she says. "In the military and law enforcement, PTSD is not spoken of — it's a pride issue. It's time to break that silence and get raw and real about it."
Kellye Hendrick is onboard with that. The RCSD sergeant has dealt with the emotional aftermath of shooting and killing a knife-wielding man who was threatening the public. A member of the department's Community Action Team, she's also an instructor in the PTSD awareness program.
"I didn't want to ask for help. I thought I was going to lose my job or that I was going crazy," she says. "But people saw that I needed help and got me going in the right direction.
"So maybe we can break that stigma with this program, that it's OK to ask for help. It's not like law enforcement officers are going to start doing group hugs, but if a sense of normalcy can be achieved for those suffering from PTSD, we'll have succeeded."
Jack Ginsberg, a clinical psychologist at the Dorn VA Medical Center in Columbia, has treated military veterans with PTSD, and considers the RCSD program a big step in the right direction.
"First responders have a lot in common with military combat veterans," Ginsberg says. "PTSD is the same whether it's from a car accident or a shooting or just witnessing a gruesome event.
"The sheriff's department's program is ambitious and well placed. It encourages early treatment, which is a good predictor of better outcomes."
Although the program he conceived is only a year old, Lott is already seeing results.
"I've seen deputies coming forward and asking for help," he says. "Another measure of success will be when we have officers who are involved in critical incidents and they know the signs to look for if they're developing problems. Just the fact that we're talking about it on the front end, when it wasn't talked about before until after something happened — that's progress."
---
Share this Story! Let friends in your social network know what you are reading about
---