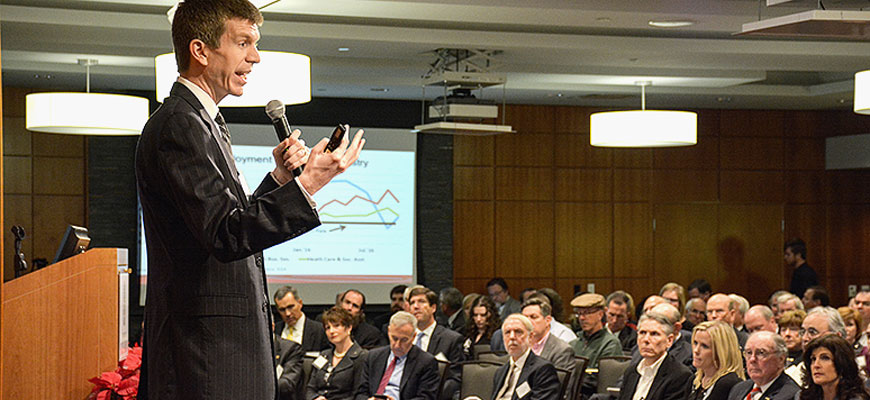 UofSC economists say SC economy to remain strong in 2018
---
By Peggy Binette,
peggy@mailbox.sc.edu
, 803-777-7704
---
Despite a tight labor market and a series of Midlands-area layoffs due to the recent shutdown of construction at the V.C. Summer nuclear facility in Fairfield County, South Carolina's economy remains strong and stable. Palmetto State residents can expect that stability to continue in 2018, according to University of South Carolina economists at the Darla Moore School of Business.
Doug Woodward, director of research, and Joseph Von Nessen, a research economist, presented their 2018 forecast Friday (Dec. 8) to nearly 250 of the state's business and community leaders at the 37th Annual Economic Outlook Conference (EOC).
They say South Carolina should see broad-based growth continue across most industries with accompanying gains in employment and income for South Carolinians.
Von Nessen said the single best indicator of economic performance — job creation — expected to grow at 2.1 percent in 2018.
"Although our current economic expansion is now in its ninth year, it's important to remember that economic expansions don't die of old age," Von Nessen said. "Market fundamentals are strong and the state's economy is in a very good position as we head toward 2018."
These market fundamentals include low unemployment, higher wage growth and stronger global demand.
"The labor market in South Carolina is more favorable to workers than at any time in the last eight years," he said. "With the unemployment rate currently at 3.9 percent — the lowest level since the year 2000 — employers are having to provide stronger incentives, such as higher wages, to attract and retain the workers they need."
Once again, the manufacturing and professional and business services sectors continued to be major drivers of South Carolina's employment growth in 2017.
Construction didn't fair as well.
"After being the state's leading industry in 2016, construction markets have tapered off in the face of rising lumber prices," Von Nessen said. "The U.S. Department of Commerce imposed import tariffs on Canadian lumber beginning in late 2016, which has contributed to higher input costs for builders and reduced the overall growth rate for the industry this year."
Von Nessen also reported that stronger global demand in 2017 gave rise to increased activity within the advanced manufacturing sector, which relies heavily on a global customer base and is export driven. He said that sector has helped increase export activity through the S.C. Ports Authority.
While almost all counties in South Carolina saw positive economic growth in 2017, not every business type benefited equally.
"Historically, the majority of job gains during economic expansions have come from small businesses, but this current expansion is different," Von Nessen said. "Larger businesses – those with more than 100 employees – are now generating a much greater share of total employment."
The economists said additional access to financial capital, which may result from the proposed tax plan currently being debated in the U.S. Congress, could help small businesses spur additional growth.
Von Nessen said that growth would likely come in the form of productivity gains.
"Because businesses are struggling to find new workers in an economy with such low unemployment, access to new financial resources would be more likely to go towards efforts to help retain and invest in existing employees," he said.
Additionally, firms likely would engage in more capital investment and research and development, all of which could help to generate productivity gains.
Von Nessen expects the size of the labor force to continue to grow in 2018 as job opportunities continue to increase, which implies that a minor decrease in the unemployment rate should be expected over the next year.
Specifically, the Moore School forecast indicates that the unemployment rate over the next 12 months will drop slightly to about 3.6 percent from its current rate of 3.9 percent. Total personal income is expected to grow at 4.3 percent in 2018, which would be an increase from its growth rate of 3.8 percent in 2017.
Despite a positive outlook for 2018, Von Nessen said addressing workforce challenges in South Carolina will be vital.
"Labor availability will be the bottleneck of economic growth in 2018," Von Nessen said.
With labor availability's critical importance, this year's conference focused on addressing the ongoing workforce challenges in the Palmetto State from three perspectives.
Gov. Henry McMaster addressed state-level workforce plans being developed. Cheryl Stanton, executive director of the S.C. Department of Employment and Workforce, focused on how the department supports workforce training and connects individuals to businesses and job opportunities. Joan Robinson-Berry, vice president and general manager of Boeing South Carolina, presented Boeing as a case study of how one major South Carolina employer has addressed workforce challenges in 2017.
---
Share this Story! Let friends in your social network know what you are reading about
---