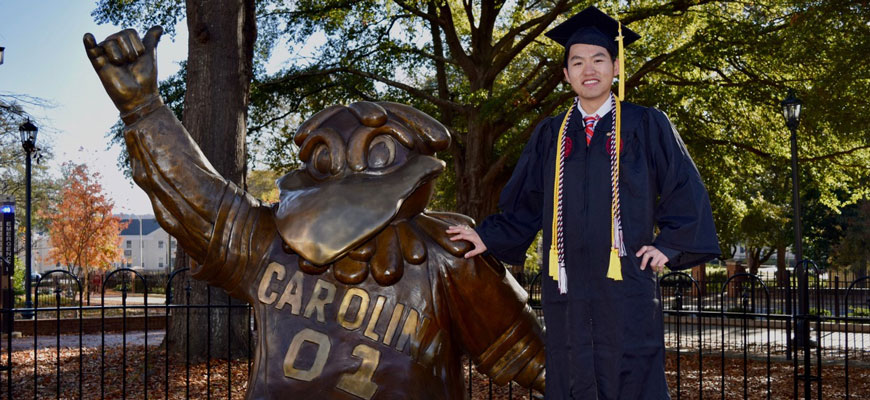 Opportunity guaranteed
First-generation college student thrives with help from Gamecock Guarantee
---
By Taylor Evans,
mrassist@mailbox.sc.edu
, 803-777-7704
---
David Tran knew he wanted to become a physician when he was just 7 years old, when he went to a doctor with an ear infection.
"The way the doctor treated me and was actually able to heal me made me realize that medicine is pretty cool," the biological sciences major from Greenwood, South Carolina says.
But like many first-generation college students, Tran and his family were worried about paying for college.
"Without financial aid, I would've had to take classes for a semester and take breaks to go work and it would've taken a lot longer," he says.
That's where Gamecock Guarantee came in.
The Gamecock Guarantee is a need-based financial award that promises to cover participants' tuition and technology fees for four years. The program aims to make college degrees more accessible to academically talented students from South Carolina by reducing their need to borrow money for college. Eligible students receive at least $4,500, and the award will increase if the students' costs aren't covered by other grants and scholarship awards.
Recipients of the Gamecock Guarantee often participate in the Opportunity Scholars Program, a federally funded program for low-income, first-generation students to help them acclimate to college life.
"I do feel very grateful to receive the Gamecock Guarantee award because it created a way for me to pay for my education," says Tran. "The program really helped me and my family because I plan to go to med school as well. It removed the financial burden of my undergraduate education."
With the Gamecock Guarantee eliminating the struggle to pay for college, Tran has thrived as an undergraduate. He also earned a minor in leadership studies and felt inspired early on to give back to the programs that gave so much to him. In the past he has served as a mentor for the Opportunity Scholars Program and as a member of the program's planning committee and a peer leader for University 101 students.
He also has co-taught a biology lab, led alternative spring break trips and worked with multiple campus offices. He has completed clinical observations at major medical centers and worked as an intern at the Boys and Girls Club. In addition, he has managed to maintain a 3.97 GPA, and he is set to graduate with Leadership Distinction in Professional and Civic Engagement on Monday (Dec. 18).
"I would say my experiences here at USC have really inspired me to pursue these other things outside just practicing medicine because I was able to foster my passion for teaching and leading other people and managing organizations," he said.
He recommends all students use their years in college to learn about more than just their majors.
"I really didn't know what I was going to do in college and how many people I would be impacting, so I would say to any first-generation college students to just explore the opportunities out there for you during your time here because you just never know where you might end up."
---
Share this Story! Let friends in your social network know what you are reading about
---