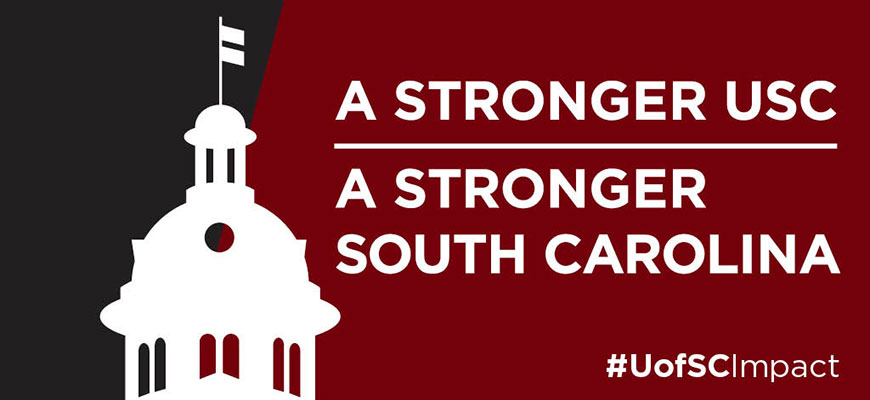 Carolina Day
A stronger UofSC, a stronger South Carolina
---
By Jeff Stensland,
stenslan@mailbox.sc.edu
, 803-777-3686
---
Carolina Day at the Statehouse is an annual one-day event designed to let legislators know that state support is vital for the University of South Carolina to ensure quality, access and affordability. This year, USC is taking a new approach that will allow more supporters than ever to participate — whether they're in Columbia or anywhere around the globe.
On Wednesday (Jan. 31) faculty, staff, students and alumni can share messages directly with lawmakers throughout the day via social media without having to travel to the Statehouse. An online toolkit, complete with step-by-step instructions on how to connect with specific legislators and sample messages to share with them, is available at southcarolina.edu.
Voicing support for higher education is more needed than ever. State policymakers have made a conscious decision over the last decade to shift the burden of paying for higher education from the state to students and their families. In fact, cuts to higher education in South Carolina are the fourth worst in the nation and state support now only accounts for about 10 percent of USC's funding. That's led to rising student costs and deteriorating campus facilities across the state.
This year, university officials are asking for five specific changes that would help ensure the university — as well as institutions across the state — can better meet commitments to students:
Resume state investment in assets and infrastructure through a capital bond bill for higher education. The General Assembly has not approved a bond bill for higher education since 2001, even though neighboring states have invested billions in infrastructure.
Enact regulatory reform that will allow universities to establish auxiliary authorities with limited regulatory authority. This would increase our flexibility to make strategic investments, eliminate redundant state approval processes and reduce costs.
Establish baseline funding for research, comprehensive and regional campuses. Higher education funding should not be based on a "one-size-fits-all" approach and must recognize the unique missions of our state's institutions.
Work to develop a new funding model that rewards institutions for educating students, specific performance metrics and helping to meet the needs of the state. USC excels in these key measures and stands ready to help craft a new model.
Increase investment in state need-based aid for low-income students. South Carolina generously funds merit-based lottery scholarships, but does not invest enough in helping bridge the tuition gap for low-income students.
To learn more, visit www.southcarolina.edu/carolinaday.
---
Share this Story! Let friends in your social network know what you are reading about
---